Since the 1950s, owning a private jet has come to represent success and affluence for celebrities and the super-rich, with well-appointed interiors that offer comfort and relaxation with a beautiful, luxurious finish.
Whilst interior design trends have always varied according to the type of aircraft, the size of the cabin and the needs of the passenger, the turn of the century saw a sea-change in the industry.  The new millennium introduced huge changes in material development, with light and strong composite materials becoming standard in aircraft manufacture, along with advanced alloys offering improved strength and flexibility with superior corrosion resistance.  In addition, the huge increase in technological capability meant that aircraft were being developed with vastly superior aerodynamics, increasing performance and fuel efficiency whilst maximising cabin space.
Commercial operators took advantage of the new developments to increase their service offerings (and their profit margins) but super rich private jet owners were able to benefit from the improvements by creating ground-breaking interiors that offered comfort far beyond what was possible a few decades before.
Prince Al Waleed bin Talal Al Saud's Palatial Private 747-400
In 2003, Prince Al Waleed bin Talal Al Saud – a member of the Saudi Royal Family – spent an unprecedented $500 million buying and outfitting a 747-400 in gold splendour for the ultimate in decadence. Where normally upwards of 371 passengers were divided into first, business and economy seating, here was a private Boeing 747-400 spaciously designed for less than a quarter of the number of passengers an airliner would carry, with considerably more legroom and comfort.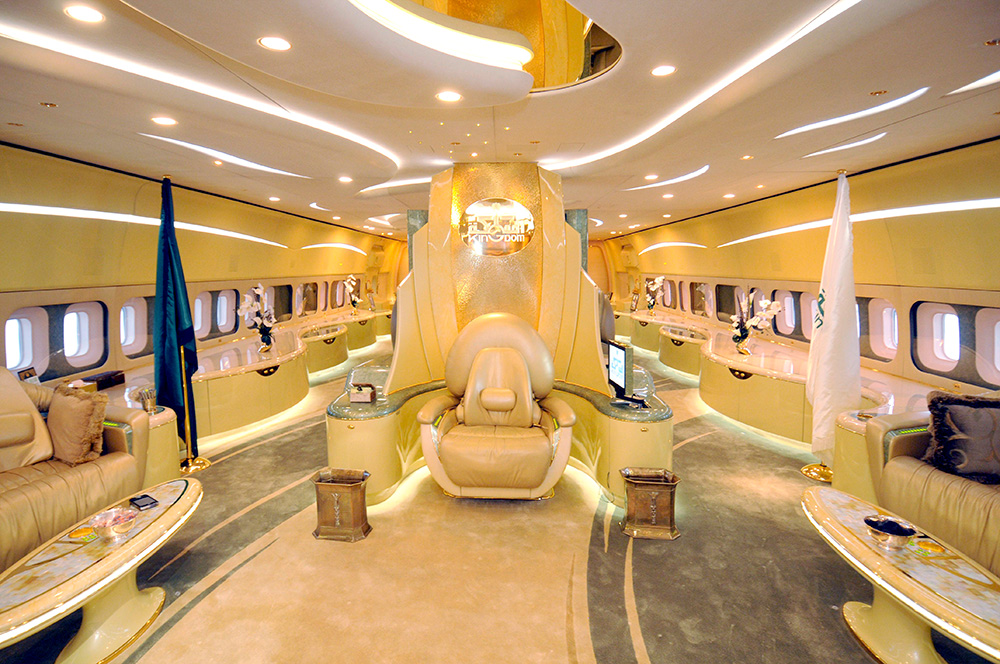 The jet is fitted with several lounges, a 14 seat dining room, a conference room and private quarters. The lounge areas are elegantly furnished with plush sofas, armchairs and ottomans, providing a comfortable and relaxed space to entertain guests or unwind. The dining area features a large table surrounded by comfortable chairs, making it ideal for formal or casual meals.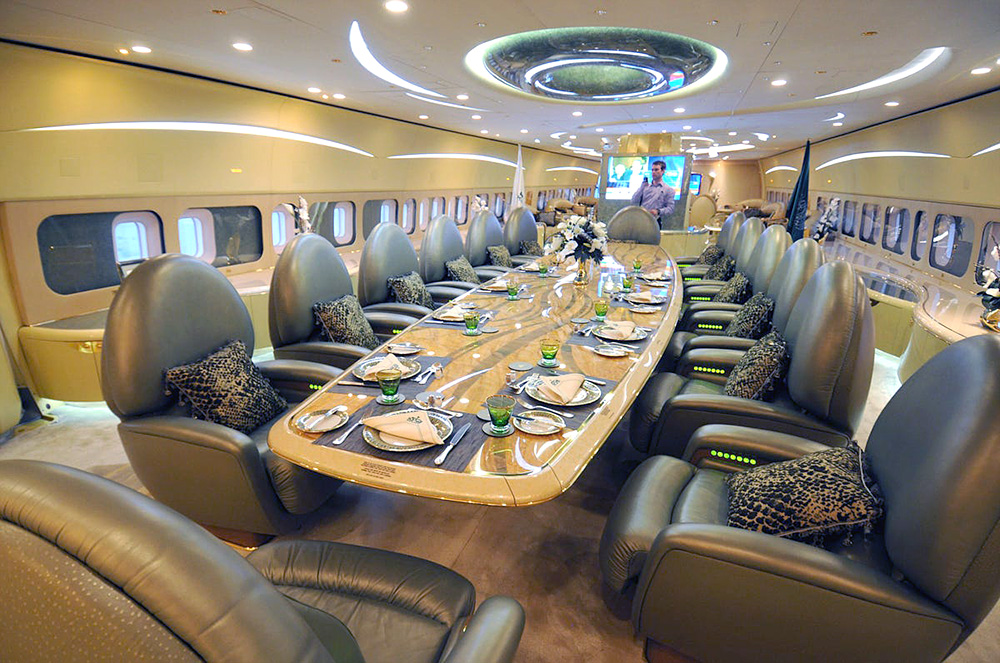 The conference room is equipped with a state-of-the-art audio-visual system, making it ideal for conducting business or hosting meetings in flight.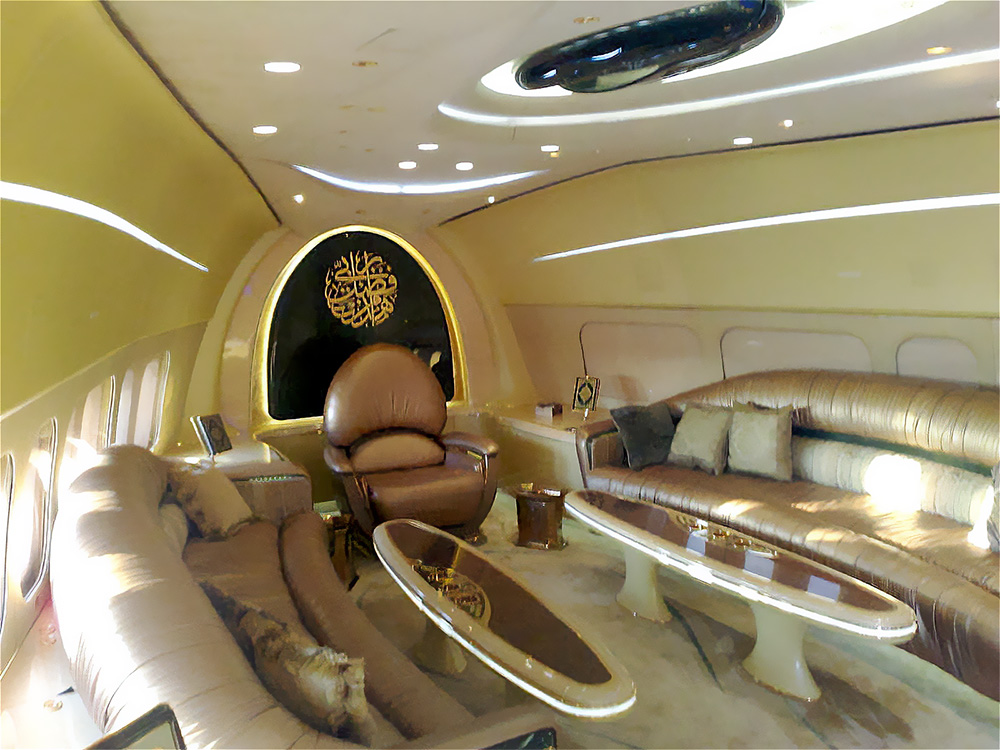 The private quarters include a master suite with a king-sized bed, a private lounge, and an ensuite VVIP bathroom with a shower. There are also additional bedrooms, each with its own private bathroom and entertainment system, ensuring that every guest on board has the utmost privacy and comfort. The interior of the jet is finished in high-quality materials such as wood panelling, marble, and fine fabrics, creating a warm and inviting atmosphere. The cabin is also equipped with state-of-the-art entertainment systems, including flat screens, a sophisticated sound system and, of course, Wi-Fi.
Overall, Prince Al Waleed bin Talal's 747-400 private jet represents the ultimate in luxury air travel – one that hasn't yet been beaten for cost or size. Prince Al Waleed also commissioned a customised Airbus 380 private jet, which – had it been completed – would have been the largest private jet in the world.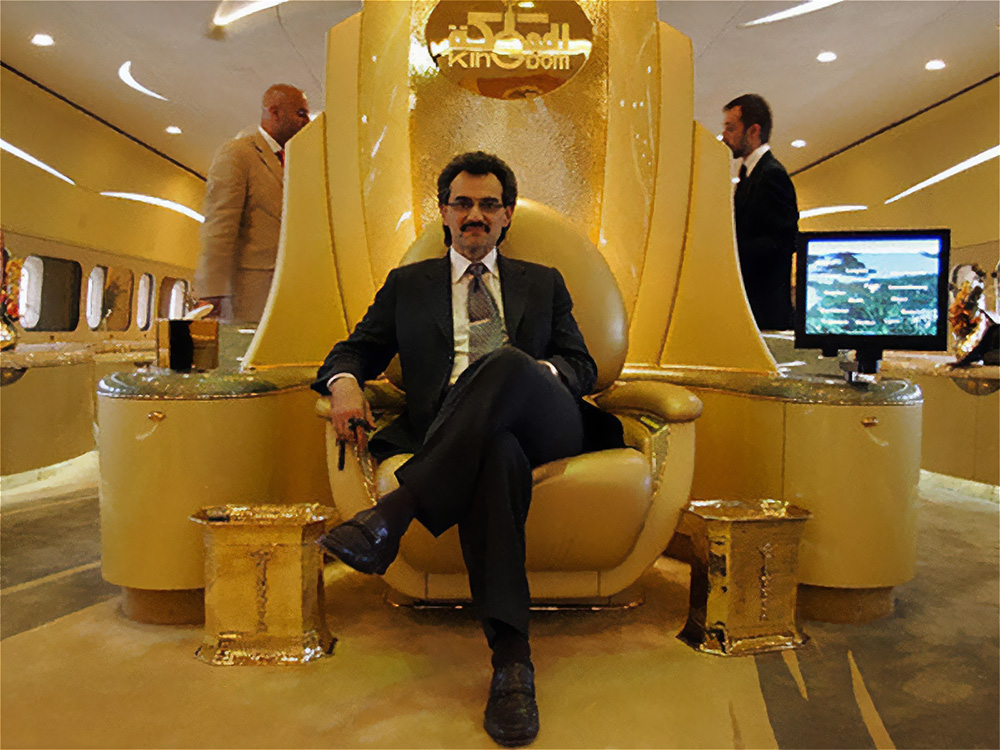 Although Price Al Waleed was born into luxury and privilege, many others have risen – against all odds – to a level of success and wealth that enabled them to join the exclusive ranks of private jet owners.
Jim Carrey's Gulfstream V
Jim Carrey was 12 years old when he became homeless after his father lost his accountancy job, forcing the family to live in a van.  Jim and his brother also spent months living in a tent in Ontario until his father was able to get a new job and afford a more stable home. The moment he was 16 he dropped out of school to help his father support the family.
Despite a rough start, his comedic timing and acting talent gave him a head start in the stand-up comedy circuit.  His determination and hard work led to him moving to LA and getting numerous small bit-parts in 80s TV shows and movies.  In 1994 he finally landed a leading role in his break-out movie "Ace Ventura: Pet Detective" and, over the next decade, became one of the most famous actors in the world. In 2006, at the height of his career, he was able to celebrate his success through buying his own private jet for about $40 million – a Gulfstream V.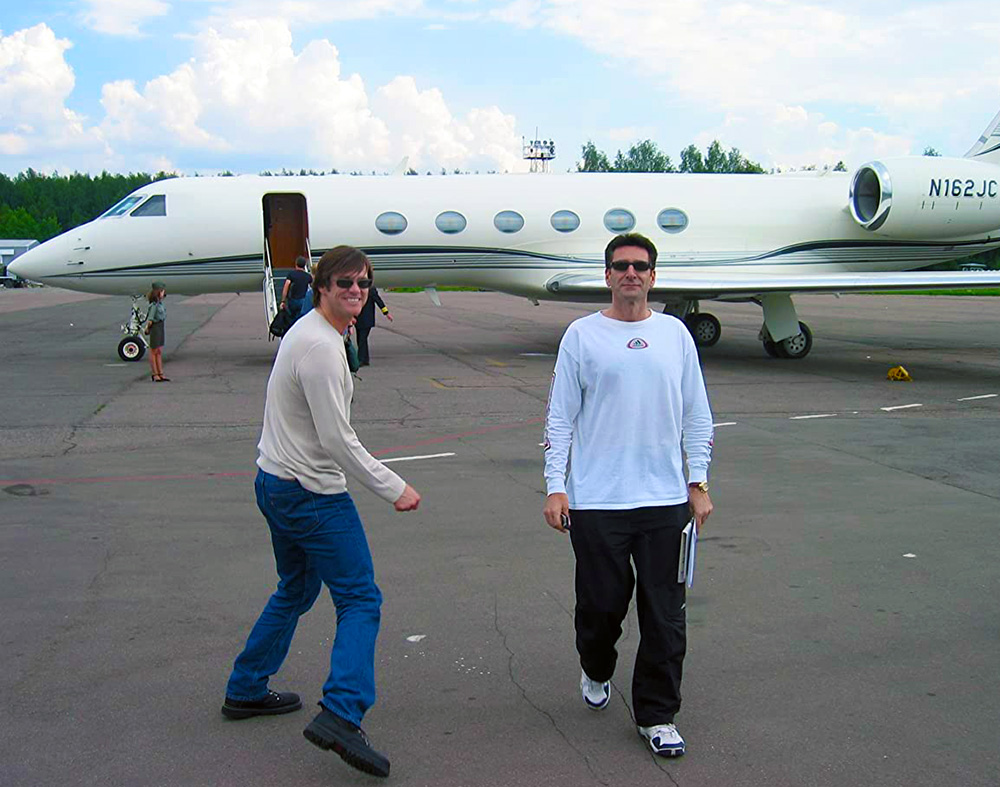 Unlike the opulent 747 BBJ, the interior of Carrey's Gulfstream V was designed with a clean, minimal look.  Beige leather seating,  dark veneered monuments and with discreet gold fittings conveys an elegant and unpretentious style.
The jet is configured with three cabin zones – the forward cabin has four lounge seats and a large satellite TV for entertainment and relaxation.  A middle cabin has additional seats and a leather couch, while the aft cabin has four chairs that convert into comfortable beds for longer flights.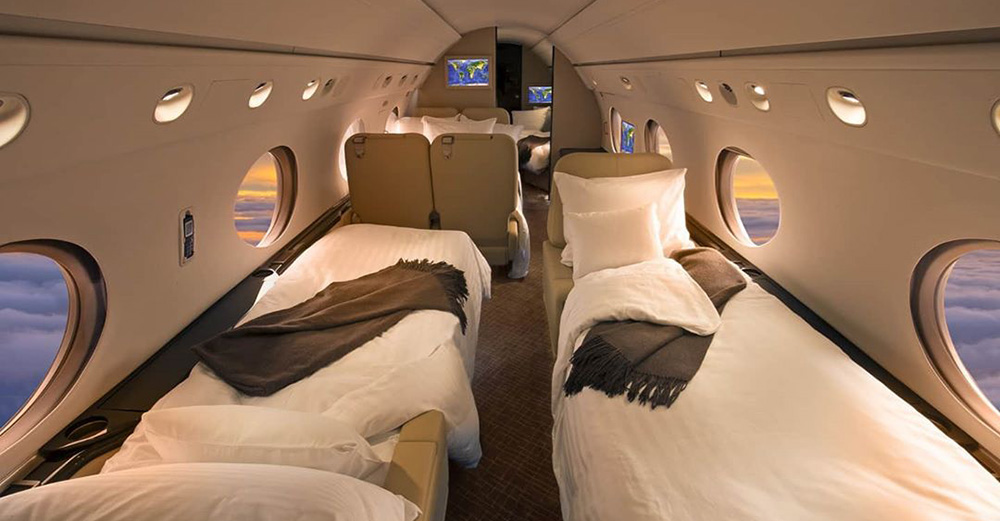 With space for  two flight attendants, the well-equipped galley comes into its own, allowing freshly prepared meals to be served to hungry passengers.  Mood lighting changes from cool to warm depending on the schedule or time of day – this can support the passenger's circadian rhythms to help reduce the impact of jetlag.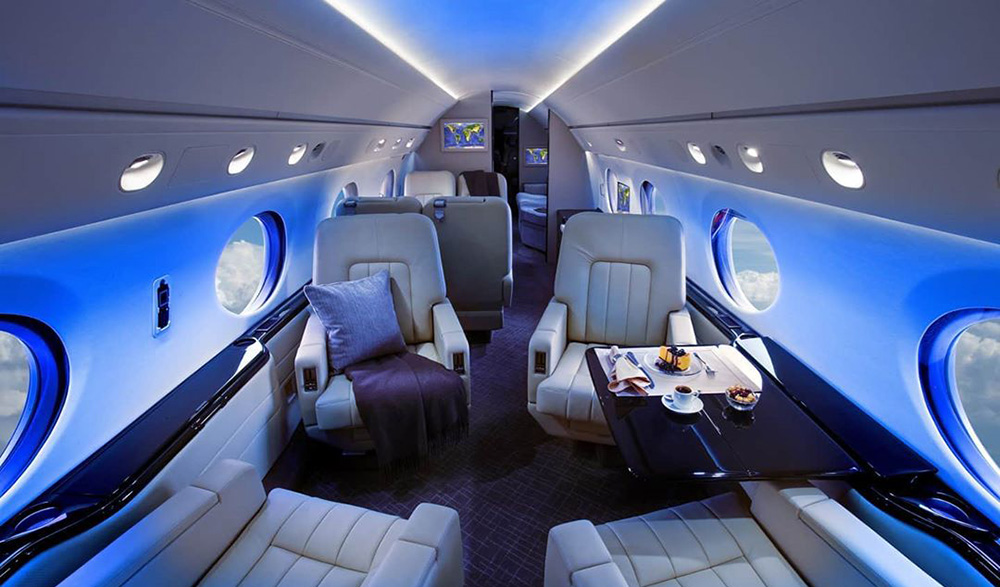 The large, rounded windows add space and light to the cabin, completing the atmosphere of quiet luxury.
Buying his own private jet cemented a pivotal moment at the very height of Carrey's career.  For a boy that spent his teenage years homeless, the ability to buy a symbol of success and wealth like the Gulfstream V must have been a very satisfying and momentous one. But, regardless of how hard a celebrity has to work to gain recognition and success – once someone has reached a certain level, fame brings its own reward.
Jackie Chan's Embraer Legacy 650
In 2011, Jackie Chan had had a career spanning 40 years, appearing in about 120 movies that had been filmed in over 30 countries.   By the end of the 90s, he was the most famous action hero of all time, with a global reputation for being both hard-working and an all-round nice guy.   At the same time, Embraer were looking to get into the Chinese market – making Jackie Chan their Brand Ambassador was an easy decision.
 In 2012, Jackie Chan took ownership of the first Embraer Legacy 650 ever to be delivered to China. With a striking livery of intertwined red and yellow dragons, the jet paid homage to Chan's birthplace of Hong Kong while alluding to the 2012 year of the Dragon. Embraer designed the interior with a decidedly western influence, using light neutral colours on the leather upholstery and soft furnishings complemented with fine wooden accents throughout.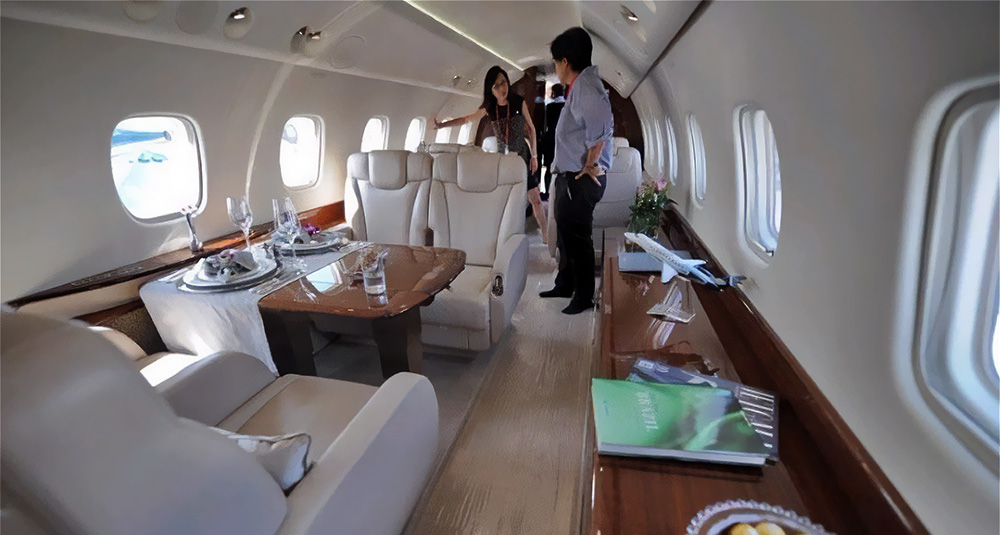 Similarly to the Gulfstream V, Chan's Legacy 650 had a three zone cabin, split up into a forward section with club seating followed by a four place mid-cabin conference set up across the aisle from a credenza and an aft section with an entertainment system and long sofa for relaxing with guests.  The galley includes a fridge, microwave and a convection oven but also doubles as a bar area where passengers can enjoy refreshments.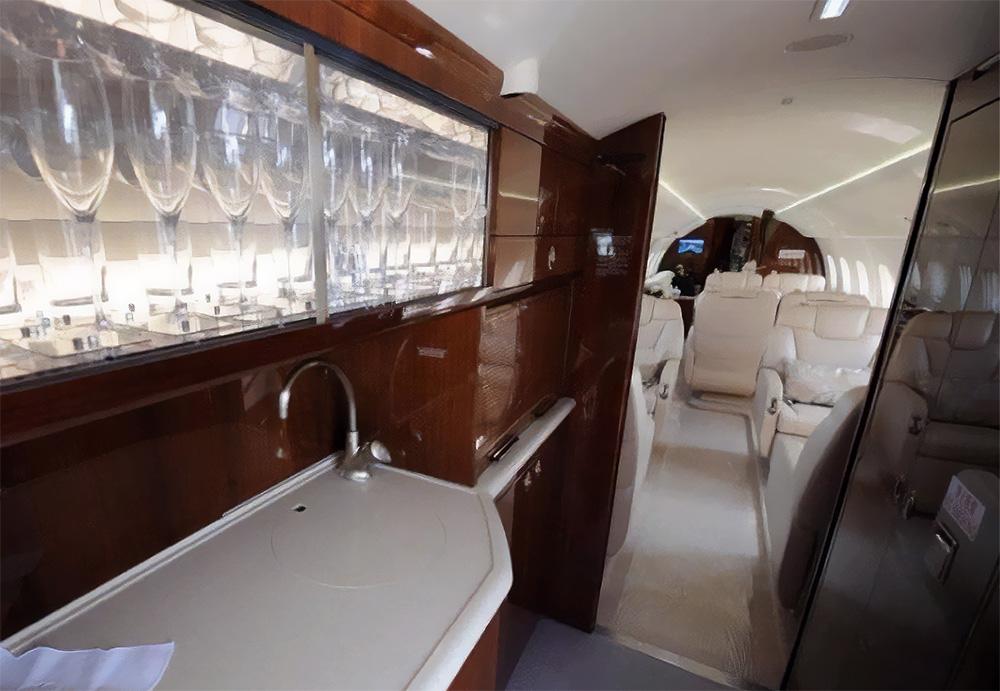 Although Chan still owns the Legacy 650, in 2016 Embraer presented him with another first – the Legacy 500, once again the first aircraft of it's type to be delivered to China.   "I'm so thrilled to receive this Legacy 500, a state-of-art executive jet," said Jackie Chan. "In the past few years, my Legacy 650 has brought me fantastic traveling experiences and great convenience, allowing me to do more acting and philanthropic works around the world. I'm sure that the performance of the new Legacy 500 will again exceed my expectations, and become a comfortable mobile home and office for me."
It doesn't look like Jackie's hectic schedule is going to slow down any time soon but he'll be travelling in comfort – whichever aircraft he chooses to take on his next trip.  Being one of the biggest celebrities in the world certainly has its advantages!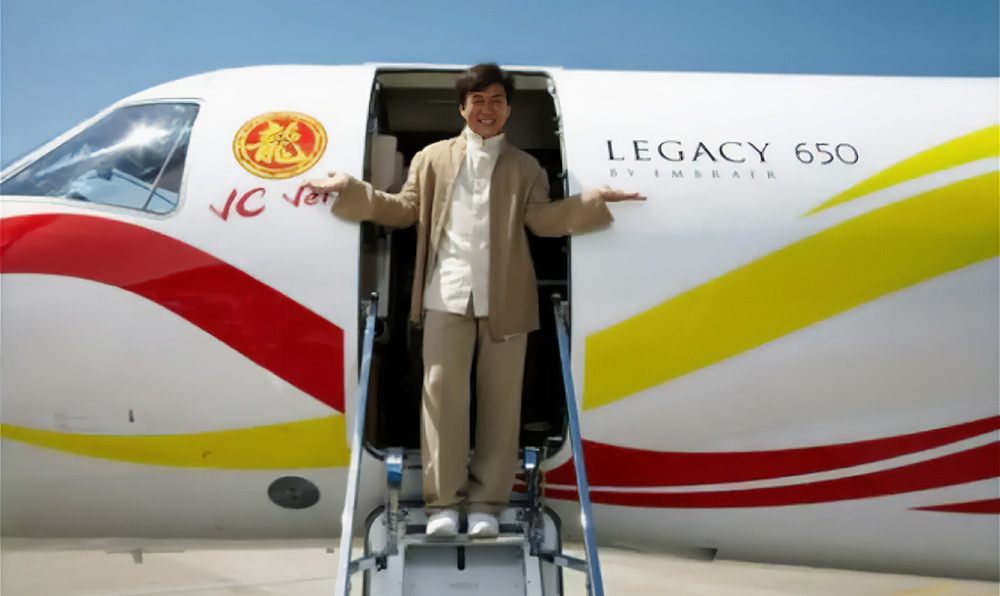 From world-famous action heroes to legendary boxers – if you've reached the top of your game, a private jet becomes almost necessary as a status symbol, proving your success.  Floyd Mayweather, one of the greatest boxers of all time – can certainly afford a prestigious jet to fit his image. 
Floyd Mayweather's Gulfstream 650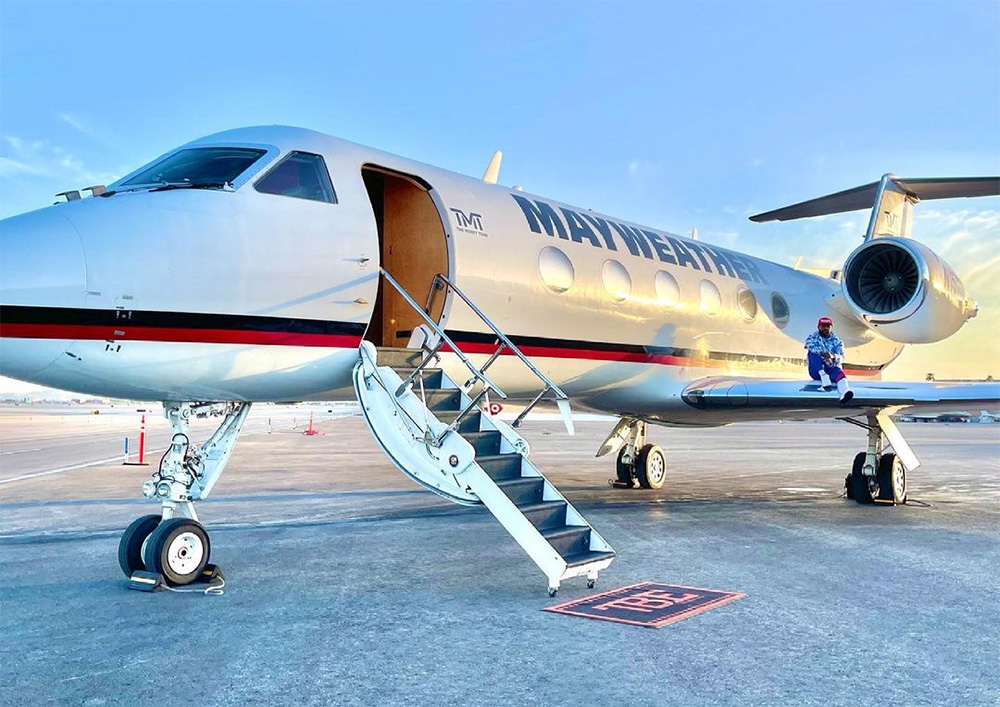 In 2017, Mayweather officially retired (for the third time) with a perfect 50-0 record after beating UFC star Conor McGregor.  In 2018, having earned over $1 billion in pay-per-view revenues, he decided to buy himself a 41st birthday present – a Gulfstream 650.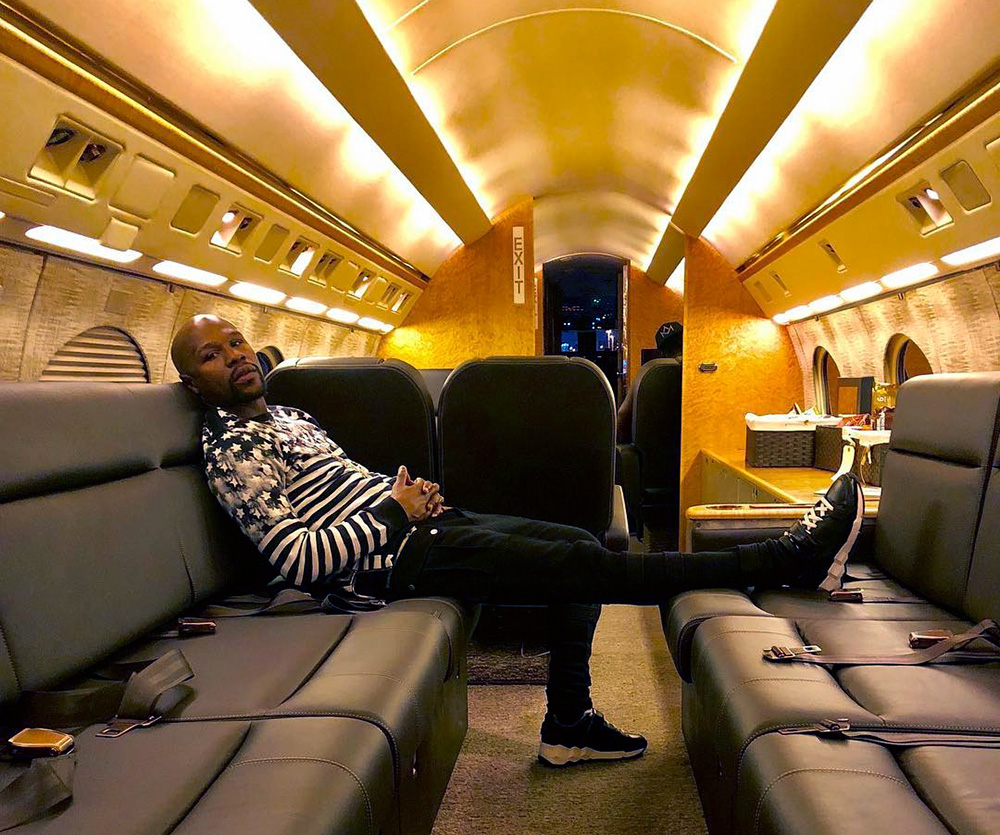 Mayweather certainly lives up to his 'Money' nickname when travelling, having visited places such as Monte Carlo, Hong Kong, Bali, Fiji and Tokyo among many others. For these trips he has not spared any expense in making them comfortable, with the interior of his Gulfstream G650 jet – dubbed Air Mayweather – boasting luxurious leather seats and even a bed. An in-built entertainment system provides a welcome distraction on long flights and the former multiple weight world champion has been known to get a haircut or massage on board with the help of a masseuse!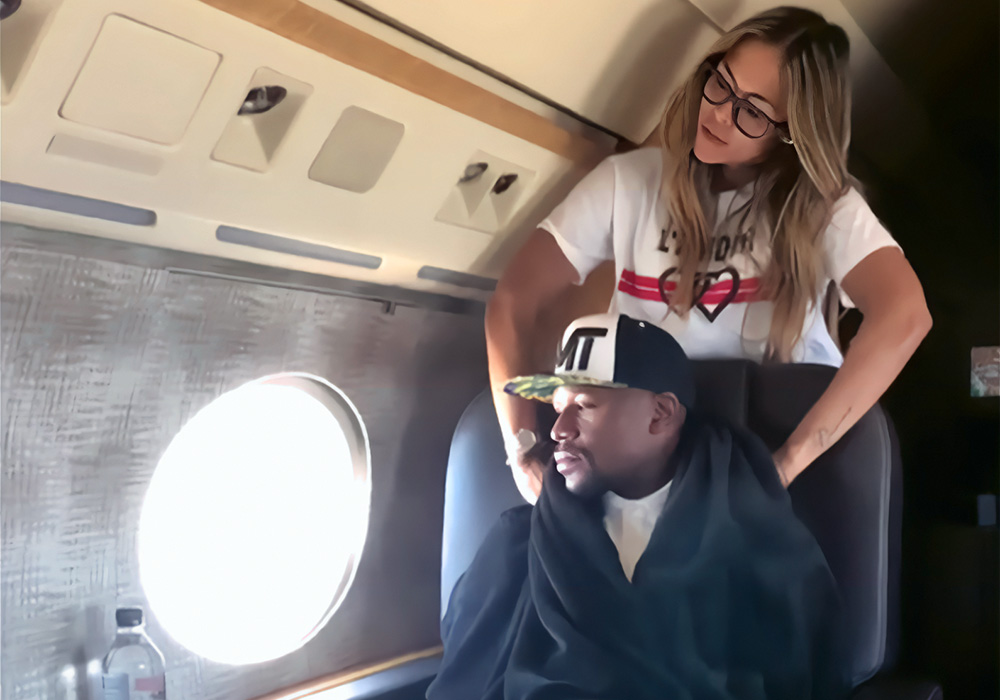 Mayweather has also engaged in high-stakes poker games aboard his jet, and loves sharing snaps of it online – its exterior proudly bearing his name alongside 'TBE' (The Best Ever).  To ensure a pleasant environment, fresh air is also pumped into the cabin every two minutes. Although he has retired from professional boxing, Mayweather is still open to fighting in exhibition-style bouts – provided the price is right!
Iron Maiden's "Ed Force One" – 747-400 tour jet
But even the most famous people sometimes need to stretch their wings and try other careers once in a while.  You'd assume that Iron Maiden frontman, Bruce Dickinson, wouldn't have much free time in his schedule (considering the band have been touring and releasing albums consistently since 1980) but he achieved another aspirational career path alongside his music – that of commercial pilot.
In 1993, Dickinson made the decision to leave Iron Maiden for a time to concentrate on solo projects.  Shortly afterwards, he learned to fly recreationally in Florida but soon found himself bitten by the aviation bug.  After accumulating enough hours he achieved the highest level of piloting certification – Airline Transport Pilot license (ATPL) – requiring a minimum of 1,500 hours of flight experience. He even assumed the role of captain for now-defunct charter airline Astraeus, where he flew a Boeing 757.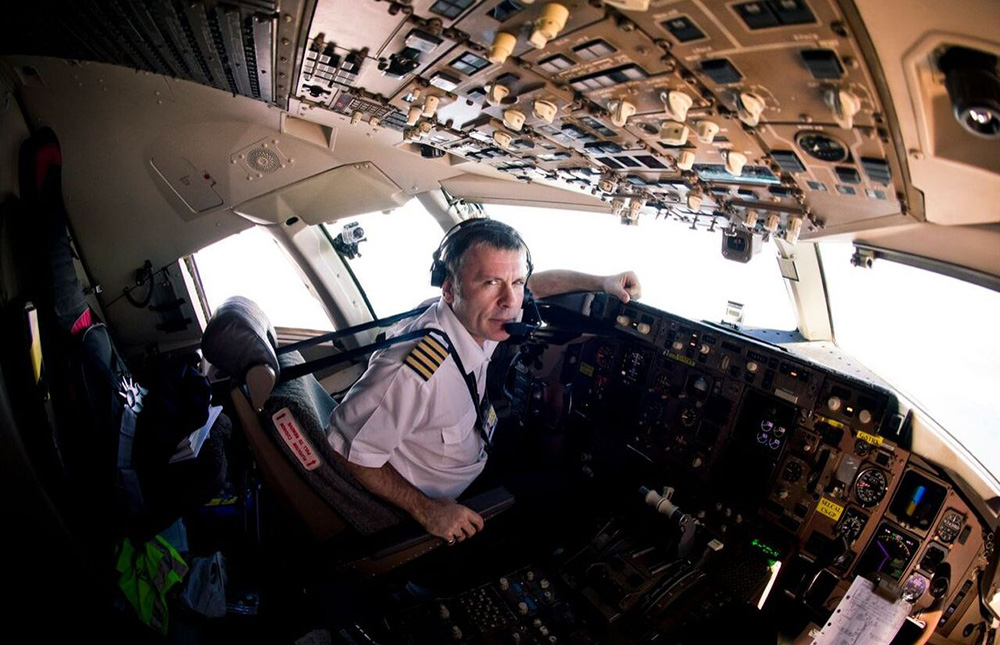 And if that weren't enough, he helped bring back 200 British citizens from Lebanon during the 2006 Israel/Hezbollah conflict, saved 180 tourists stuck in Egypt after XL Airways UK ceased operations in September 2008, and brought home a group of British RAF pilots from Afghanistan the same year.  He also found time to become a world-class swordsman – winning two World Championship silver medals and ranking no 5 in the 2000 Olympics. Oh, and he owns his own brewery. But, most importantly for our story, Dickinson was responsible for flying his Iron Maiden bandmates across the world on the group's tours.
On return from his hiatus, the band began to plan their 2008 tour wanting to reach as many of their fans as possible.  However, Iron Maiden are well known for their larger-than-life concerts and elaborate special-effects – all of which requires a huge amount of equipment, scenery, pyrotechnics and costume changes, plus a large team of roadies to make the magic happen. The band were told that it wasn't viable for them to perform in countries like India, Serbia or Colombia and they'd need to either scale back the concert or drop some of the planned locations.
Dickinson came up with a plan:  they'd be able to load everything – the band, the scenery, the equipment and all the support staff – onto one large aircraft that he could then fly to concert locations with a reasonable itinerary.  The "Somewhere Back in Time" World Tour took off in a customised Boeing 757 dubbed "Ed Force One" with Dickinson in the cockpit.  The plan worked and the band visited 87 different locations over the tour, playing to more than 2 million people worldwide, so a second 757 was used for their 2011 tour.
However, their 2016 tour was an even bigger deal. The band wanted the tour to feature one of the loudest sound systems in the world and take their set design to a whole new level.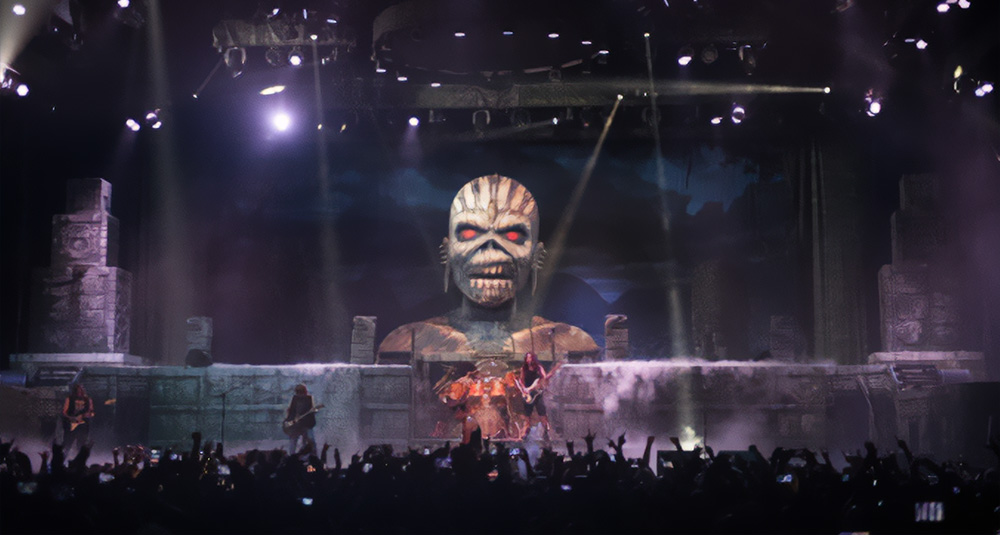 The 757 was too small to transport everything so, in 2015 Bruce Dickinson obtained his ATPL, allowing him to pilot  a customised Boeing 747-428 became "Ed Force One" – the tour jet for their biggest and most ambitious tour yet.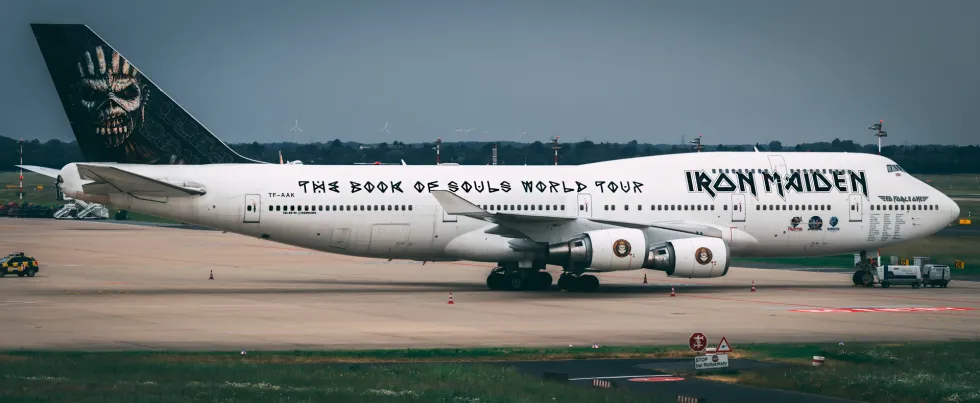 But Ed Force One wasn't a typical party jet – it was designed to carry a lot of people and 20 tons of equipment – meaning that the interior was strictly functional.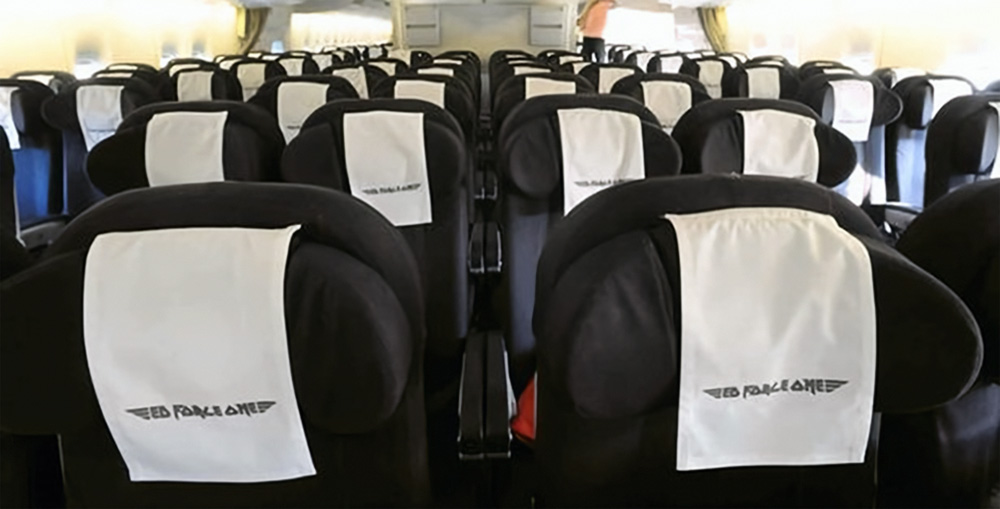 The bottom deck consisted of seats for the tour crew with customised head-rest covers and storage space for the supplies, including a large amount of alcohol and branded cups.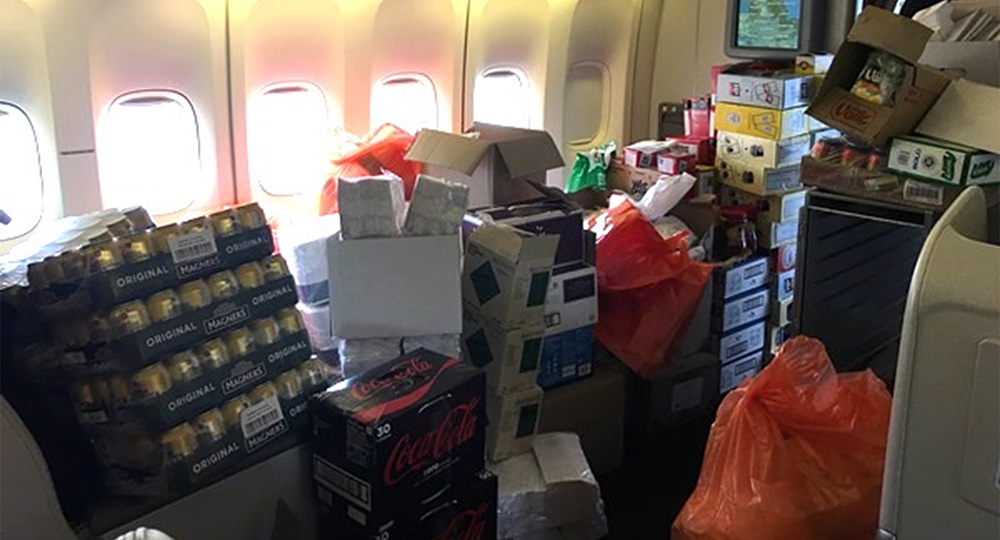 The top floor of the 747 was divided up to provide private sleeping areas for the band while all other tour members were able to stretch out across multiple seats.  Here's Bruce Dickinson giving a short tour of the 2016 Ed Force One:
The Book of Souls World Tour was extremely well received by the fans who loved the Mayan set designs, the insane pyrotechnics and a 40 foot tall inflatable Eddie (the band's mascot).   Despite the extravagant, over-the-top nature of The Book of Souls, Iron Maiden are still touring, having just finished their Legacy of The Beast Tour in 2022, and currently planning for their 2023 tour "The Future Past", although it doesn't look like the 747-400 will be joining them.
After the Book of Souls tour, the enormous aircraft was leased out to several small private charters – most notably, taking 350 Icelandic football fans to Marseille to watch Iceland play Hungary at the UEFA Cup in 2016, with the 747 still sporting the full Ed Force One Livery.  The jet was then operated by Air Atlanta Icelandic until its last flight in April 2022, when it took its final flight to Kemble, UK to await being broken down for parts.
When he was asked about the possibility of piloting again for their (then) upcoming Legacy of the Beast tour, Dickinson said, "Oh, no, no, no, no. We're going to be flying and I'm going to be in the back. Hey, look, I'm 63 — I'm 64 in August. You know, when you get to 65, if you're an airline pilot, they just take you out the back and shoot you, right? So, I'm going to be sitting in the back being the backseat driver."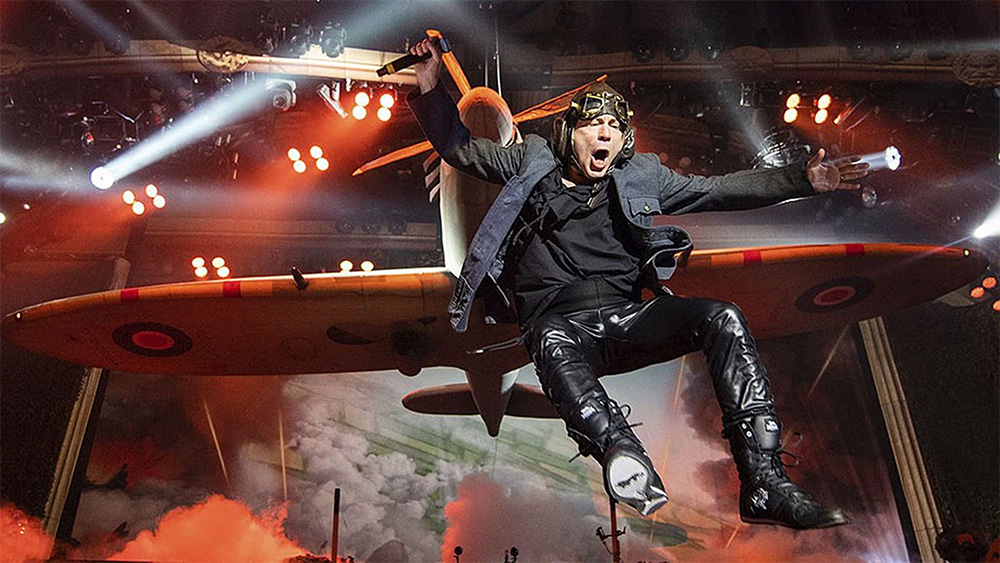 Even though Iron Maiden may have said goodbye to their tour jets (at least for now) the private aviation industry continues to adapt to ever-changing economic and social pressures, seeing an an explosion of activity over the last few years.
 With the impact of Covid in 2020 and the rise of social media and ultra-rich influencers private jets have also become far more prominent in the public eye over the last few years.  As such, designs are starting to diversify and change based on the owner's requirements – from ultra-luxurious comfort, through to striking aesthetics – all the better to showcase on Instagram. The next part in this series will explore how this has influenced the most recent private jet interior design trends and some theories about where this might lead in the future.