Ever since its inception, private aviation has grown steadily as the fastest, most convenient, secure and comfortable way to travel. In previous articles, we've looked at how the interior of private jets have evolved over time to fulfil any needs their prospective owners might have. As technology has improved exponentially over the last 60 years, private jet interiors have changed almost unrecognisably in response to industry pressures and engineers pushing the limits of what's possible. And then, in 2020, the world changed.
The impact of the Covid-19 pandemic on the private aviation industry was initially devastating. Travel bans, lockdowns and economic uncertainty meant that demand for luxury services crashed and charter operations faced an unprecedented decline in business. However, as wealthy people began to recognize the advantages of flying privately, such as avoiding large crowds, enhanced health and safety protocols and not having to go through commercial security checks, there was a surge in demand for this sector. This led to charter operations being full to capacity with a long lead-time for customers hoping to purchase their private jets or even a fraction of an aircraft with the fractional ownership programs.
Despite the wait, a private jet is a necessity for many ultra high net worth individuals who need to travel frequently and avoid the inconvenience of busy airports with their inevitable long security queues. For celebrities in particular, the need to remain unnoticed when travelling becomes a huge benefit. However, some celebrities look for something other than comfort when flying for fun, and we couldn't give examples of private jets without mentioning one of the most prominent celebrity pilots – flying maverick Tom Cruise.
A real enthusiast, Cruise gained his pilot's licence in 1994 and has been flying ever since. Cruise is famous for wanting to do his own stunts and, when filming the 2022 sequel Top Gun: Maverick he even asked the US Navy for permission to fly the F-18 Super Hornet fighter jet used in the aerial action scenes. Unfortunately for Cruise, this was denied – presumably due to the impossibility of getting liability insurance for one of the world's most famous actors to fly a $70million military jet with a top speed of Mach 1.8 – or 1,381 mph. However, he was able to fly his own restored WWII P-51K Mustang in the movie, performing his own aerial stunts with a practised familiarity, as he's owned and flown the aircraft for over 20 years.
Cruise defended his decision to push for practical effects, as he explained how the physical effects of flying couldn't be replicated with CGI, saying:
"You can't act that, the distortion in the face. They're pulling 7½, 8 G's. That's 1,600 pounds of force,"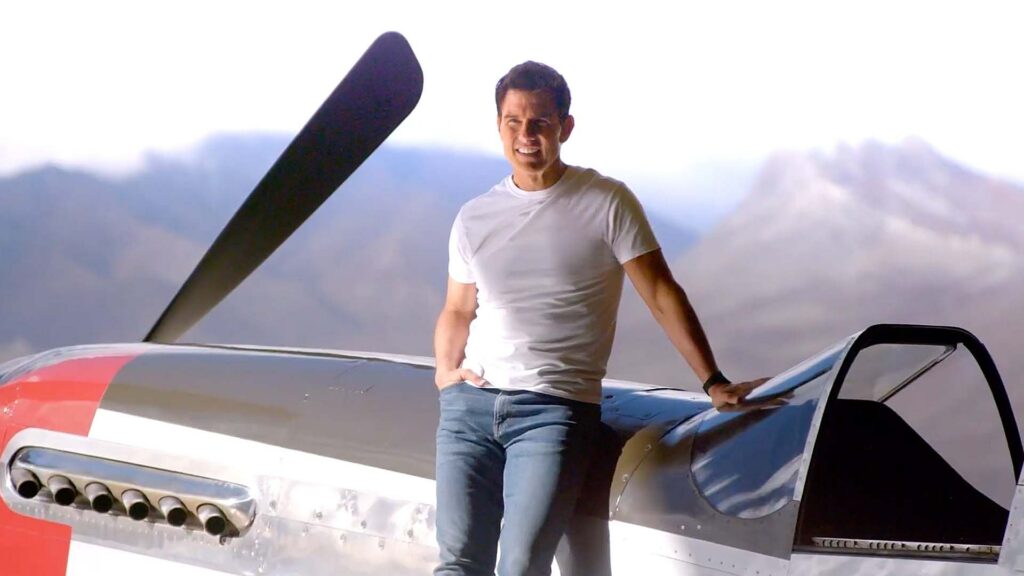 Cruise owns several aircraft and, whilst the P-51 Mustang is his favourite to pilot, he travels in a little more comfort in his Gulfstream IV-SP.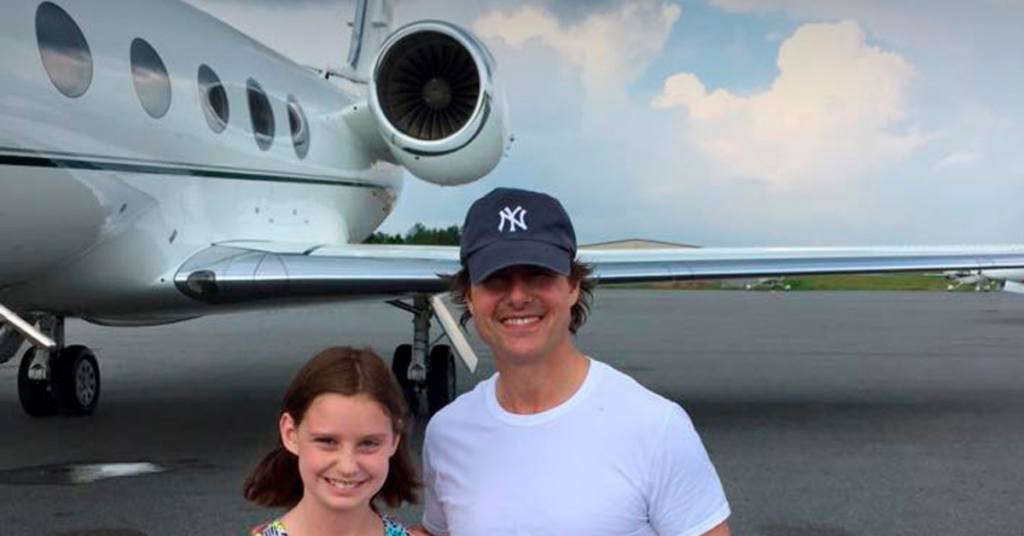 The Gulfstream IV-SP reportedly has its own private cinema room and – very improbably – a jacuzzi on board. Unfortunately, it's not possible to confirm this and there's no verified accounts of a jacuzzi or hot tub actually being installed on an aircraft, despite a number of fluffy online lifestyle articles confidently stating the opposite. In fact, the only "source" available that discusses the seemingly insurmountable challenges of managing a large body of water on a jet is a press-release by Olympic hot-tubs in 2015. This announced a partnership with Boeing to develop a "Spa Class" upgrade for the787 Dreamliner with integrated hot-tubs and sauna suites.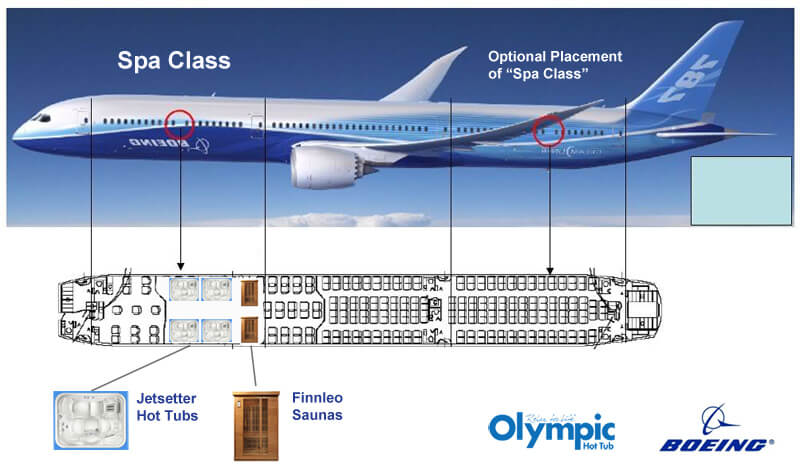 The publication date of that press-release? 1st April 2015. Ultimately, it's very likely that Cruise has a steam shower on his jet or uses in-flight spa services but hyperbole has led to celebrity gossip sites (and credible publications that really should know better) to confidently state that his G-IV contains a jacuzzi.
Unfortunately, there are no images available to verify what bathroom facilities have been installed on Cruise's jet. In fact, there aren't any images publicly available of the Gulfstream IV's interior because Tom Cruise is notoriously secret about his private life and, as such, his jet is a private space he wishes to keep away from the public eye. For the ultra-wealthy, their private jets nowadays are like a home-from-home and are treated with the same discretion. That is, of course, unless there's a reason to share their spaces with the public. Certainly, other action stars are a little more relaxed about having images available of their private spaces.
Dwayne "The Rock" Johnson is, by any standards, incredibly successful with a net worth estimated at $800 million and growing. Currently the world's highest paid actor, commanding $20 million per film, he was also the second highest paid wrestler of all time. In addition, he owns several businesses – two film production companies, a tequila line, a sports energy drink brand and has teamed up with UnderArmour to launch a range of products under the name "Project Rock". With a reputation for being an incredibly hard worker, a large part of Johnson's marketing strategy is about promoting his personal brand to bolster his professional enterprises. And one aspect of this is showing himself as a successful but grounded family man. Johnson owns a Gulfstream G650 – of which he's demonstrably proud of and uses often in his Instagram feed.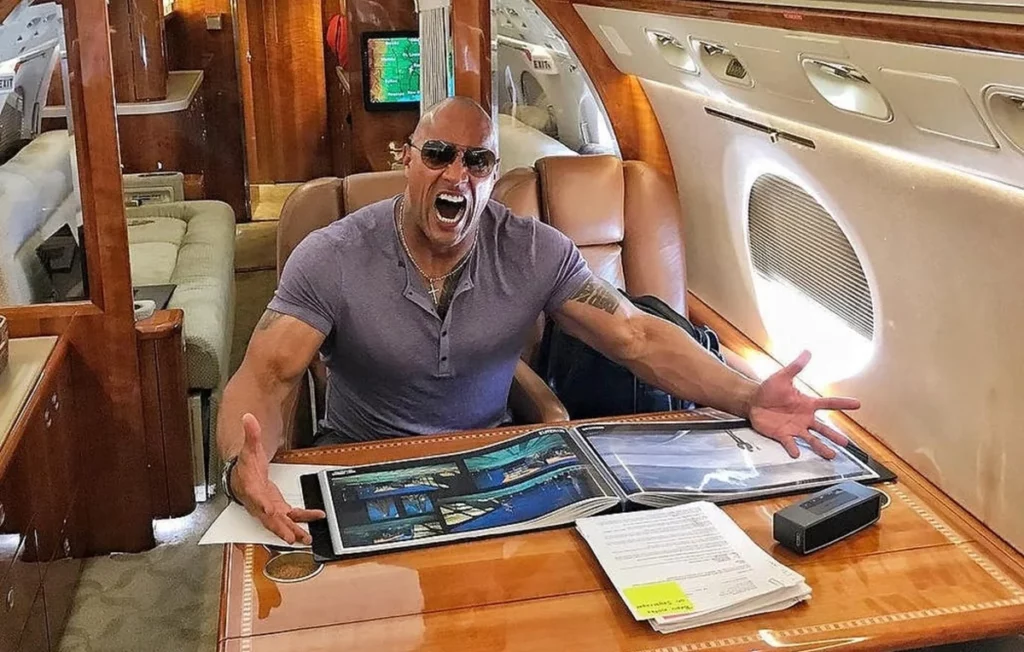 The cabin interior uses earth tones and appears practical and down-to-earth, in line with Johnson's projected self-image. His Instagram feed often features images of him in his jet and this, combined with his promotional skills led to him becoming the highest paid Instagram celebrity in 2021, commanding $1.5 million per Instagram post. Despite this, he manages to post about his jet and provide images of aspirational lifestyle without coming across as out of touch. He constantly reminds his fans of his humble beginnings – even the name of two of his companies reflect this : 7 Bucks productions and 7 bucks digital both refer to the amount of money he had in his pocket when he began wrestling.
Social media posts showing him using his jet as a private family base are often popular – he manages to tread the line between reminding his fans of his tremendous success, but also strives to appear approachable and relatable with images like this one of him changing his infant daughter's diaper mid-flight.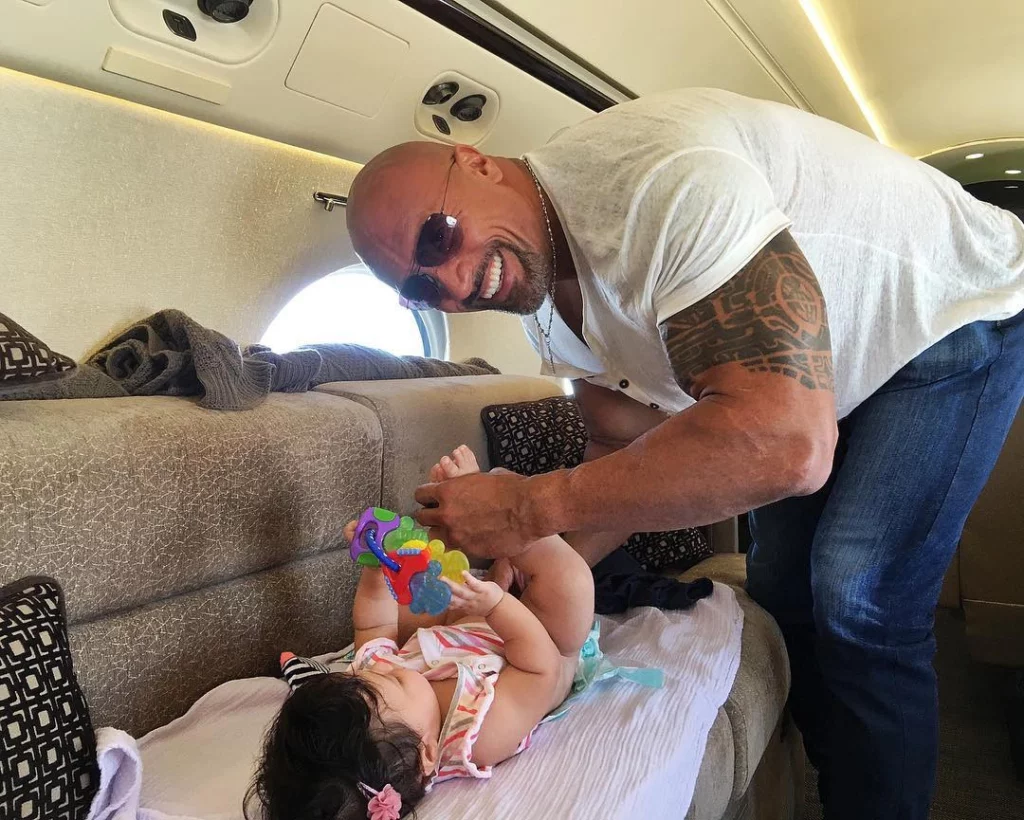 Johnson's social media profile helps create an irresistible persona for his fans who feel they're getting to look behind the curtain at his private life and see intimate family moments. The G650's interior supports this perfectly – despite the evidently luxurious furnishings, having toys or clothing strewn around the cabin makes it feel aspirational yet unaffected, helping enhance his personal brand of being likeable and grounded.
Other celebrities create similar narratives for themselves, customised towards the demographics of their fan base. Drake, the internationally renowned Canadian R&B / rap artist will often talk about his poor childhood, but his brand is very much a rags to riches narrative. 133 million Instagram users follow his @ChampagnePapi account where he documents his successes, posting images of his famous friends, expensive cars and luxury lifestyle. Most impressive of all is his private jet: Air Drake, a Boeing 767: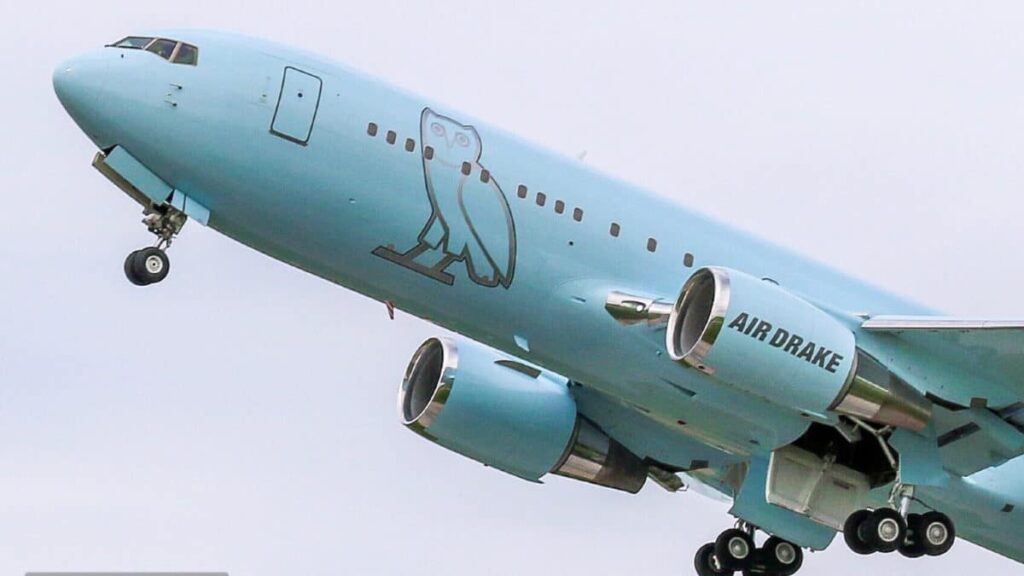 Whilst Drake is certainly wealthy, purchasing and customising a 767-200 jet is a big investment, so there was a certain amount of speculation about how he'd managed to acquire a customised jet of this size.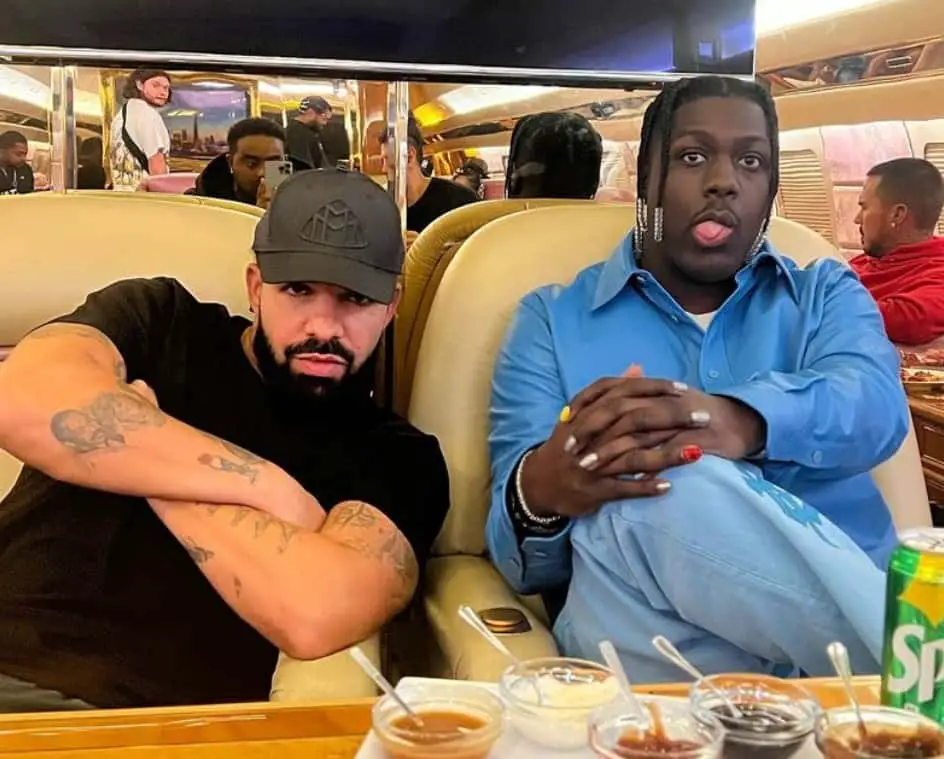 However, it appears that the 767 was a gift from CargoJet, provided as part of a marketing campaign to boost both Drake's and CargoJet's profiles. In return, Drake uses the jet and promotes CargoJet through his social media and PR efforts. In return, having such a luxurious aircraft for his private use is a good look for a rapper in an industry where conspicuous consumption and wealth is a much-admired trait.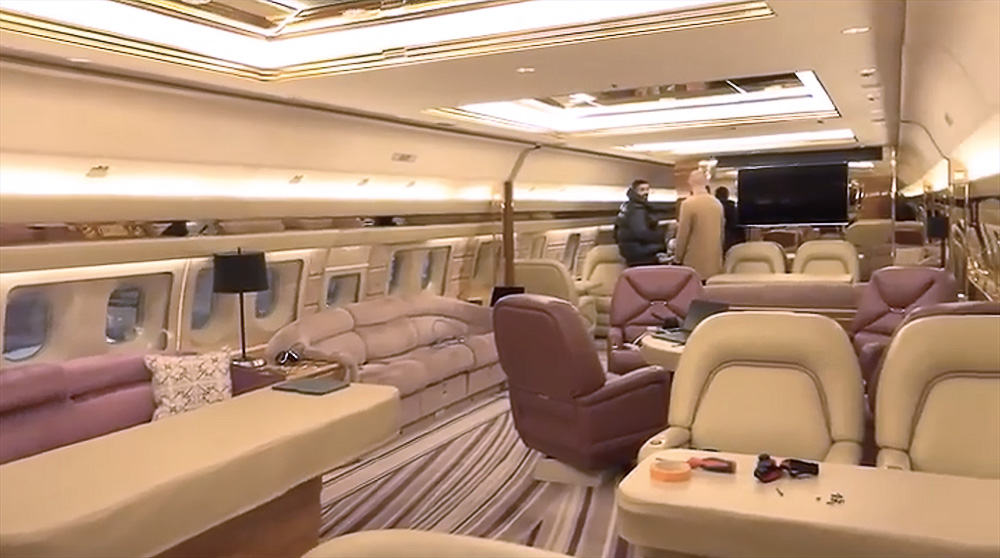 The 767-200 has a typical seating capacity of 216 passengers but Air has been fitted for just 30 passengers.
The screenshots below come from an Instagram tour of Air Drake, showing multiple private suites for guests and a 10-seater cinema room:

With approximately 2000 square ft of living space (twice as big as the average apartment size in the USA) and a livery designed by Louis Vuitton designer Virgil Abloh, the jet is positively palatial. So, using private jets as a marketing tool is nowadays big business. It represents the height of success and is seen as the ultimate status symbol. So, naturally, for people who monetize aspirational content by showing off their success while recommending their latest merch opportunities, the idea of owning a private jet has been appropriated by the ultra-wealthy celebrity influencers.
Social Media, alongside private aviation, is another industry that was hugely affected by the pandemic. With people staying home, they were logging onto social media more often and for longer periods of time. Social platforms such as Instagram, Twitter, TikTok, and Facebook adapted to the pandemic by introducing features like Live Video Streaming and Stories. People wanted more content and to replace the human connection that was lost during lockdown with gossip and inside-looks with celebrities who felt like they were friends. With hugely increased demand, more influencers began creating more content and needed to look for new angles.
And, currently, when you're looking for famous influencers who use their private jets as part of their lifestyle brand, it's hard to keep up with the Kardashians. Kim Kardashian notoriously chartered a Boeing 777-200LR for her 40th birthday party in 2020 – in the midst of the pandemic lockdowns. The aircraft transported the reality-TV star and her closest friends and family in luxury to a private island in French Polynesia.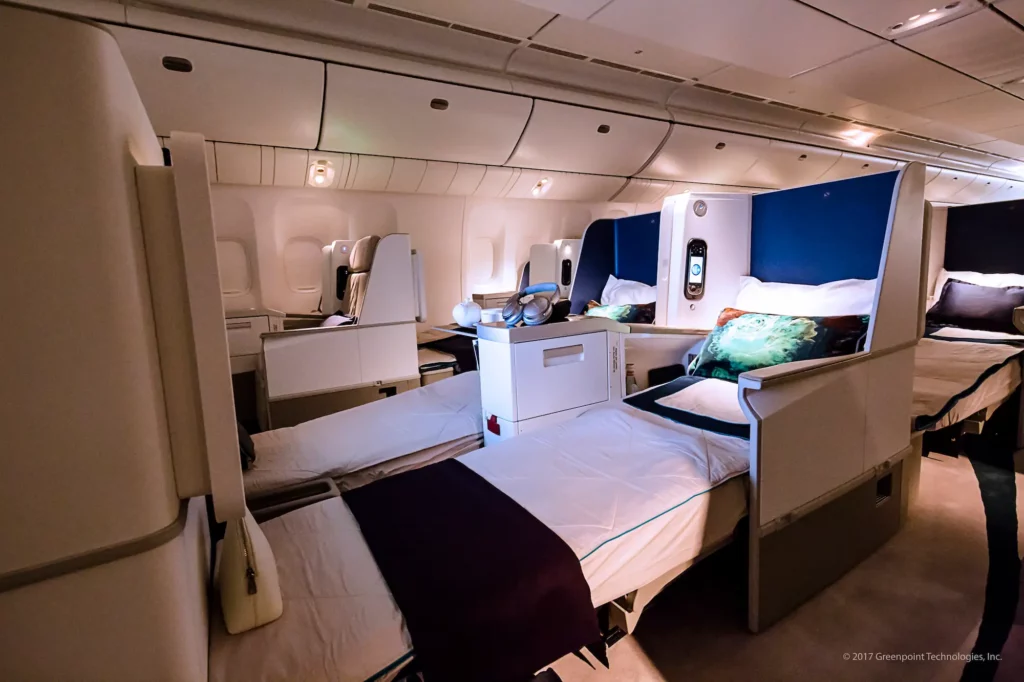 The jet is configured for 88 VIP seats – all of which convert into fully flat beds with integrated entertainment systems. In addition, the cabin features a spacious lounge complete with dining tables and a bar.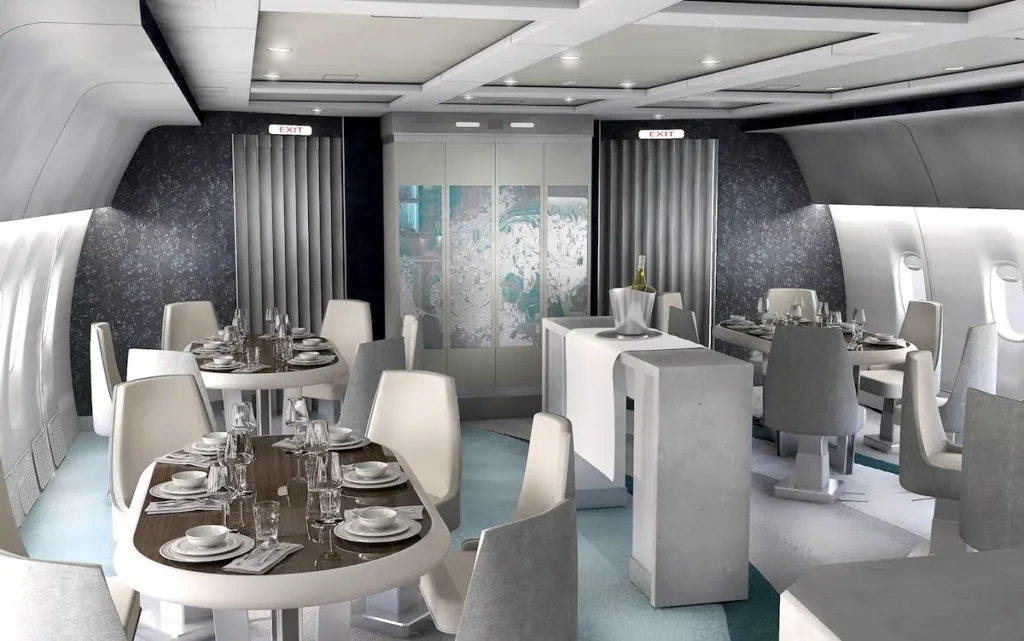 Kardashian's fans were treated to a video tour of the plane by several of the guests on board. Whilst the 777 was chartered for a special occasion, Kardashian owns her own Gulfstream G650ER – the same model as The Rock's private jet, although the interior is decorated in a remarkably different manner. As Kardashian's brand is about promoting a luxury LA lifestyle, she doesn't need to present a down-to-earth or relatable image. And, in a move that reflects this, the billionaire reality star and lifestyle influencer went one further by purchasing her own private jet. During a June 2022 episode of The Kardashians, she showed off her custom-designed luxury Gulfstream G650ER which has come to be known as 'Kim Air'.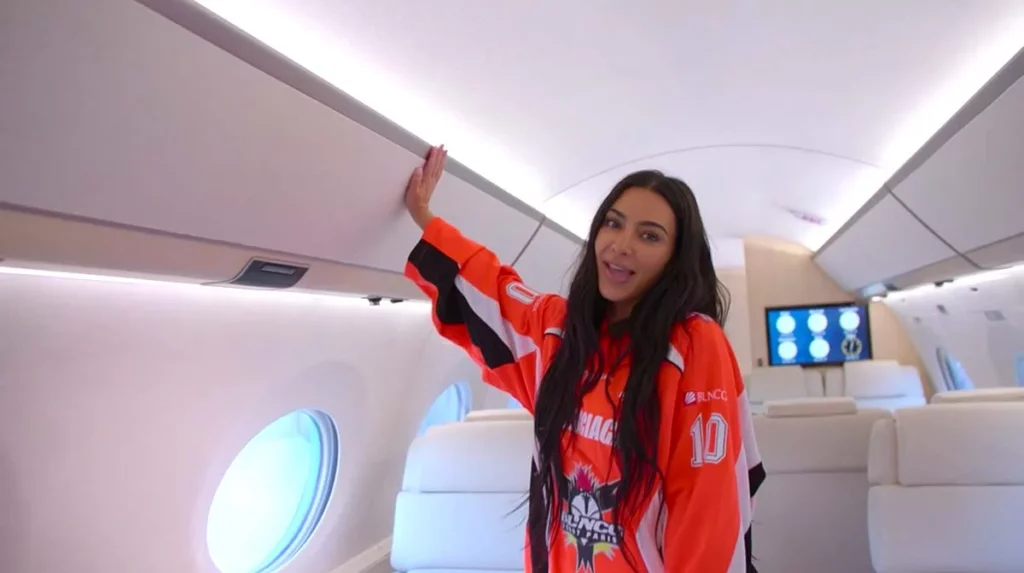 Kardashian gave the TV crew a tour of the jet during an episode, saying "Usually planes are, like, dark with lighter leather. Mine, I had custom all-light wood. I had a bathroom put in the front and a bathroom put in the back. Every seat has its own phone charger!" But the aspect she was most pleased about was the cashmere accents: "Cashmere ceilings, cashmere pillows, headrests. I feel like I'm doing an MTV Cribs for planes." And Kardashian isn't the only member of her influencer family to own their own private jet.
Her younger sister, Kylie Jenner famously owns a Bombardier 7500 Global with a distinctive livery.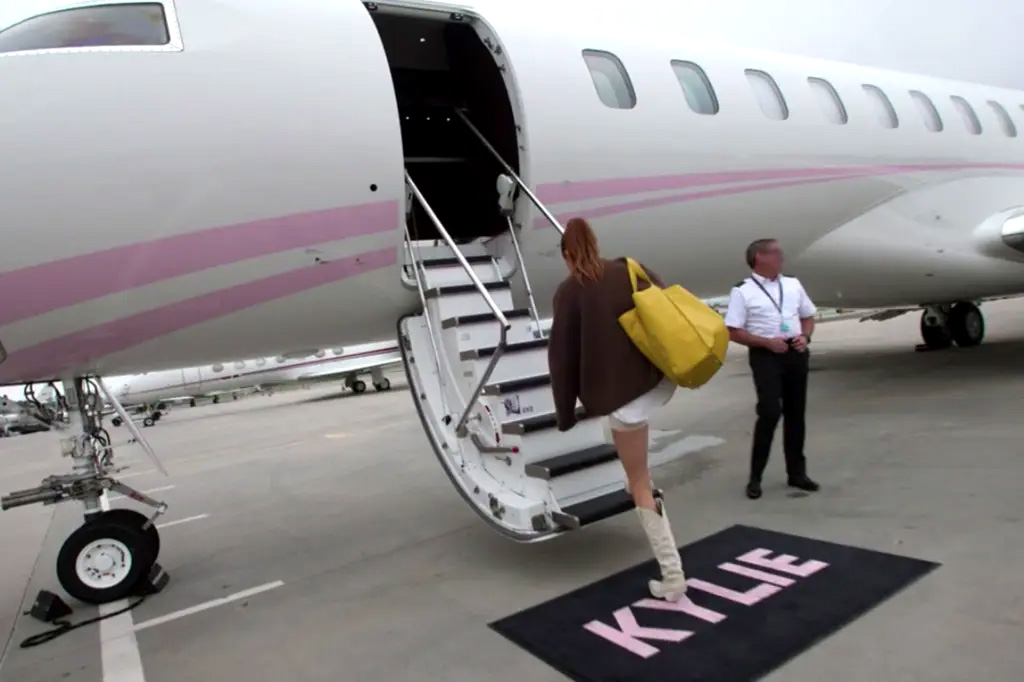 The interior is decorated in neutral tones of cream and beige which, at first glance, may seem understated but actually appears to be designed as a versatile backdrop for her frequent photo shoots – displaying designer clothes, handbags or expensive furnishings. The interior lighting offers a range of colourful options to show off any outfit or makeup in the best possible way.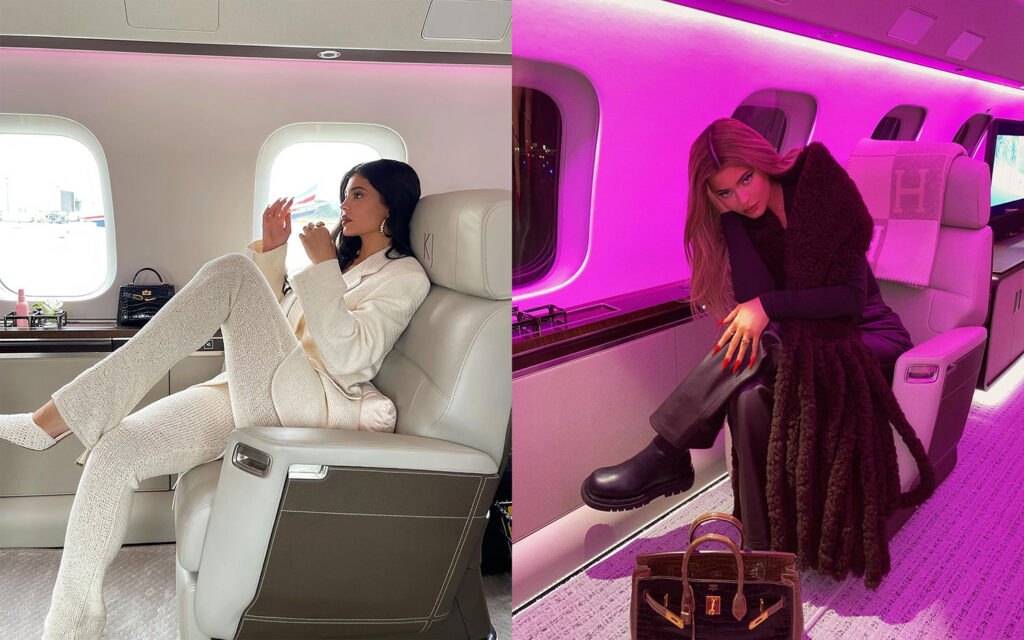 In 2019, Forbes declared Jenner as the youngest self-made billionaire, a label that was disputed by many – both for the terms "billionaire" and "self-made". Regardless, there's no disputing that Jenner can command up to $1,835,000 for each sponsored Instagram post she makes. Given that her brand is about aspirational luxury, clothing and makeup, the jet appears to be a solid marketing investment instead of a purely functional (albeit extremely lavish) way to travel. The Kardashians' influence on aviation isn't limited to their own private Jets, they've made showing off your jet something to emulate. Unlike most ultra-high net worth individuals (like Tom Cruise or many of the other celebrities we've discussed in this series) prefer to keep their privacy and maintain their private jets as an oasis of calm amidst a busy public life, it appears that private jet travel – for some – is becoming less private over time and being used as yet another marketing tool for the ever-hungry influencers who gain wealth as they gain followers.
Conspicuous consumption, therefore, becomes the product, and celebrity influencers generate aspirational influencers who mimic the lifestyles of their idols. And private jets are now becoming more popular than ever – but the biggest growth in interest is from people who can't actually afford to purchase one. This has led to a new social paradigm – private jets are only private for the truly wealthy who don't need to show them off. But if you want to "fake it till you make it" – showing off a private jet that you don't own is the ultimate pretender move.
The recent case of influencers staging their own private jet vacations is evidence that not everything we see online is what it seems. Back in 2017, rapper Bow Wow infamously alluded to flying by private jet via an Instagram post. Unfortunately for him, a fan later spotted the rapper flying on a normal commercial plane – not even in first class.
When it was later revealed that he had faked the post, the #BowWowChallenge soon gained prominence as a rallying cry on social media for obviously fake luxury, or for anyone looking to poke holes into a celebrity's performative luxury lifestyle. For much of the past decade, burgeoning influencers could use a fake jet set like the one at FD Photo Studio in Los Angeles. With its distinctive mahogany panelling, leather seating, and small, rounded windows, this hand-made set can be rented for just $64 an hour and remains a popular destination for music video shoots like Famous Dex's "What I Like."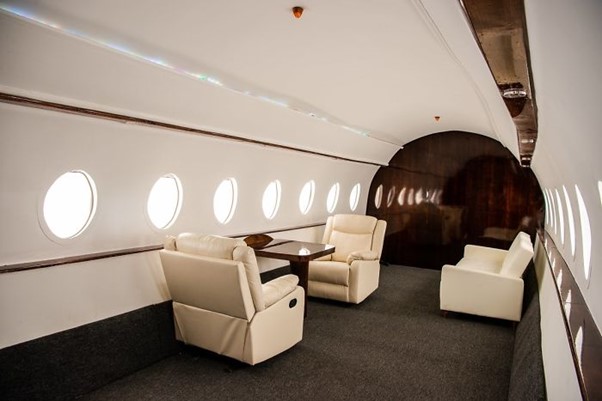 Social media influencers can make a living – and become millionaires themselves – by crafting an illusion of luxury. If you've been wondering how some can afford lifestyles of such luxury, here's a hint.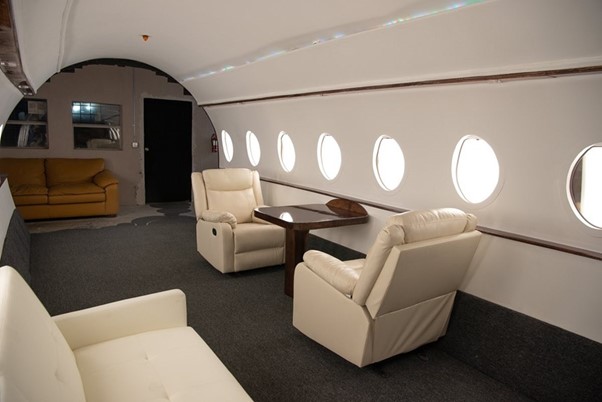 That there is a small but growing economy of high-end sets designed to look like luxurious private jets is very indicative of how far people will go. Being an influencer requires one to curate a lifestyle that is aspirational, uncluttered, and most importantly – authentic. Private jet sets exude just enough luxury without going too far off course from reality. But since bloggers and celebrity sleuths where quick to get wind that certain celebrities were prone to faking their private jet use, social media's easy penchant for misdirection and manipulation have caused increasing scepticism. Social media may be theatre, but one thing's sure: these elaborate attempts at fooling their followers aren't flying by unnoticed.
However not all private jets on social media are fakes – as we've shown, many A-list celebrities have given us sneak peeks inside their elevated lifestyles. In these situations, we often don't get to see the guided tours we would like but we do get enticing glimpses into their flying palaces.
Where will private jet interiors go in the future?
For celebrities that rely on popularity to maintain their wealth, the main priority in private jet interior design is that it photographs well and provides the appropriate image they wish to project. As such, we are likely to see more private jets with visually arresting centrepieces or feature walls that can provide a striking backdrop for selfies or photoshoots, or interiors that demand the viewer's attention with a wealth of different textures and finishes that provide visual interest in selfies.
Bright colours, eye-catching modern art and inspirational quotes have become de rigueur for celebrity influencer décor, so it's not a reach to assume this may extend to jet interiors. Collaborations with fashion designers are likely to become more common to achieve striking and ostentatious looks to satisfy social media followers. The private jet industry has seen a massive shift in interior design trends over the last 60 years. It has gone from being a symbol of luxury and exclusivity to being flooded with celebrities who use their private jet as a platform for selfies. However, certain qualities remain timeless.
From luxurious fabrics and materials to the latest cutting-edge technologies, there has never been a greater range of possibilities for today's ultra wealthy individuals when it comes to creating the perfect cabin experience. Every year brings with it new trends, promising exciting new additions to the world of private jet interiors. However, no matter what is currently fashionable, the most important thing when it comes to interior design will always be comfort and tasteful aesthetics.
It is exciting to watch as new technologies emerge and evolve, allowing for continual advancements in cabin designs, from those built by the OEMs like Bombardier, Dassault and Gulfstream to the absolute bespoke cabins design by renowned designers. Private jets are now able to offer truly immersive experiences with features such as ambient lighting, immersive entertainment systems and lavish washrooms that may even include a steam room. With the help of these new technologies, it is now possible to create a truly unique cabin experience, tailored to the individual needs of the owner. No matter what trends come and go, one thing will always remain true: comfort and tasteful aesthetics are essential for a luxurious cabin experience. Private jet interior design is not just about following the latest trends; it is about creating a space that meets the owner's exact needs and preferences for ultimate personalisation. It is this perfect blend of comfort and style which has made private jet interiors so popular amongst the ultra-wealthy and will continue to do so for years to come.
The evolution of private jet interior design over the last 60 years has been remarkable and exciting, with many new possibilities on the horizon. However, at its core, it is all about providing an experience that meets the individual requirements of the owner for a truly customised cabin space. No matter what's in fashion, comfort and tasteful aesthetics will always be in demand for those who seek the ultimate luxury experience.