featured image: Denis O'Regan
Private Jet cabins have come a long way since their inception, with the earliest interior designs being functional and basic – almost unrecognisable compared to the luxury and comfort of today's bizjets.  The 60s and 70s were a pivotal time for private jets with lots of innovation and new models being released, culminating in huge commercial aircraft being converted to carry a small amount of people around in the ultimate luxury, as we covered earlier in part 1 of this series.
Unfortunately, the 1980s did not see this trend continue unabated – it was, instead, a tumultuous time for the industry. After the financial crash of 1980, the era of excess and luxury that characterized the late 1970's gave way to austerity and practicality. Instead of investing heavily in developing new aircraft models, manufacturers concentrated their efforts on modifying and upgrading existing designs.
However, austerity is not for everyone – for those who can afford it, luxury is always in fashion. This meant that across the following two decades there was a huge difference in the lavishness of a private jet interior for those at different levels of society.  In the early 80's, getting a private jet to travel around was a huge investment, which many record companies were unwilling to make without a guarantee of a financial return.
In 1981 Duran Duran, were riding the high of their first breakthrough hits "Planet Earth" and "Girls on Film" and were very definitely a band to watch. But being up-and-coming wasn't the same as having arrived.  Embarking on their Careless Memories tour, the band members were squeezed into a tiny 5-seater Cessna with barely enough room for an extra guest and their luggage.  Nowadays a Cessna is the most popular training aircraft for student pilots due to its reliability and (relatively) low cost, meaning the guys weren't exactly flying in luxury.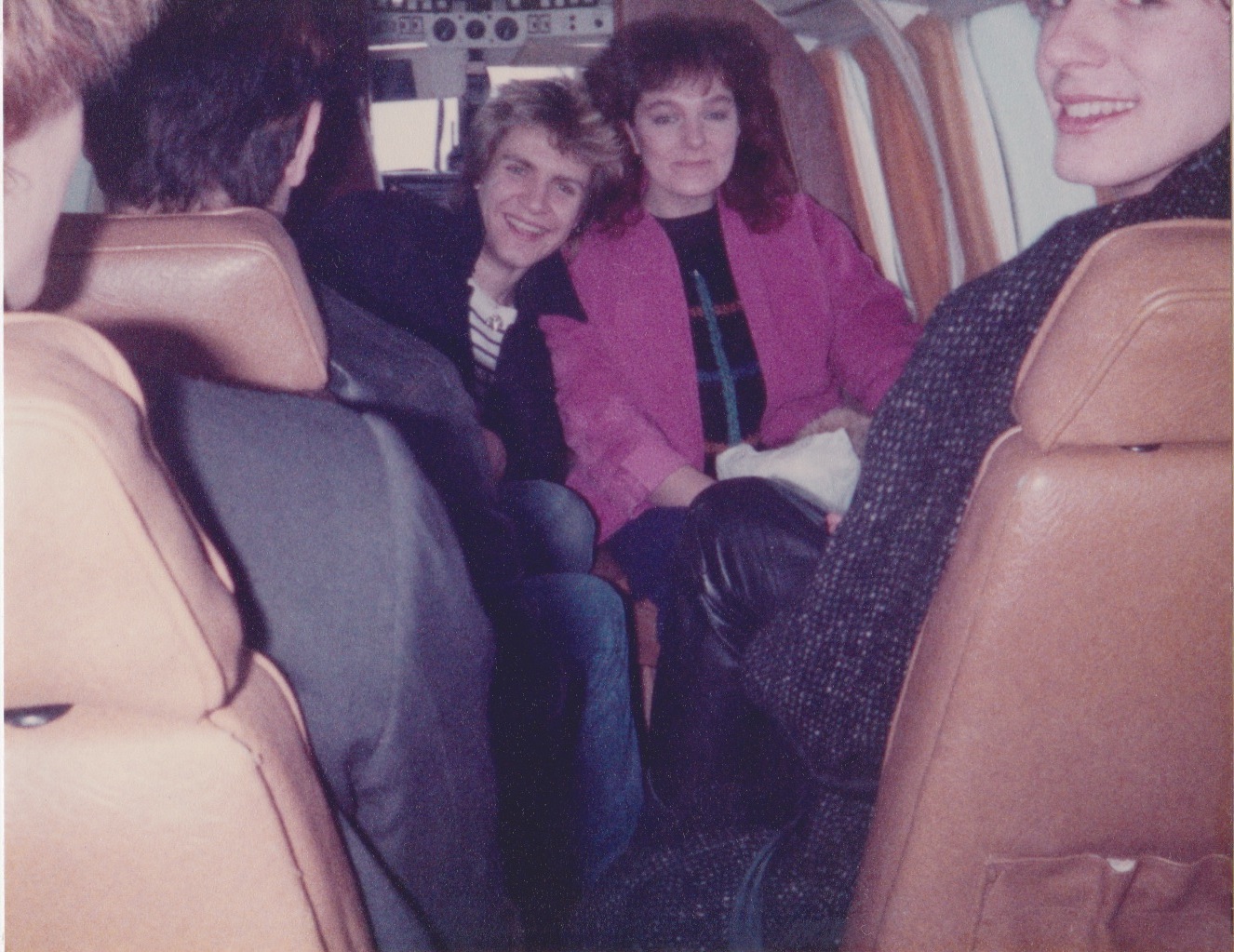 image: Amanda Berrow
Luckily, as the tour took place in the UK, they didn't have to stay cramped up in the little propellor plane for long.
However, on the other end of the spectrum in 1983, David Bowie was one of the most famous musicians in the world – meaning economy wasn't a factor when it came to his travel requirements. A much larger concern was getting him to his tour dates on time despite a crippling fear of flying. 
In fact, before 1979, Bowie had spent almost a decade travelling to booked gigs without ever stepping onto a jet and would hyperventilate at the thought of flying. Unfortunately, this meant his mode of travelling internationally was by ship, and crossing large areas of land was restricted to train or bus. 
This meant his tours were always extended with long periods of inactivity while he travelled between concerts.  Bowie began to chafe at the wasted time.
As he told an interviewer in 1983:  "I finally said, sod it, I'm gonna lick this. 'Cause it's stupid, not being able to get anywhere. And so, it worked. It really worked. I've been flying ever since that flight. The fear has come back two or three times on this tour. I don't know why. I've got a great plane, great pilot. I know it's more dangerous to drive a car, but it's still something."
So, with his fear (mostly) conquered, he travelled in style for his Serious Moonlight tour in 1983 on a chartered Jet24 Boeing 707.  Having a personal jet meant that Bowie was able to perform in countries that had seemed beyond reach without spending a vast amount of time at sea.
The 707 was a converted commercial jet that could originally accommodate up to 174 passengers. The customised version that Bowie flew on had a capacity of 25, spread across the lounge, dining room and bedrooms.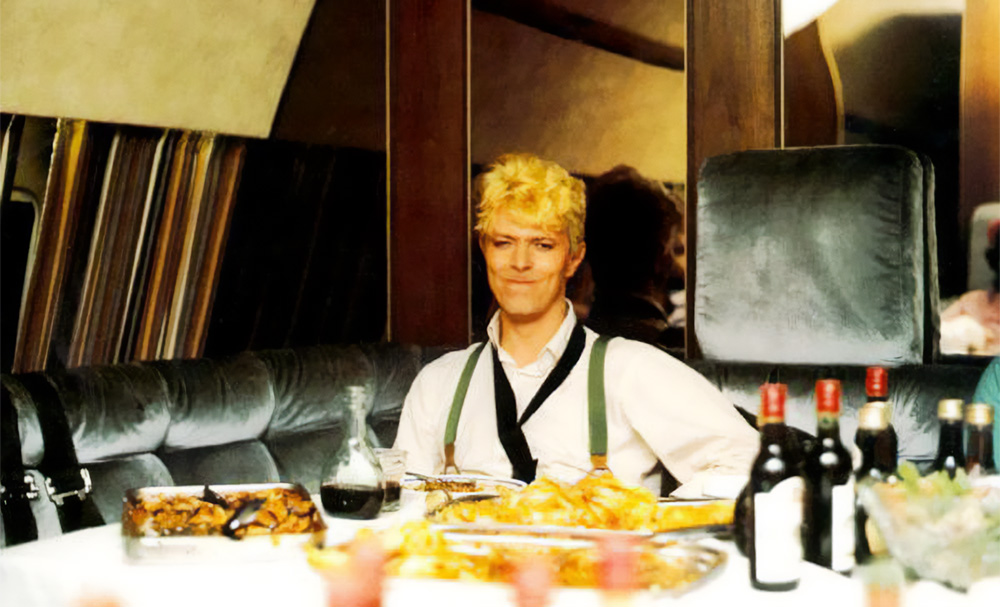 The jet was decked out in plush gray seating throughout, from the seats in the dining room above through to the passenger area and through to the lounge area for relaxing with guests and a cigarette.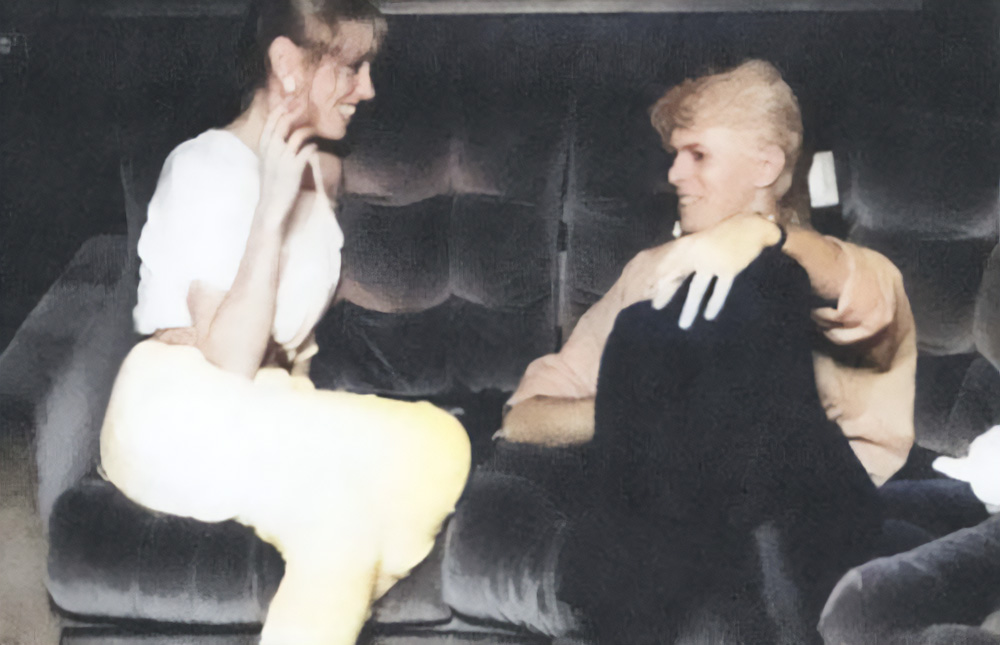 David Bowie with Shelley Duvall – 1983
And the luxury didn't stop at the furnishings – passport control took place on the aircraft, where Bowie and his entourage were handed their hotel keys at the same time.  Fame certainly has its perks!
Bowie's friend Freddie Mercury had a similarly cautious approach to air travel, refusing to fly on a DC-10 in 1979, as described by his assistant Peter Freestone:
"There were three of us, Freddie, Paul Prenter and I who boarded the plane for New York. I noticed that the seat configuration in first-class was different to normal but decided to say nothing about it. 
The three of us took our seats and Freddie finally voiced the puzzlement I could see on his face.
'What sort of plane is this?' he asked.
I had a rough idea but checked the safety instruction card and found that we were on a DC10.
'DC death more like!' was his reply. It was at a time when there had been two accidents in quick succession involving DC10s.
With that, Freddie picked up his belongings and informed the cabin personnel that he would not be flying with them that day. With us in tow, he swept off the aircraft and back into the terminal. The flight was delayed for about an hour while our suitcases were located and retrieved. These were then presented to us back in the lounge.
We discovered that the next Boeing 747 was a Pan Am flight fourteen hours later. Due to this, the three of us had to have our cancelled visas voided in order that we should legally remain in the airport. To show the depth of feeling Freddie had for the DC10, he was even prepared to travel tourist class on the later 747 as first and business class were full."
However, despite his reputation for extravagance and ostentation, Freddie Mercury didn't always opt for luxury – instead preferring to opt for speed and prestige on one infamous occasion. 
For his 35th birthday, Mercury chartered a Concorde to transport his friends from London to New York for an exclusive party. While not technically a private jet, Concorde was prohibitively expensive for most people to purchase a ticket, chartering the whole aircraft was an extravagance only available to the ultra-wealthy.
Concorde had a reputation for celebrity passengers and well-heeled guests yet, despite its reputation, the interior was extremely spartan, keeping everything pared to its bare minimum.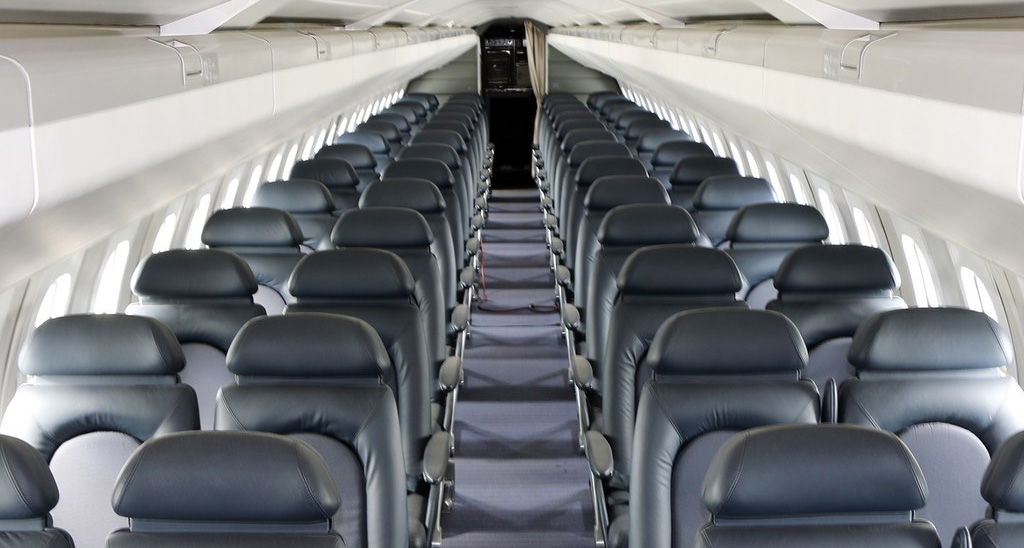 Image: Wikimedia Commons
In fact, the space allotted to each passenger – despite their status – was approximately the same as a commercial economy-class seat.  However, this didn't deter Mercury as it allowed him to make the trip from London to New York in 3 hours, allowing more time to party and consume $200,000 worth of champagne. 
For the wealthy and famous, privacy and comfort are usually the most important factors to consider when traveling. But for a select few that seek exclusivity and speed, even basic conditions on an aircraft like Concorde can be tolerated. The supersonic airliner was one of the few exceptions to this rule, ushering in a new era of near-instant travel. However, its retirement in 2003 marked the end of an era where jet-setting celebrities could reach their destination faster than anyone else.
Today, although there are still options for those wanting to experience first-class service with all the associated luxuries, it is not often seen as something reserved exclusively for the wealthy elite. Despite this, Concorde remains a symbol of aspiration, offering a glimpse into what once was – and of course – what could've been if supersonic travel had become established enough to offer a private option .  Although this might not be the end of the story as there are several designs in work for supersonic aircraft that can also be fitted out as private jets – let's see what the future brings!
Whereas some public figures enjoyed the prestige and luxury afforded by flying privately, others were more sceptical.  In 1986, Warren Buffett – the chairman and CEO of Berkshire Hathaway – was openly critical of companies who bought private jets.  But after growing Berkshire's net worth by $600 million the previous year, he found his time became significantly more valuable and travelling in an air-conditioned bus was no longer feasible.
As a famously frugal person, Buffett initially struggled to justify the expense, asking his friend Walter Scott Jr for advise on the purchase. Scott was reported to have told Buffett "Warren, you don't justify it. You rationalise it."
After much deliberation, Buffett spent $850,000 on a pre-owned Falcon 20, and it didn't take long before he became accustomed to the real benefit of owning a Private Jet.  Prestige, status and bragging rights weren't important to him, instead he was hooked by the sheer comfort and convenience that meant he didn't have to stop working when travelling.  As such, the jet became the ultimate time-saver for someone regularly on the move.
And, once hooked, Buffett found himself investing more into a private jet, upgrading to a brand new model valued at a far pricier US$6.7 million circa 1989, which he nicknamed "The indefensible". Three years later, he'd openly make fun of his hypocrisy surrounding private jets within an annual letter to Berkshire Hathaway investors:
"Those readers with particularly sharp eyes will note that our corporate expense fell from $5.6 million in 1991 to $4.2 million in 1992. Perhaps you will think that I have sold our corporate jet, The Indefensible. Forget it! I find the thought of retiring the plane even more revolting than the thought of retiring the Chairman. In this matter, I've demonstrated uncharacteristic flexibility. For years I argued passionately against corporate jets. But finally, my dogma was run over by my karma."
In a meeting in 1994,  Buffet continued to emphasise how much he enjoyed his jet, changing the nickname from "the Indefensible" to "the Indispensable".
"I take it to the drugstore at the moment," he said. "It's just a question of when I start sleeping in it at the hangar."
But it wasn't only Warren Buffett who had a new appreciation for the benefits of flying privately. The early 90s saw a resurgence of interest in private jets as the market began to regain ground amongst the wealthy.  The wild stories and decadent excesses of rock stars in the 70s on jets like The Starship became aspirational once more for musicians who identified with the hedonism of artists like Led Zeppelin.
In 1991, Guns n'Roses were incredibly successful after their album Appetite for Destruction had become the USA's 11th best-selling album ever.  So, when planning the Use Your Illusion tour, they chartered a Boeing 727 from MGM Grand Air to travel to concerts.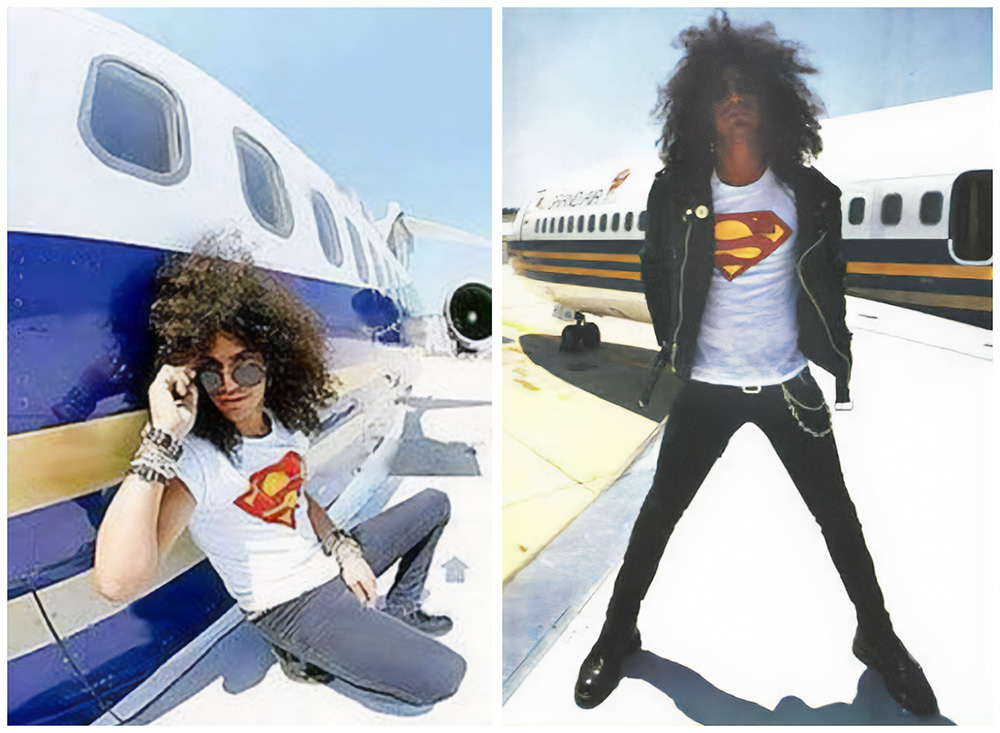 Image: Guns N'Roses guitarist Slash on the wing of the MGM Grand 727
Bizarrely, the 727 had been outfitted as a luxury commercial aircraft, intended to provide a maximum of 33 passengers on each flight with the experience of flying privately, for the cost of a first-class ticket – the story of MGM Grand Air is a fascinating one.  Needless to say, the venture was ultimately unsuccessful but chartering the aircraft for a smaller number of people provided the perfect tour base for a world-famous band like Guns N'Roses.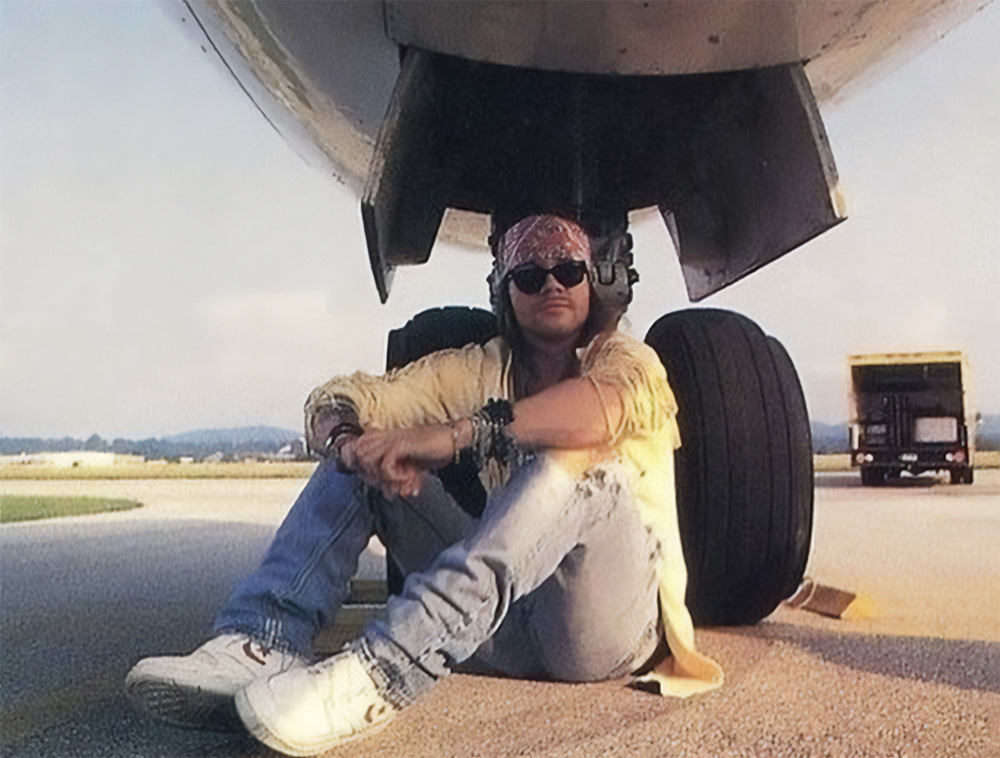 Image: Axl Rose under the MGM Grand Air 727 in 1991    |    Source: unknown
Decked out in magenta carpets, purple suede and leather seats, the MGM 727 was reminiscent of the earlier Starship – extravagant and colourful.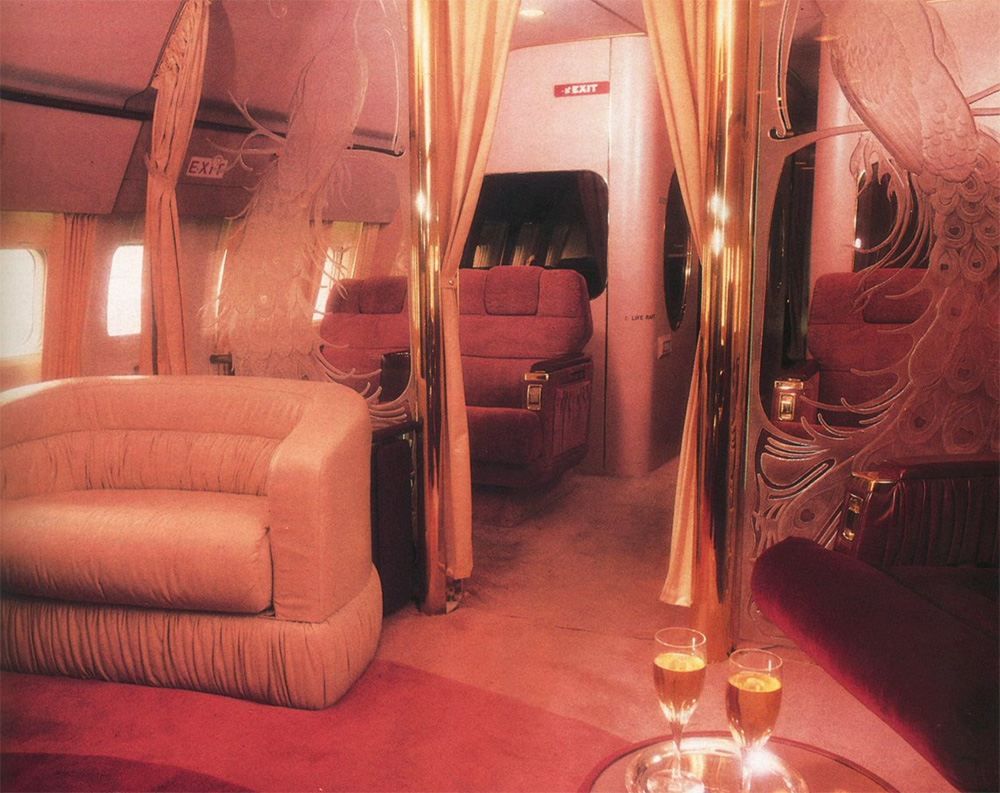 Image: MGM Grand Air 727 interior     |     Source: Unknown
Stepping onto the jet, one would see a corridor with wood trim and gold curtains on either side, providing some privacy for multiple booths with 4 facing seats in each area, allowing the occupants to chat in comfort.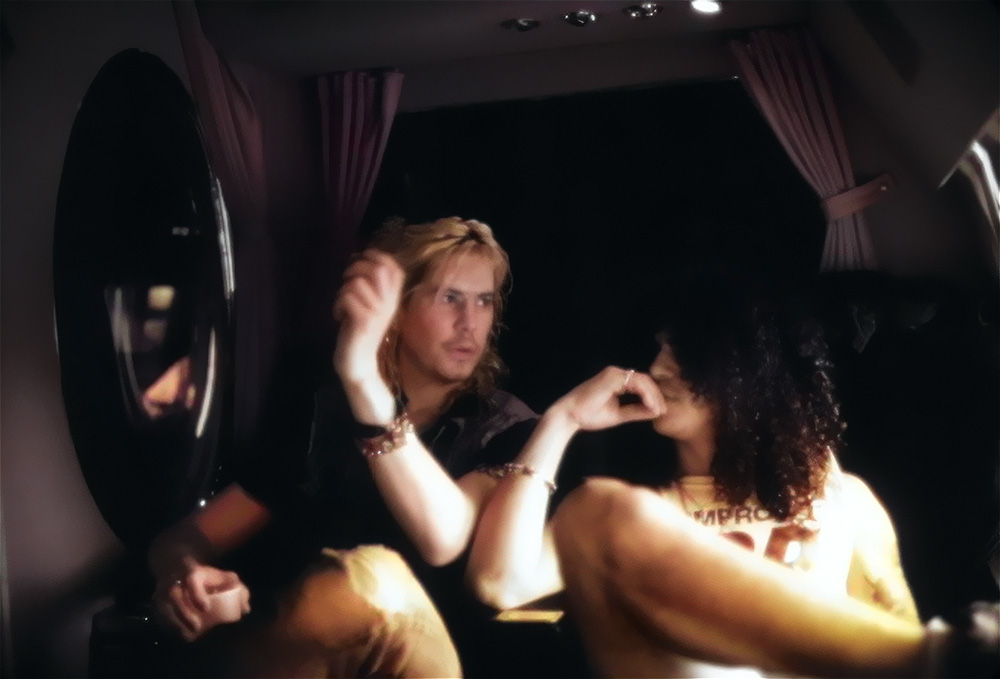 Image: Slash & Duff McKagan – Guns N Roses on the MGM Grand Air 727     |     Source: Gene Kirkland
Glass partitions engraved with large peacocks bordered a more open seated area with a full bar and space to move around the cabin.
Guns N'Roses bassist Duff McKagan quickly identified his favourite aspect of the tour jet  The first thing I noticed upon entering the MGM Grand jet was a fully stocked bar that stretched from the door back towards the middle of the plane."
While musicians seem to be happy with the more ostentatious side of interior design in jet cabins, some celebrities are real aviation enthusiasts.  For them, purchasing and outfitting a private jet is less of a status symbol and more of a passion project.
For John Travolta, his passion for flying began as a young child living near an airport. He took his first flying lessons at 16 and had bought his first aircraft – an Aircoupe – by the age of 20, being able to pilot it at 23. Nowadays, he has a fleet of five aircraft and a home with two runways leading up to the house.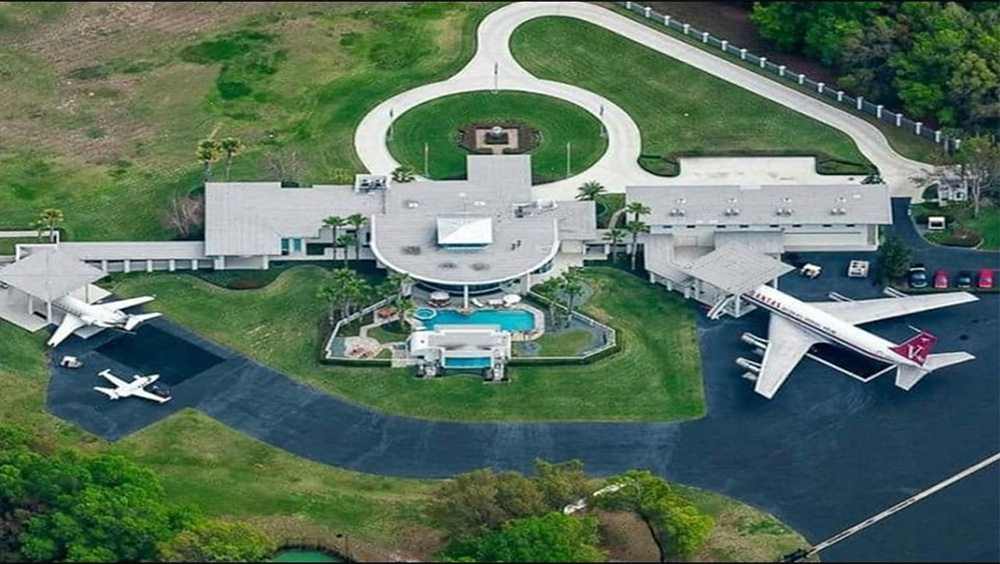 Image: John Travolta's Estate   |  Source: unknown
For many years, pride of place belonged to a Boeing 707 that he fell in love with at first sight, later buying the aircraft in 1998. The jet was the last 707 ever built for Qantas Airways in 1964 – a 707-138B variant with a shorter fuselage than the standard 707-100s.  The jet was fitted out and used as a commercial jet by Qantas until 1969 where it changed hands multiple times over the following years – including some time with Frank Sinatra – until a lucky chance brought the actor and the 707 together.
In 1996, Travolta was scheduled to fly to Berlin to promote the European launch of his new film "Get Shorty" but when he discovered he was due to fly in and out of Berlin that weekend before needing to work Monday morning, he requested some changes.
He said, "I'm not going to be able to go to Berlin for the weekend and be ready for work on Monday if I don't have a plane that at least has a bedroom.'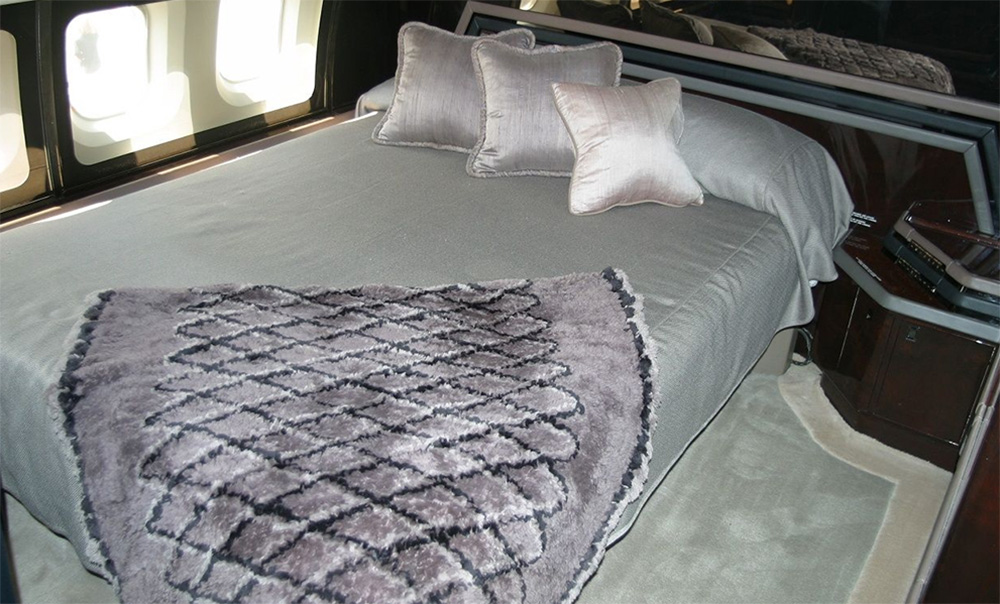 John Travolta's Boeing 707 Bedroom   |   Source: Daniel Werner
 "So they found one – they found this plane. That was the deal, so they rented it for me. I fell in love with it, because on departure I went into the bedroom, I fell asleep and arrived in Berlin so rested it was as though I had never travelled at all."
Travolta immediately knew he wanted the jet but the price was prohibitive at the time. However, in 1998 it became available again for a lower price and he leapt on the opportunity. "I was told to put a certain kind of offer in and I would get the plane if I did," he said. "and they were right. I did and I never looked back."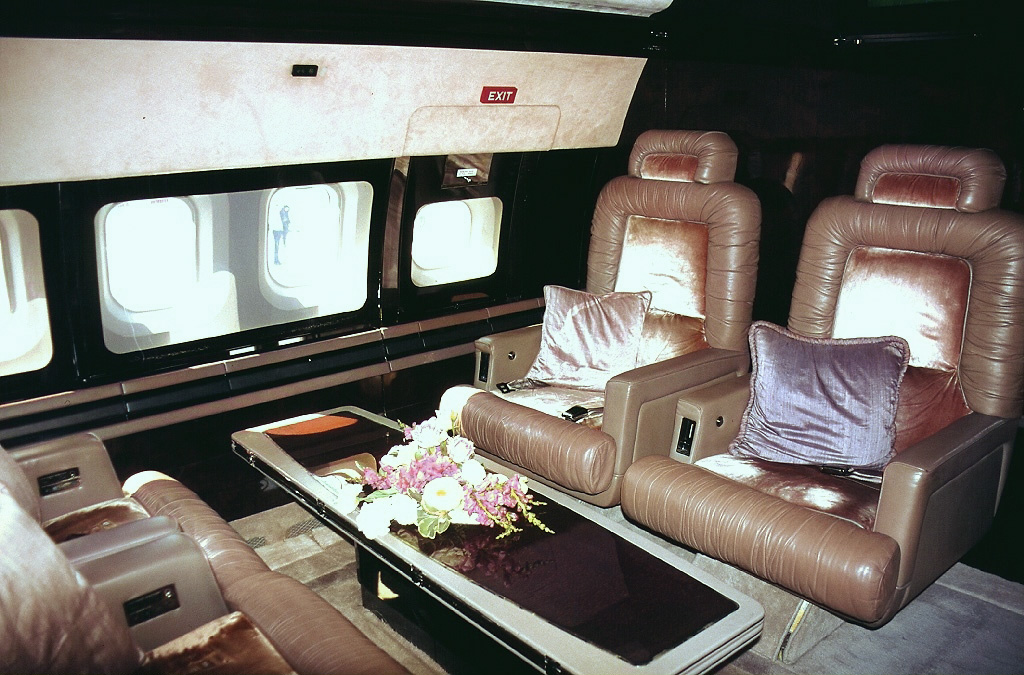 Image: Wikimedia Commons
Instead of ostentatious fixtures, the jet was customised for the comfort of his family, with luxurious features including wide leather seats, sofas and rich wood panelling. Other amenities include two private bedrooms, a lounge, a bathroom and a full galley.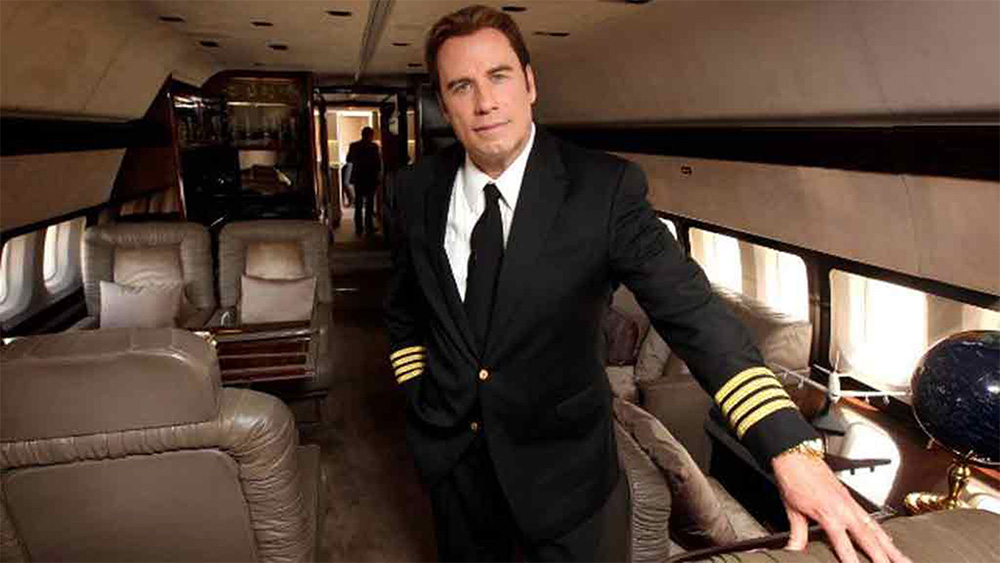 Image: John Travolta standing in the cabin of the Boeing 7070
The 707 was Travolta's pride and joy until 2017 when it was donated to the Historical Aircraft Restoration Society (HARS) in Australia.  The 707 is now undergoing maintenance and repairs for her flight to New South Wales, where HARS plan to keep her airworthy as a major attraction.  After 53 years in service and over 12,000 flight hours logged, the venerable aircraft should soon enjoy a well-deserved retirement, taking a unique place in aviation history.
In our next instalment, we'll be looking at the private jets of the rich and famous from the 2000's onward.
 *All jet interiors featured in this article are readily available in the public domain with the express knowledge of their owners. The personal security and right-to-privacy of the owner is of paramount importance to Camber Aviation Management .