If you've spent time on a red-eye flight before hitting an important meeting, you know how important good sleep is for being at your best.  In a previous article, we discussed the impact of jetlag on a corporation: far from being a minor inconvenience, there's plenty of evidence suggesting that your company is paying a high price for having top-level executives not performing at their best. 
Ultimately, the solution is obvious – the best way to beat jetlag is to fly privately.  With the ability to take direct flights, enjoy a better environment (including a lower cabin altitude) and more room for amenities to keep you rested and comfortable, business class just can't compete. However, sleeping arrangements can be vastly different depending on the type of aircraft and how the cabin's been outfitted, so the very first step on your journey to purchasing a private jet is defining your needs for rest and relaxation and finding out which model of aircraft can provide you with the most appropriate solution for beating jetlag. 
Fully-reclining seats vs Convertible beds vs Private Bedrooms.
A good starting place is to consider the types of journeys your jet will be making – taking into account the length of the flights, when you're most likely to land, and what activities you'll be undertaking immediately after landing. If you're planning mostly short continental flights, then sleeping options aren't as critical – you can prioritise your environment to maximise available seats, or provide workspace and meeting areas.  However, having a jet with a longer range and the option of converting seats to full-length beds means that your jet suddenly becomes much more flexible when the occasional longer flight is needed.
Or, if your flights are more likely to be long haul or overnight, comfortable sleeping arrangements become much more important.  From berthable seats through to private bedrooms, a lot depends on the choice of aircraft so it's important to consider the options before making a decision on which jet to purchase.
• Cabin Size
• Aircraft Amenities
• Your own personal travel preferences
•             Technical specifications – fuel range, weight limits, etc.
The last option requires expert advice to ensure you're choosing the correct aircraft for your needs, a completion manager will be able to assist and support you through the process of purchasing and customising your aircraft. Different types of aircraft offer very different types of sleeping arrangements, so it's good to explore what model you may need for a specific type of comfort.  We'll look at a small selection of aircraft to discuss the types of sleeping arrangements  available but, for more information and a wider range of options, contact us for personalised advice.
Light Jets
Light jets are used for short trips, generally up to 3 hours, so sleeping isn't a priority on such short flights. However, light jets will still provide a comfortable flight and allow the opportunity for a snooze with reclining seats and may come equipped with swivel and slide-adjustable headrests. 
Midsize & Super Midsize Jets
When sleeping arrangements become an important aspect of your travels, the Medium Sized Jet is the logical step up. This aircraft class offers greater comfort, is capable of longer flights (generally up to 5 hours) and has more facilities designed for sleeping.
As an alternative, a Super Midsize Jet like the Bombardier Challenger 350 is ideal for coast-to-coast flights as it can cover even longer ranges (at 8 hours, it flies intercontinental flights non-stop) and offers a slightly larger cabin for 9 passengers. Looking beyond the standard double-club seating layout, it can easily be easily equipped with a variety of comfortable lie-flat beds, from berthable seats and sofas to convertible divans. It can be configured to accommodate a small private space.
Another popular Super Midsize Jet is the 12-seater Dassault Falcon 900. Its advanced acoustical insulation makes it one of the quietest cabins available. In terms of comfort and convenience, it features 2 seats that convert into one large bed as well as a large divan that sits 3 and converts into a full-length bed – perfect for those longer flights. It also has room enough for 3 dedicated lounge areas so passengers can work peacefully, relax with the onboard entertainment system, or sleep comfortably on their way to the next destination.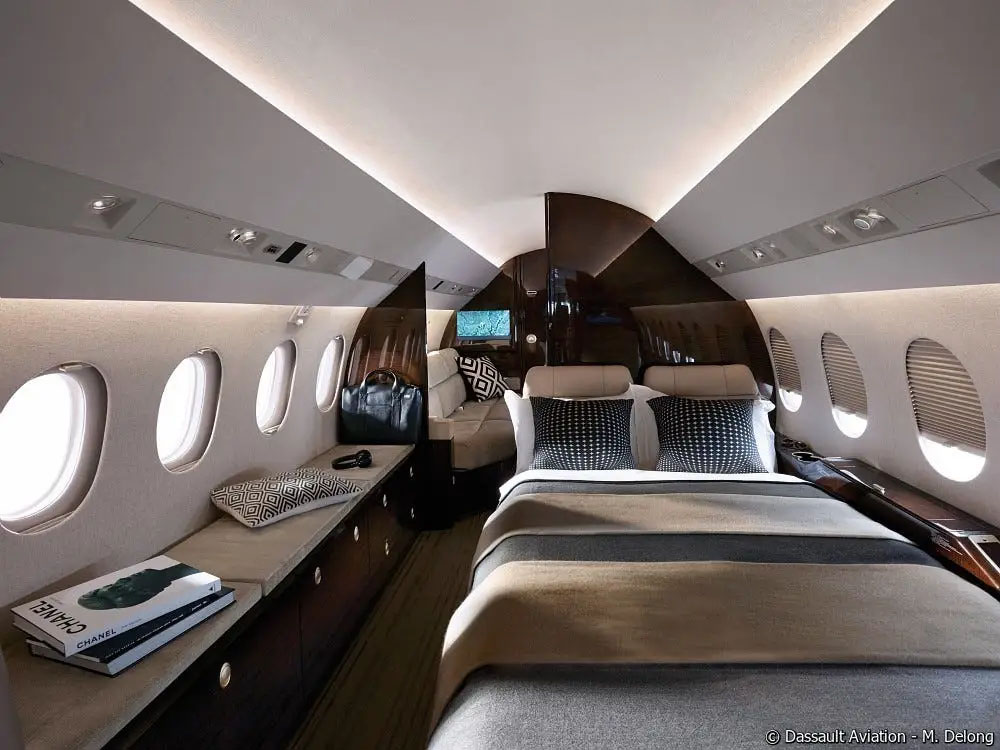 The midsize and Super midsize are the 2 most popular categories of private jet used in Europe and North America, they have relatively low operational costs (when compared to heavier jets) and neither requires the use of full-length runways so they can operate out of smaller airports. More reasons to rest easy.
Long Range Jets
Built for more extensive trips, Long-Range Jets and Ultra Long Range (ULR) jets provide a variety of quality horizontal sleeping options. At this end of the market, you're afforded a greater number of customization options that allow you to use the spacious cabin area in various ways. Private jets in this category typically have divans or reclining seats that can be reconfigured into large sleeping spaces, but for those needing to ensure the best possible rest on longer flights, a long-range jet can accommodate an optional master bedroom with a double bed and all the amenities you would expect from a luxury hotel, or better yet, a home-away-from-home.
If you're regularly required to fly longer cross-continental flights, long-range and wide-body aircrafts like Dassault's Falcon 900EX or Falcon 7X offer 12 hours of non-stop flight time as well as cabin temperature control, flexible lighting, low cabin altitude and reduced noise to create the perfect passenger sleeping experience.
The Bombardier Global 5000 is another impressive private jet that offers superb sleeping arrangements. It can easily be configured into a lavish layout with three full-sized bedrooms, a spacious lounge area or entertainment suite for relaxing during the flight.
Similarly, the Global 7500 has become a much sought-after aircraft, its interior can be divided into several separate living spaces including a luxurious master bedroom with its own shower and ensuite. You could even enjoy dinner in an on-board dining room, with seating for six, before settling in for a comfortable night of sleep. There's even a dedicated area for pilots and crew to rest during their journey.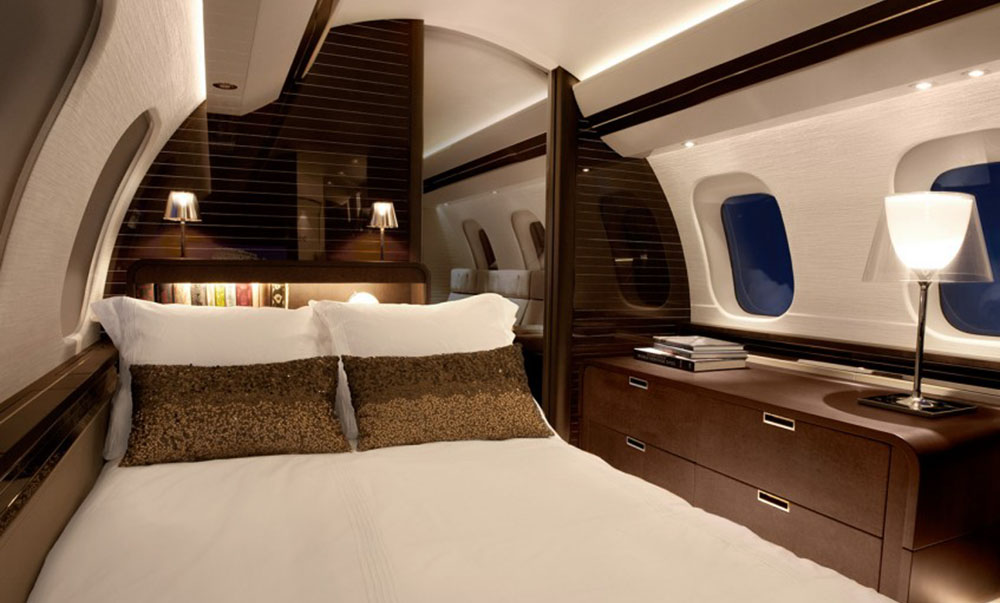 Alternatively, the Gulfstream 800 is comparable in size and range, capable of carrying up to 8 passengers and 4 crew without reducing the top speed of Mach 0.9 at a range of about 7,000 nautical miles. Configuring the layout for fewer passengers will allow for easy-to-berth divan seating (which can convert to a large, flat bed). If you travel with friends and family, the aircraft can offer eight sleeper berths in its cabin, and it can easily be equipped with state-of-the-art audio/visual equipment including HD flat screen TVs.
Bizliners or Converted Airliners
For those seeking the ultimate in luxury travel, a converted airliner is an excellent option. Inside these spacious aircraft, one can find all the amenities of a medium-sized home – including full-sized bedrooms, bathrooms and dining rooms. In addition to these features, you can also expect a dedicated cabin crew to ensure every journey is as pleasant as possible. On some of these impressive aircraft, you can find stately bedrooms with supersized beds, satin sheets and even a shower! When it comes securing a quality sleep while on board your aircraft, this class is the gold standard.
A solid example of how converted airliners make the most impressive private jets; The Airbus ACJ220 is an effective balance of opulence, space and efficiency. While it has a shorter range and is smaller than a 787 or a 747-8 aircraft, it's still large enough to fit a luxurious master suite, complete with a king size bed.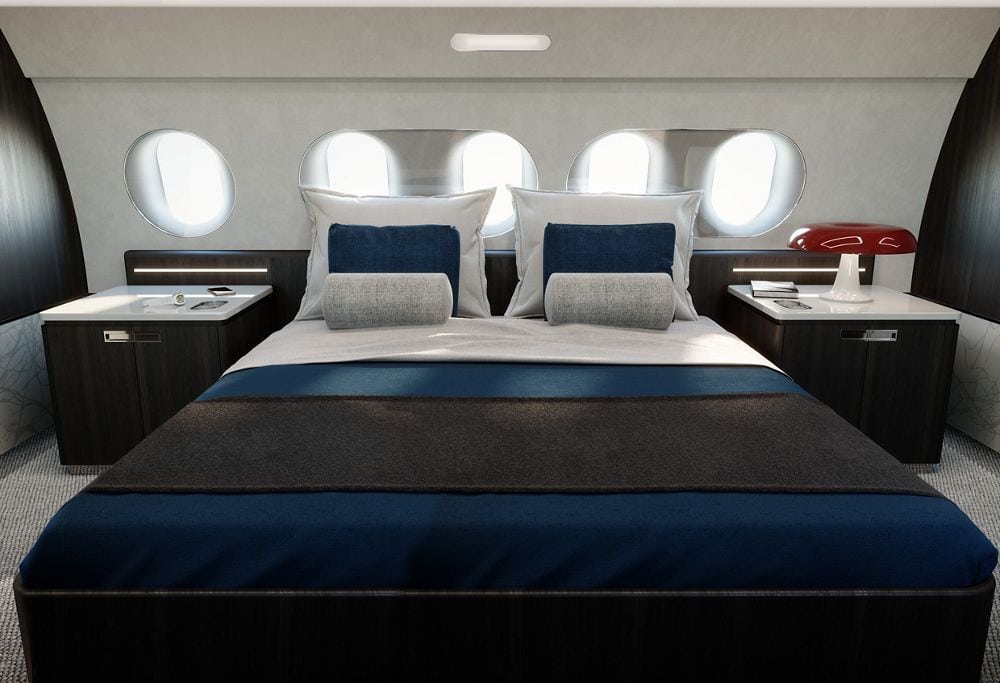 However, it's important to consider bed placement for maximum comfort – sometimes compromises must be considered between maximum comfort and aesthetics, depending on the passenger's priorities. For example, the above bed on the ACJ220 has been rotated 90 degrees, which lets passengers see out of the facing windows while lying down and the extra space on both sides of the bed allows for greater flexibility of movement. And while this might appear attractive, it's essential that the design and implementation is managed by experienced completion experts as there are technical considerations that must be taken into account.
For example: when in the air at cruise, most aircraft will have a deck angle.  In the layout above, this would need to be accounted during installation to ensure that the head of the bed is higher than the foot and the occupants won't roll one way or the other.  This can be achieved by adding shims under the bed to ensure it is level at cruise flight deck angle. However, most outfitters will not engineer this unless specifically asked.
Another important consideration is the location of the bedroom compartment.  If placed in the front or middle of the cabin, this would greatly reduce the space available, as a corridor (breezeway) would be needed to bypass the bedroom when the flight crew and passengers move fore and aft of the compartment. As such, most staterooms of this nature tend to be located at the rear of the cabin, removing the need for a hallway while creating a much more spacious private suite.
It's also useful to consider the number of guests likely to fly on the jet and how to best cater for individual comfort. If you have the luxury of including a bedroom compartment, it is well worth considering having discrete temperature zones throughout the cabin.  Having a separate climate control system for the bedroom ensures a comfortable sleeping temperature without impacting guests in other areas of the cabins.  In addition, extra consideration should be given to the placement of lighting controls and monitors in the bedroom relative to the position of the bed. This will ensure that the occupants are able to conveniently control their environment for maximum comfort without having to fumble for switches or controllers.
And for the ultimate in size and luxury, why not look at the largest currently available commercial aircraft– the Airbus A380.  To date, one has never been completed as a private jet but, at one time, there were plans in progress to create the most extravagant flying palace ever built.   Originally ordered by Prince Al Waleed bin Talal of Saudi Arabia, the initial plans show an outrageously luxurious interior. The airliner's palatial size certainly justified the projected $500 million price tag and would provide the best possible sleeping arrangements on board a jet. Given the A380's enormous size, these giant jets can be configured to serve several dedicated areas such as a full-sized dining room, lounges, master bedroom with king size bed, and an ensuite bathroom.  Perfect for the busy head-of-state to travel long-distance whilst maintaining all the comforts and amenities of a royal household!
Alternatively, you could look at Boeing's Business Jet offerings. For example, the new Boeing Max series commercial aircraft offers over 800 square feet of floor space, lie-flat beds and a variety of lavish seating configurations. Not forgetting the all-important master bedroom with an en-suite shower room. Not only do these wide-body jets offer one of the most luxurious in-flight sleep experiences, they also make quite an impression.
The Boeing 777 will make any long-distance flight a luxurious and relaxing one. Inside is a grand entrance, spacious dining area for up to twelve guests, bar and lounge area, office/meeting room, full lavatories with stand-up showers and separate vanities, walk-in closets, and a master bedroom suite with an extra-large bed. This aircraft is a resplendent option for those wishing to experience the highest level of comfort, convenience and of course, rest.
This is a very small sample of the different types of private jets as there's a huge amount of choice available, offering a range of solutions for all needs. However, as important as sleep and relaxation is for you and your passengers, it's not the only aspect to consider when choosing your private jet.  There's a lot to consider and you need an expert advisor to help you identify your priorities and expectations.  Rather than speak to a manufacturer (who'll limit your choices to their models) or a broker (who'll limit your choices to availability) or even a completion centre (who'll limit your choices to their capacity) it's always worth talking to a completion management company who can advocate for you throughout the whole process and find the right people to give you the best possible solution. Completion managers will have a portfolio of brokers completion centres and designers to provide you with the widest range of possibilities to find a solution fitted precisely to your needs.