Social Responsibility
Our responsibility is to apply our knowledge and our passion to make a positive impact on the world around us.
Education is important to understand the science behind global problems and make the positive changes our world needs. However, we believe knowledge is much more accessible if delivered in a fun and interesting way! In our local community, we support a unique high school STEM (Science Technology Engineering and Mathematics) experiential learning program focused on aviation. With the guidance of Camber staff, high school students have the opportunity to take part in activities designed to open their eyes to the wonders of aeronautics.
We build wind tunnels to experiment with different wing forms and construct paper airplanes to learn about aerodynamic designs. Camber then takes students on a special flight to see their beautiful town, the mountains, glaciers and ocean from above. We want to instill a sense of excitement that will encourage students of all backgrounds to consider a future career in aviation.
We strive to do our part to combat and solve critical global problems. As a company working in the business aviation industry and operating globally, we feel responsible for actively supporting projects aimed at reducing the industry's impact on the environment. Our efforts include utilising lighter-weight cabins to reduce fuel burn and repurposing materials rather than creating new ones.
Embracing innovation such as synthetic aviation fuel is the best way to bring about positive change to the world. At Camber Aviation Management, we have embedded these values throughout our everyday work, professional conduct, and supply chain providers.
Camber Aviation Management is working closely with a carbon sequestration program that is designed to have a positive impact on the environment by better safeguarding the world's forests, wildlands, lakes and oceans.
Stay tuned for updates on this initiative soon.
News, Social Responsibility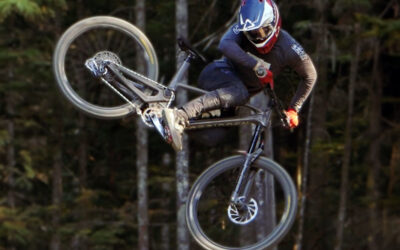 In the exhilarating world of mountain biking, athletes often experience a rollercoaster ride of triumphs and challenges as they push their limits....