In the exhilarating world of mountain biking, athletes often experience a rollercoaster ride of triumphs and challenges as they push their limits. Coen Skrypnek, a promising young mountain bike racer sponsored by Camber Aviation Management, recently encountered a setback that temporarily halted his championship journey. We interviewed Coen before his unfortunate crash and the interview reflects his hopes and optimism at that time. While the accident has derailed his plans for the time being, we commend Coen on the hard work and determination he has shown on his journey.
It is an unfortunate reality that setbacks are an inherent part of any athlete's career. Coen's story serves as a reminder that a low point does not define one's path and remains a testament to his resilience and dedication to his calling.
---
Camber:
It's great to catch up with you again – can you give us a brief idea of what's been happening since we last spoke?
Coen:
Of course! The last season after we spoke was my final year in in the junior category and that was definitely a roller coaster – the season ended off pretty well but I definitely wanted more.
In the junior category you get 2 years from 17 to 18 years old – then you're thrown into elite racing, which is a huge jump in skill level. Now I'll be racing against guys I've grown up watching my entire life. Knowing I'll be racing against my idols is very cool but also kind of scary – just being in the start gate with these guys is quite surreal.
Camber:
I can imagine that there's a lot of emotions going on.
Coen:
Exactly. With that being said though, I feel like I've set the expectations quite low for myself, so I have space to grow with it, rather than expect the world first time round. And during the last winter, I've been working between five to seven days a week doing the evening shift at a restaurant, so I'm able to train during the day. In winter it gets dark early in Squamish. So that way, I could train all day, go to the gym, ride and then work through the night until 10-11. At the restaurant, I started off back-of-house but I've started to serve now, which is better money and more enjoyable. Then, around this, I've been training and riding until the race season started and now, I've already had two big races.

In the Washington State race, I didn't have high expectations because I'm going up against some amazing riders I've looked up to for years. And at the first race, I got fifth out of 60 guys and was on the podium, so I kind of surprised myself. Then, for the most recent race I was at in Port Angeles, WA, and I had low expectations again – I'd actually missed a day of practice due to travelling. So being able to actually win that race was incredible. And it was on Mother's Day as well, so it felt like it was dedicated to my mom, for sure. I had to call my parents the moment I found out I won but when I got through neither of them believed me at first!
It was a real surprise because the field of racers I was up against was stacked with the best riders in North America. So, I guess the dice rolled my way that day and I had a great race so now I'm just hoping to keep that momentum going forward.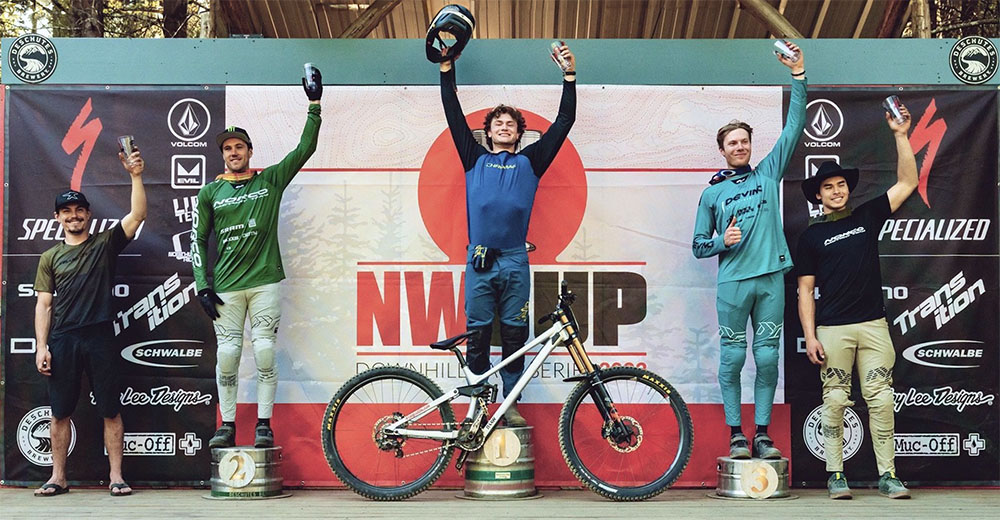 Camber:
You must have been walking on a cloud for the rest of the day!
Coen:
I felt like saying "Pinch me. Is this real?" I don't think I believed it at first, either! It's really cool to see all the work paying off though. There's a lot of lows and things that can go wrong with this sport and you take that in your stride as much as possible but the highs cancel them out immediately – it's unreal. That's why we do it.
Camber:
Could you talk us through what it's like to ride at elite level for the first time and then suddenly realize that, "Oh my God, I could win" – and then actually win. I We'd love to hear more about that journey – it sounds a roller coaster.
Coen:
Yeah. So downhill mountain biking is where they send everyone individually down one race track. You have days to practice that race track and figure out the way you're going to ride it: how fast you're going to ride it, the speed for certain jumps, how are you going to ride certain sections etc. Then you have one chance on race day to put it all together, which is usually 3 1/2 minutes. So there's hours and hours and hours of prep that go into one three minute session.
It's a lot of pressure. And again, like I said, I haven't had huge expectations for my first week elite year just because I'm racing in some pretty heavy categories so I was pretty loose and having fun. Usually I get pretty nervous beforehand but I wasn't too stressed out this time. I wanted to have my best run and have fun on my bike. And, because that was like the main goal I wasn't too scared and just wanted to get going, so that's what I remember – I had a smile on my face during the countdown.
There were a couple of scary moments where I pushed the speed a little too hard, then needed to remind myself to reel it in a little and not get too excited. But it turned out well, then I crossed the line, and I remember they called out my time, and it was a good amount faster than my qualifying time. I remember thinking "OK, that's awesome. hopefully I can get a good result now." Then as more guys were finishing, I realised I was holding the lead for a good amount of time and started thinking I might even be able to get on the podium.
Then the final two guys came in – one of them, Finn Iles, has even won a World Cup before – he's the guy I looked up to all the time in racing. And I thought "It would be amazing if I could get second and have a picture of me and Finn Iles on the podium" but when he rolled across the finish line, my buddies said "You've won!". I was in disbelief – it was really emotional. With everything I've done to get through this winter and the previous years, it felt really good to accomplish something so incredible.
Camber:
That must have been an incredibly intense 3 1/2 minutes.
Coen:
Yeah, so, in those mishaps, I did get very single-minded. Where I was pushing really hard because I wanted to do well and maybe it was a little bit too hard. So I had to tell myself during that run to reel in a little bit, that I was excited but I could do this. About mid-run I had to tell myself "You've done this before, just relax and have fun" which worked as I just rode smoothly the rest of the time.
Camber:
That must be quite a difficult balancing act to pull yourself back but still stay determined to win.
Coen:
Exactly. And that's where the whole mental thing comes in as well. Because often when that happens, you might try to make that time up and go faster, but in reality, at that speed, things can happen very quickly. So it's not just a matter of going faster, it's a matter of also keeping it under control.
Camber:
So, what has winning that race left you with?
Coen:
Definitely a confidence boost and a good idea of knowing where I can be. It's definitely a good reminder to keep doing what I've been doing and try to just try and keep that momentum rolling for the for the overseas races because those are what really matter. I just have to keep building on it for the summer. I'm, I'm excited to see what happens.
Camber:
Is it weird to have such an amazing day where everything's going perfectly to then going back to work in the restaurant and everyone's just normal but inside, you're thinking "Wow, I won an international mountain bike race yesterday."
Coen:
Yeah, 110% it is, although it is humbling. I'm probably one of the only guys on the podium who isn't getting a salary from riding mountain bikes. But that's kind of the goal moving forward – to land a spot like that.
Camber:
It's to your credit that you've achieved this whilst working full-time. You've got a ridiculously busy schedule where you're trying to fit everything in, yet you still stay grounded and don't complain about the hours and you've managed to do this whilst being one of the few that isn't taking a salary for it.
Coen:
I do. I do like to think that everything I do – all the work I've been doing in the restaurant and all the hours training is all aimed towards mountain biking. I've been putting in a lot of hours to do this and it feels great that it's paid off. I remember getting off the podium and the other racers were saying "let's go ride sometime this week" but for me, it meant fitting it in before or after work. Which, I really don't mind – like, If I can fit it into my schedule that's great but it does take some organisation. Although I really enjoyed going back to the restaurant – I love everyone at that place – It's all so nice. And I do think that they know that I do what I do outside the restaurant although they just don't really understand the extent of the work that's involved. So you know being there is, fun and I enjoy it. The social aspect's good too but, you know, it is work.
It's a bit complicated to explain. So, for example – while I love the service industry and I'm really enjoying it at this point in my life, it's become clear that this isn't what I want to do long-term, as I really want to make the whole riding thing my career. But, you know, we'll see what happens.
Camber:
That's brilliant. When we last spoke, you were like looking at potentially going to uni. So are you taking a gap year to work and help fund a lot of the racing?
Coen:
Absolutely. I've just recently submitted all my residence fees and details for next year, so I'll be going to university in September, but this past winter I've just been focusing on how I'll manage to do everything necessary this year, it's likely to be a bit of a make-or-break summer for me, depending on how I do.
So yes, I've put all my time and effort into figuring the season out and, honestly, I was a little upset at first that I didn't go to school. I had a lot of friends who were experiencing the whole university thing and definitely had some FOMO but I got over that pretty quick and I wouldn't change this year. If anything, I think I've learned a lot more about myself than I think I would have if I'd started at university the past year.
Camber:
What sort of things do you feel like you've learned about yourself with the experience this year?
Coen:
Well, I know that I must keep myself busy – I find I can't just sit around. One of my friends told me this quote that "Only boring people get bored" and I love that – I think it's great.
I found that I wouldn't have much time, so I thought what do I do?" So I started to plan out a better routine for myself which gave me some time while working through the winter – that was immensely helpful. With the short days in Squamish and working all the time, I found I needed that structure. I also got into listening to a lot of neuroscience podcasts that fascinated me. I'm going to school for psychology, so I have started to think that perhaps neuroscience could be in my future as well. It can help you understand why you feel the way you do and how you feel the way you do. So I took a lot of that and, although I loved it, it wasn't so much of a hobby as it was a way for me to figure out how to motivate and structure myself throughout the winter and adapt to the new situation. It was neat to kind of dive into something different.
Camber:
So what's your training schedule?
Coen:
During the winter, I would wake up between 6:30 and 7:30. I would go to the gym, then go ride for maybe two or three hours. Then I'd come home and make myself a big lunch. After that, I'd usually go jump in the river.
Camber:
That certainly took a turn!
Coen:
I mean, I'm sure you guys have heard the whole cold dip thing.
Camber:
Does it work?
Coen:
It really does. It's like a shot of caffeine in a sense. One thing I learned from these podcasts I listened to is that by putting yourself in a stressful environment, even physically – like cold dips – it makes everything feel a lot less easier afterwards. And because I was in the kitchen all winter, it was a pretty stressful environment so doing that before work definitely made me feel better. Then I'd go work for seven hours in the kitchen and get home around 10 – 10:30. I'd stretch before I went to bed and now I can't sleep without stretching beforehand, although I've found it's best to do it at least 15 minutes before I sleep. That helped me wind down and it was good for my body as well a way of mentally relaxing.
Camber:
How are you feeling now after your big win?
Coen:
It's been 10 days now and it felt amazing but it's starting to sink in that there's still a long way to go and I need to keep building on it.
Camber:
So what's next – what are you really excited about?
Coen:
Well, I have a couple days to rest and chillax here before the week I leave for Europe, so I'm going to do an overnight hike tomorrow.
Camber:
You relaxed with an overnight hike? That doesn't sound particularly restful!
Coen:
I know but I love it. We'll be just hiking and camping which is a good thing because I can get away from my phone and escape all the logistics and arrangements for a few hours. Then I'll come home and pack for when I leave for Europe in 10 days to go race, so I'm mentally preparing for that trip too. Otherwise, I'll be getting in a little more riding and laying low wherever possible.
Camber:
What are your expectations for the next race?
Coen:
Ooh, that's a tough question because it's a huge jump into the deep end of racing – it's my first Elite World Cup. As I said, I don't have too many expectations, but I have goals and I'd love to qualify for an elite World Cup – that would be a be a huge thing. I'm going to go in with an open mind and just ride my bike as fast as I can.
Camber:
You clearly have a lot of discipline but do you chafe against any of the restrictions you've set for yourself?
Coen:
Yeah, sometimes. There are definitely nights where I'm like "I really wish that I could take time off work and just have some evenings at home". Also, I work evenings all the time and my mom and I are on completely different schedules, so I barely see her. But you know, I'm at a position where it's necessary and it's definitely all worth it, so I'm willing to do whatever's needed so that I can race.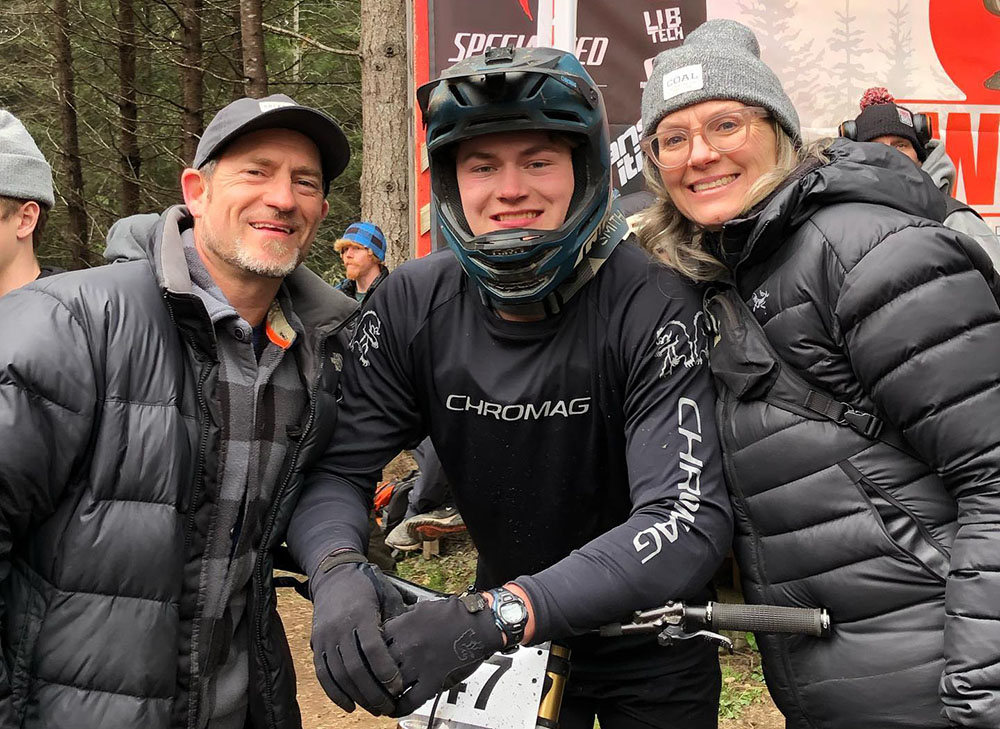 Camber:
You must be keen to get some down time after the madness of the summer?
Coen:
Definitely. And I think university will be a good change. It'll be exciting to live on my own and learn new things and dialling into something different for a couple months. I'm looking forward to meeting new people and exploring a new city and the countryside.
Camber:
So are you going to balance uni with the racing?
Coen:
Yes, I'lll definitely take a couple of months to get settled in and concentrate on university after being off school for a year, but I'm hoping to try and figure that out, down the road. I haven't given it too much thought yet, but Victoria and Vancouver Island have got lots of great areas for riding.
Camber:
Have you been doing any more fundraising after the ride you did last year for charity?
Coen:
I did a repeat of the Dawn till Dusk event and that went exceptionally well. We raised over $5000 for charity: part of the cost went to my racing endeavours and then part of it went to Sea to Sky, which is a youth centre in town. So we've really been pushing the promotion for that and raising awareness for youth mental health. The day came together brilliantly, but then we were stuck in traffic for 4 1/2 hours between stops because of an accident! Obviously, you can't control that though and we had over 20 people join me this year. So it was wicked – very, very fun.
Camber:
It's a good cause with the current mental health epidemic amongst young people – how do you keep yourself from going down that rabbit hole?
Coen:
Well, there were multiple times this winter where I felt like I was falling down a rabbit hole in a sense. But then I was able to bring myself out of that by keeping my structure, being aware of my goals – working through like that, really. And just honestly, a really big part of staying grounded is by talking about it with my family. I think that's really important and a lot of people won't do it and keep things bottled up to themselves.
Also, I think a lot of it is on the person themselves and realising when you get stuck in a place where you're complaining don't know how to do anything about it. Everyone's got stuff to deal with and everyone has their own issues – it just matters with how you deal with it. It can be hard to reach out for help sometimes or know how to take action yourself – there are so many tools available but many people don't know how to find them. So, really, the dawn till dusk events I think are as much about bringing attention to it as well as fundraising.
Camber:
What would you say is like the biggest problem facing young people mentally today?
Coen:
That's a hard question too. Uh, obviously the big one is social media. But there's also a lot of set expectations for kids that can be hard to live up to – like having to have a certain look or owning certain things. It's really important to be able to appreciate what we have and not be jealous of what others have. I think that's a big thing because you look online and see all these amazing luxuries that influencers have but you really need to focus on what you have and what you're grateful for. Because a lot of people are more fortunate than they think.
Camber:
What are you most excited about in the next season?
Coen:
Well, I'm excited to travel a little more. I'm excited to see how I can stack up against the top dogs of the sport. It'll be really cool to throw my hat in the ring and see what happens. I've had a little bit more experience now being overseas so it won't be as overwhelming this time, so I think I kind of have a hold of what I need to do and what I need to think about. As much as it will be cool to be in Europe, I think it's less about traveling and more about racing and keeping that focus.
Camber:
You've had a huge jump in the level you're competing at – how has the last year prepared you for it?
Coen:
I think I had a lot of expectations for myself in junior. I didn't really understand how to deal with the anxiety before racing and I didn't really have an edge that I could find but I think I'm a lot stronger as a rider now. I don't think you can ever master something like this but I do have a better hold on things mentally now. I feel more calm going into races and just feel ready to go. In terms of maturing in the sport though, I definitely think this winter has been a big growth curve for me.
Camber:
How important is sponsorship to athletes like yourself when you're competing?
Coen:
It's crucial, and Camber's support for me over the last few years has been amazing. Biking is a very financially demanding sport, particularly with the championships and the amount of travel we do, so having help with the flights is incredible. It helps so much than you'd expect because it takes a big weight off and means I can afford accommodation or parts for my bike or competition fees – things like that. It means I can concentrate more on training and don't have to worry about logistics so much.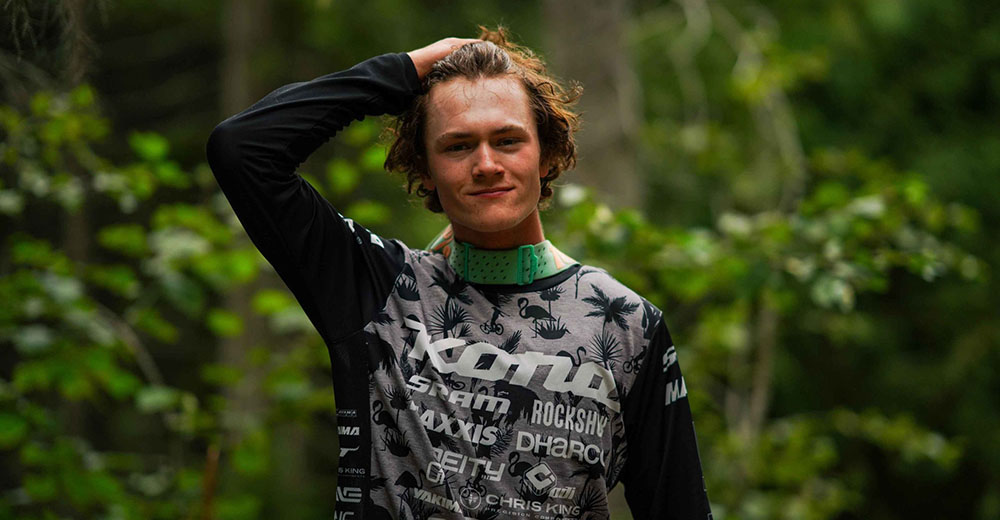 ---
Before we spoke to Coen, he'd had a remarkable start to his championship journey in the elite races, culminating in a victorious race before his trip to Europe. However, fate took an unexpected turn as he suffered a severe crash, forcing him to withdraw from the remaining races this season. While the original interview does not reflect the crash or Coen's current state, it is crucial to remember that setbacks are an integral part of an athlete's journey. Coen's story serves as a reminder that a low point does not define one's career, but rather underscores the immense effort and unwavering dedication invested in the sport.
Camber has always been a steadfast supporter of Coen's athletic pursuits, and we are incredibly proud of his perseverance and determination. Despite the disappointment surrounding the recent setback, Coen has shown remarkable maturity and acceptance in the face of adversity. He recognizes the unique experience he had, traveling overseas and competing at the highest levels of international mountain biking championships.
While Coen's journey has taken an unexpected turn, he values the moments of triumph and the opportunities he has been granted thus far. The original interview captured his optimism and dreams before the crash, emphasizing the excitement and hope he carried into his European adventure. As Coen begins his recovery, it is testament to his indomitable spirit that his disappointment hasn't overshadowed the incredible achievements he has already made.
In the world of professional sports, it is essential to strike a delicate balance between pushing boundaries and accepting the risks involved. Coen's story serves as a testament to the indomitable spirit of athletes who face both triumphs and setbacks along their path. Camber Aviation Management stand unwaveringly behind Coen, ready to provide support as he overcomes future challenges and achieves remarkable success in his chosen path.