This Is Our Vision Of The Perfect Corporate Jet Cabin
"Leggera" means lightweight, an ideal philosophy when developing cabins for aircraft designed to fly long distances efficiently. 
Our A220 Cabin Concept "A220 Legerra"
We call our vision of a perfect corporate jet the "Cabin Leggera" and its first application is the Airbus A220 Cabin Concept, but it works equally well for both ACJ (Airbus Corporate Jets) and BBJ (Boeing Business Jets) aircraft.
Offering cabin floorspace and volume equivalent to the Airbus ACJ319neo and Boeing BBJ Max7, the Airbus A220 integrates leading-edge technologies and safety features equal or superior to the latest generation business jets.
Three market-leading companies, Camber Aviation Management, Pierrejean Vision and Kestrel Aviation Management recognised an opportunity to pool their knowledge and partnered to craft a distinctive corporate jet cabin solution. For 20 years, we have created and delivered numerous narrow- and wide-body Airbus and Boeing VIP aircraft for our exclusive international clientele.
We call our vision of a perfect corporate jet the "Cabin Leggera".
Living Space To Relax, Meet And Dine
To lead this market segment, the original team collaborated with two world-class companies, F/List and Flying Colours Corporation to refine the detail design and perform engineering studies. F/List was chosen for their unique skills in building exceptional VIP business and cabin interiors, while Flying Colours was selected for their extensive engineering and cabin integration skills.
The team's novel customisable design centers on a unique seven-zone cabin comprised of three fixed and four variable zones. The fixed zones include the cabin entry, galley and crew lavatory; a mid-cabin VIP Washroom; and an extraordinary private suite with ensuite washroom featuring a unique steam shower.
Our extensive market research identified key features desired in a new cabin design:
1

Customised luxury in a spacious cabin capable of seating of 10 – 32 passengers with an elegant modular, configurable layout to suit the different requirements of private and corporate owners, heads of state and charter operators.

2

Range capability at maximum payload that covers 90% of the missions operated by current large cabin aircraft, including key transatlantic, Middle East to Europe and intra-Asia missions.

3

Exceptional global communications with a wide range of entertainment options that rival or exceed amenities enjoyed by customers in their homes

4

The completed aircraft, customised for its new owner and equipped with the latest generation systems will be at least 20% less expensive to own and operate compared to its direct competitors.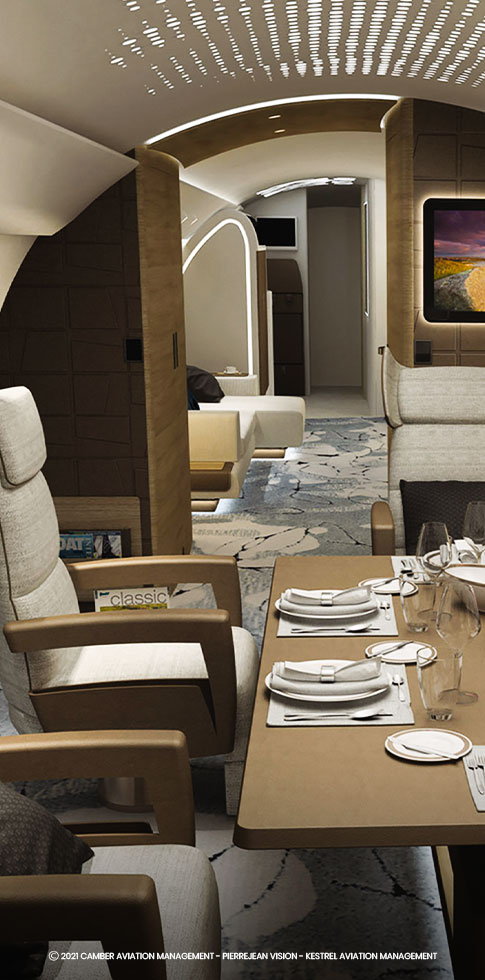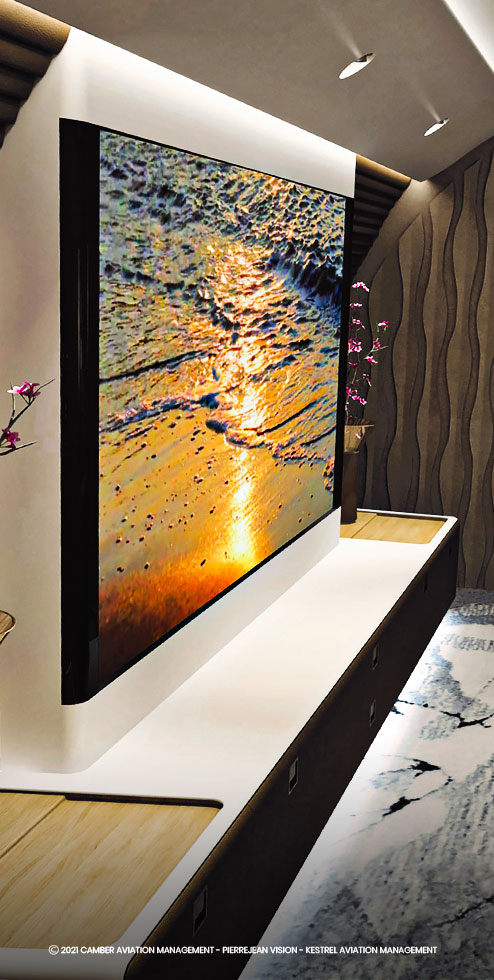 Customisation is key in our industry-leading approach allowing each buyer to select different configurations for the multiple flexible zones to create their own unique layout that precisely reflects their expectations and style.
The new owner who desires a cozy forward cabin to relax, a spacious lounge that converts to a dining room with a convertible table design, a bespoke media lounge with a massive 75-inch screen with tuned Dolby surround sound and an expansive private office or children's bedroom will get exactly what they want. Even greater personalisation is achieved by applying the client's preferred colour pallet, materials and finishes to create a truly one-of-a-kind design throughout the cabin.
Media Lounge – An Incredible 75 Inch 4K Monitor With Tuned Dolby™ Surround Sound
Spacious Private Suite With Ensuite Washroom Featuring A Unique Steam Shower
Our seven-zone modular concept cabin design is the direct result of our team's collaboration, proprietary processes and out-of-the-box thinking. We achieved our design goal to significantly reduce manufacturing and certification costs ‐ essential in achieving the right price point in the market while providing a bespoke and highly capable aircraft.
Latest technologies have allowed the team to create a cabin design that combines functionality and aesthetics with reliability and ease of maintenance – a combination that cannot be easily realized for one-off "prototype" designs in legacy ACJ and BBJ aircraft. Moreover, each unique cabin layout includes latest-generation global satellite communications for voice, high-speed data and text; a unique in-flight entertainment system offering an incredible selection of latest release movies, music and audio programs streamed directly to each passenger's tablet or device; combined with a professional galley equipped to create fresh, healthy meals.
Cabin Concept "A220 Legerra" Gallery