From the very first private jets that were developed in the 1950s to the modern-day masterpiece aircraft available today, the interior design of private jets has come a long way. Today's private jet owners and operators have a wide range of options when it comes to outfitting their planes, and they are constantly striving to create luxurious, comfortable and functional interiors that offer the ultimate flying experience. In this article, we take a look at the evolution of private jet interior design and how it has changed over the years.
The first private jets were designed with function in mind
The design of the first private jets focused solely on their function, aiming to deliver efficient air transportation. The Lockheed Jetstar was the first of these aircraft and was made available to the public in 1962. This jet could travel at a cruising speed of 350 mph and, despite it's mid-sized cabin, it could accommodate up to 11 passengers. It quickly became popular due to its affordability, making it much easier for businesses to transport their personnel across long distances.
In 1964, the Learjet 23 revolutionised the market, being the first small jet aircraft to enter mass production. This aircraft was faster, more reliable and had a better fuel efficiency than any other previous private jet.
Compared to later private aircraft, the cabins of the Lockheed JetStar and the LearJet 23 were certainly no-frills, however, that only served to make them rather special. These jets were products of their time, offering a simple yet elegant aesthetic with plenty of room for added customization. And, despite the lack of luxurious amenities, these aircraft cabins became popular among celebrities for their speed and convenience.
Frank Sinatra was an early adopter, buying one of the first learjet 23's in 1965. The cabin was cozy and comfortable, with two leather seats in the back and a divan for three or four extra passengers as needed, plus a fully stocked liquor cabinet and a card table to ensure there was never a dull moment. Sinatra even loaned his learjet to Elvis Presley to take his bride, Priscilla, to the Aladdin hotel in Las Vegas.
However, the real appeal of the jet for Sinatra was that it could fly the Rat Pack quickly between Los Angeles for business, Las Vegas for pleasure and back to Sinatra's home in Palm Springs. This proved handy at times, for example, when Sinatra and Dean Martin got into a fight at the Polo Lounge in Beverly Hills. When the plane picked them up at a nearby airport the following morning, Martin had a black eye and a bloody shirt and Sinatra was sporting a makeshift sling. Luckily, with a small, agile private jet waiting for them, they managed to make a speedy exit.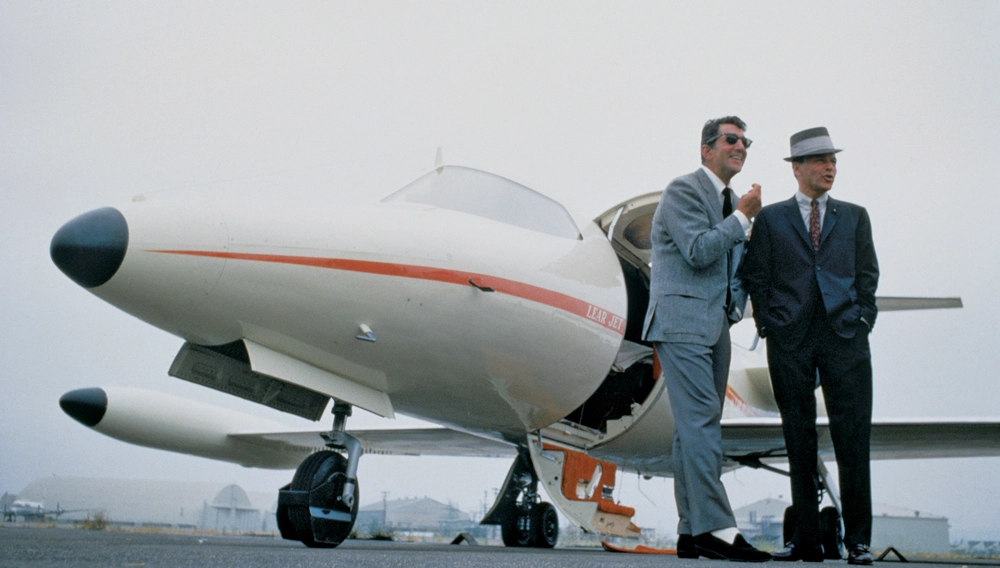 Renowned for being amongst the fastest jet aircrafts available at the time, travelers could expect to reach their destination just a fraction of the time compared to more slow-paced commercial flights. This made it popular far beyond celebrities — businesspeople and diplomats used it frequently too — as they could quickly fly across multiple states without having to deal with all of the cumbersome baggage that came with flying on commercial airlines.
A growing demand for more luxurious cabin designs
The Gulfstream 2 was a big upgrade with more space and some modern luxuries, a purpose built corporate aircraft with a true stand up cabin – for the era. The aircraft featured leather upholstery, private telephone, air conditioning, and a sound system that included multiple speakers scattered throughout the cabin. In addition, it had an entertainment system with TV and video players for passengers to enjoy.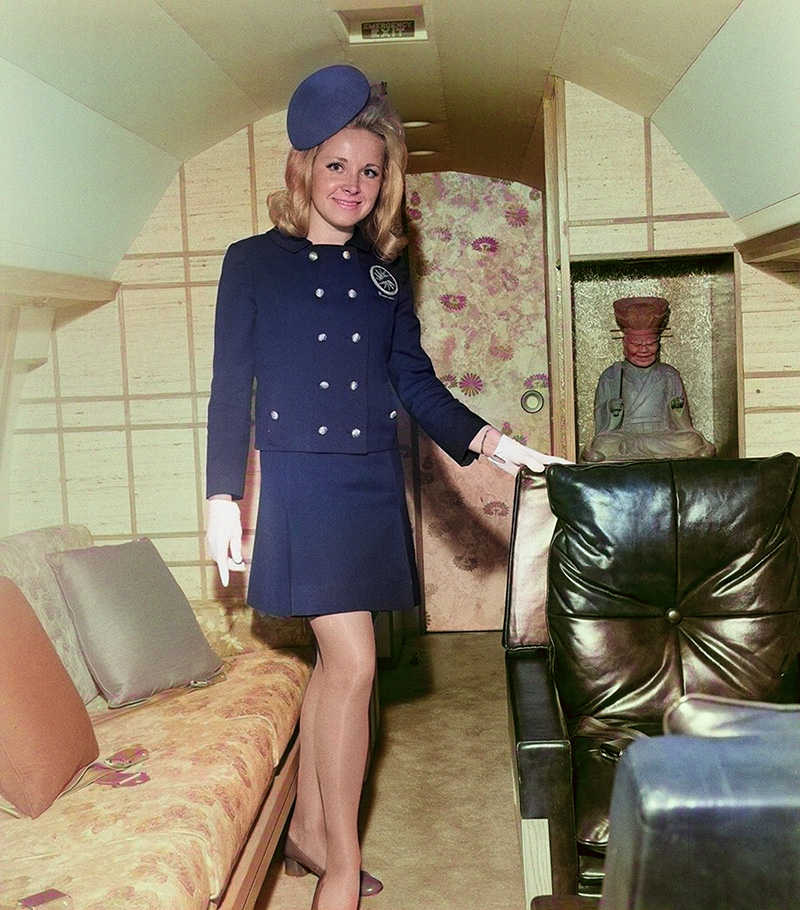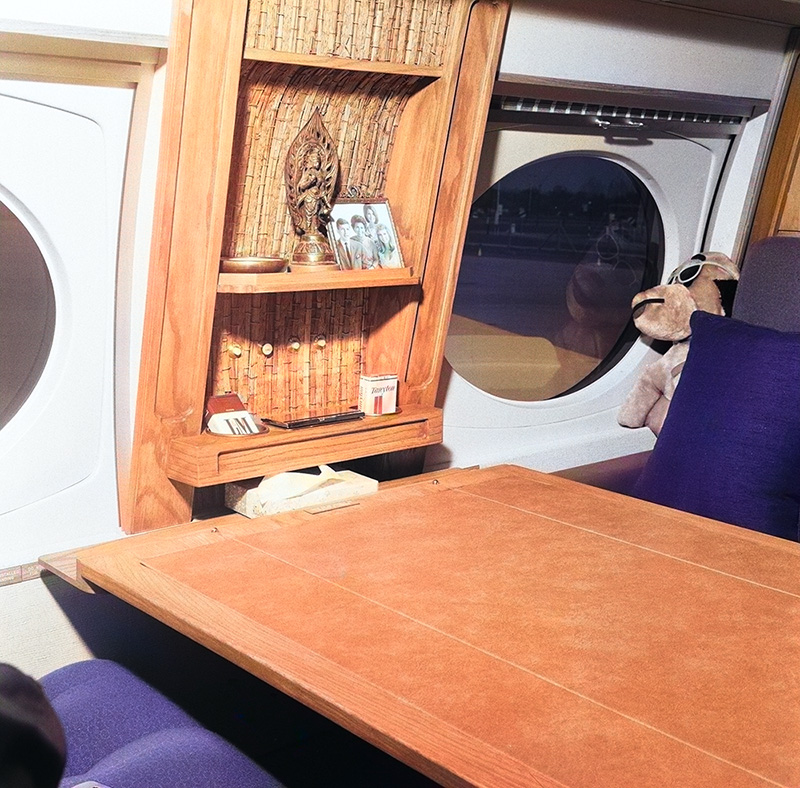 Despite the huge advances in cabin design, technical limitations meant that space was still at a premium. Electronic equipment in the 60's and 70's was analogue, which required lots of space. Sound equipment didn't use microchips but vacuum tubes, transistors and wired circuit boards; while lights were incandescent bulbs or neon – all of which were extremely fragile, bulky and generated a lot of heat, which meant that they also needed airflow to prevent damage. So as the desire for more luxurious surroundings grew, many would-be owners found themselves looking at larger aircraft in order to create a lavish home-from-home.
More cabin space for even more luxury: not so much a private jet as a party in the sky
In 1969, Hugh Hefner purchased and fitted out a DC-9, giving it a striking black livery and an unforgettable name. The Big Bunny was much more than just a private jet, it was a statement of opulence and luxury. The interior of the aircraft was completely refurbished to provide the ultimate in comfort, with leather seats, an on-board bar, and even a circular satin bed.
The 38 passenger plane was fitted with every conceivable luxury. There was a living room, conference area and a discotheque for partying in the sky.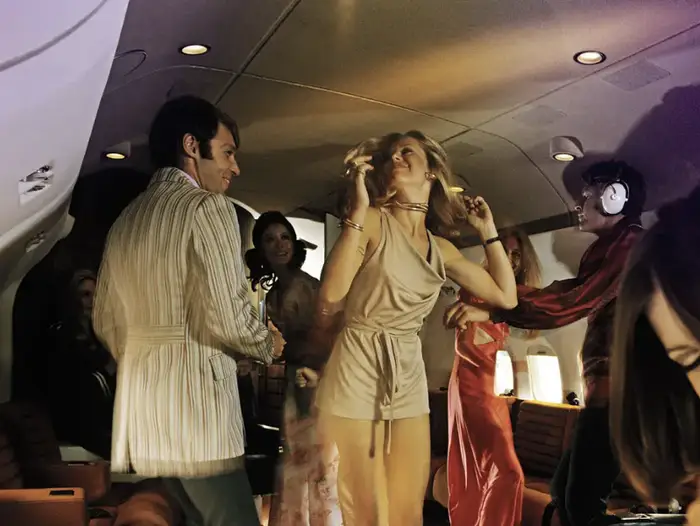 A fully stocked bar provided drinks to accompany the gourmet meals served onboard. Entertainment options included two film projectors, and a video machine to keep passengers entertained.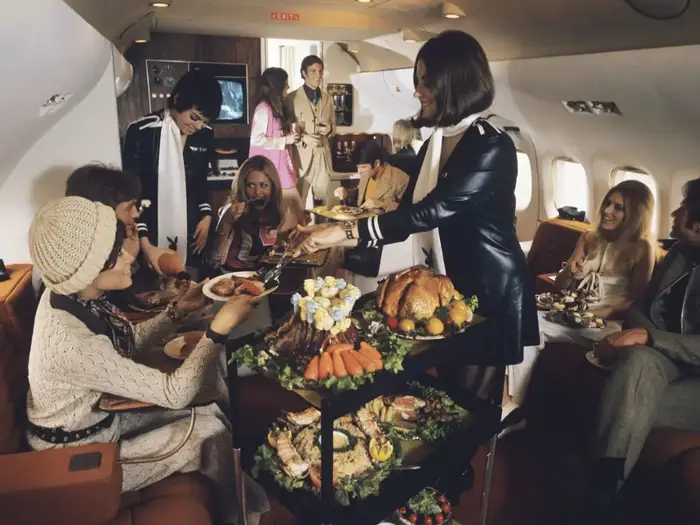 With his aerial mansion, Hugh Hefner was able to take his iconic Playboy lifestyle to the sky, entertaining friends and business partners in style. The aircraft proved to be a major success and became an iconic symbol of Hugh Hefner's hedonistic lifestyle for the next 6 years. In 1973 – as Hefner was selling the Big Bunny, Contemporary Entertainment were taking delivery of a pre-owned aircraft of which they'd commissioned an ostentatious refit. An aircraft that was destined to become legendary in its own right.
A converted passenger jet becomes the ultimate decadence in cabin interior design
Aptly-named "The Starship", this Boeing 720 embodied success and excess as it soared over North America carrying Led Zeppelin and other world-famous celebrities through the height of 70's decadence.
The Starship was formerly a passenger jet – the very first Boeing 720 which was delivered to United Airlines in October 1960 designed to carry 138 commercial passengers on short-haul flights. In 1973, American Airlines sold the Boeing 720 to pop singer Bobby Sherman and his manager Ward Sylvester who donated $200,000 towards the project with the purpose of renting out the plane to touring bands.
The aircraft cabin was completely different after the refit. It featured a long couch on one side, swivel chairs, an extended 30-foot bar trimmed with brass and even a Sony U-Matic video cassette player and TV set along with its own library. For extra comfort, the back of the luxury plane had a bedroom featuring a queen-size water bed with white fur bedspread – a huge extravagance, given a potential weight load of up to 1500 pounds.

Led Zeppelin is the band that has become most associated with the Starship. In 1973, after struggling on tour with cramped conditions and turbulence on smaller jets ferrying them from concert-to-hotel-to-concert, they began to look for an alternative and came across The Starship.
Using the Starship as a mobile base, the band no longer needed to change hotels as often – instead they were able to base themselves in larger cities while travelling in comfort to and from concerts within a reasonable flying distance. And with this freedom, Led Zeppelin began to enjoy flying again turning The Starship into a near-constant airborne party.
Stories of the events aboard The Starship have reached almost mythical status – with anecdotes ranging from funny to downright dangerous. Suffice it to say – Led Zeppelin certainly had an affinity for their rock and roll lifestyle.
When it came to entertaining guests, Led Zeppelin did not hold back. On each flight, there was an open bar full of delicious snacks and drinks. They also had a private chef on board to prepare gourmet meals for the passengers and crew. The band was always sure to indulge in the finest food and drinks, no matter where they went.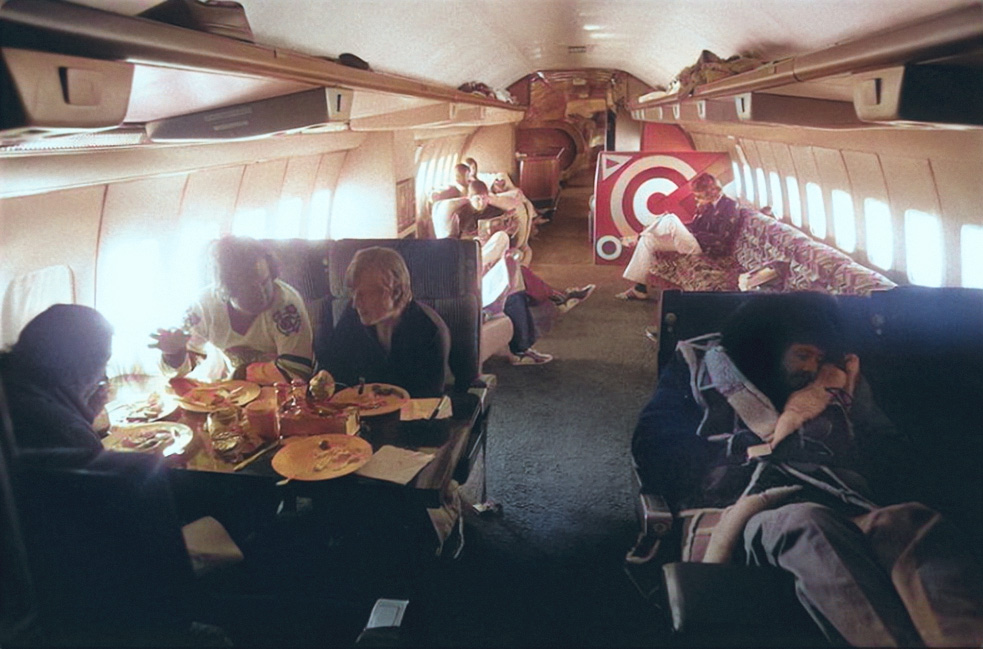 Despite a running cost of $2,500 per hour for the jet and two attendants, the band would keep the bar filled with expensive alcohol. Their manager, Richard Cole, described a phase where they would only drink '64 and '66 Dom Pérignon. If they found a good deal, they'd have one of the assistants buy several cases and store it on the plane.
The Starship came to become a physical metaphor for "making it" in the recording business. Although Led Zeppelin used The Starship for their tours in 73 and 75, other famous bands also chartered the jet for their tours. Names including Elton John, Alice Cooper, Bob Dylan, The Rolling Stones, John Lennon, Sonny & Cher, Olivia Newton-John and Frank Sinatra chartered the jet.
Most of the celebrities who used the Starship loved the extravagance and excess of the aircraft. Peter Frampton called it "the closest thing to Air Force One." The only known negative comment was from Mick Jagger, who couldn't help himself when boarding by blurting out "it's so tacky!"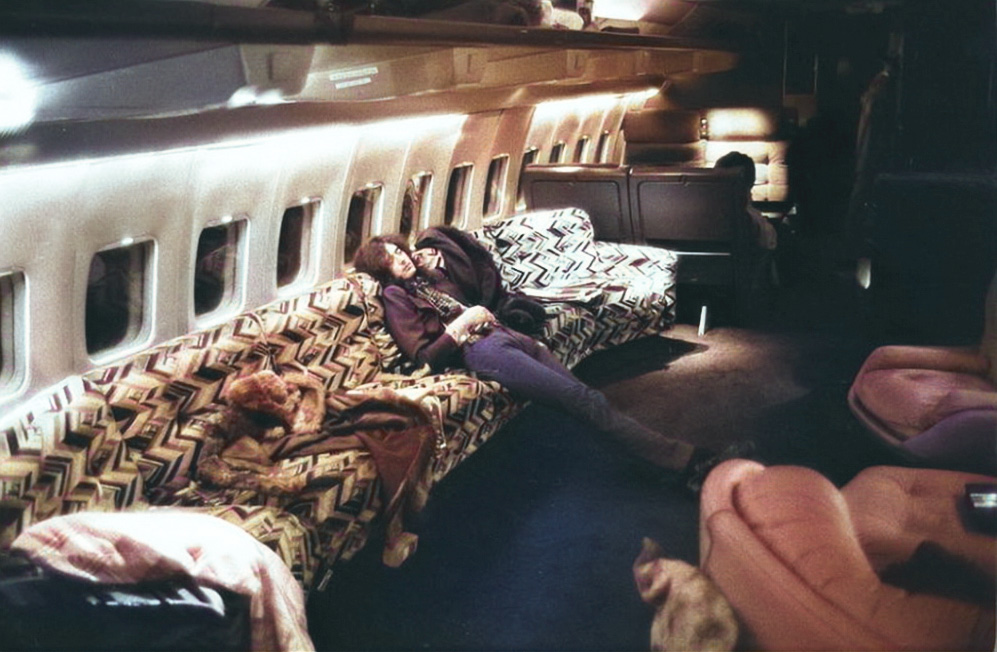 The end of an era – the ostentatious design of The Starship's interior soon fell out of fashion
However, the private jet industry's uninterrupted growth since the 50's was about to experience its first shift as it headed towards the 80s.  In 1977, The Starship was unceremoniously grounded as a result of an oil embargo and, by the time fuel prices became affordable again, the demand for the jet had died down. In 1979, the Starship went into storage at Luton Airport, but was eventually dismantled in July 1982 and salvaged for parts.
The early glamour associated with private jets had peaked with celebrity excess in the late 70's and the demise of The Starship heralded a new era for private jets.  With the rise of superstar businessmen and politically conscious popstars, the 80s saw private jet interiors change dramatically with passenger requirements.
 In part 2 we'll look at how private jet cabin designs evolved from the early 80's through to the millennium in response to changing social and economic pressures.