Following on from our last article we're looking at some of the futuristic innovations in interior aircraft design available to create your perfectly bespoke passenger experience.
As explored in "Designing for The Passenger Experience", the critical time to engage an experienced completion manager is at the beginning of the process, well before the purchase of your aircraft. At this point, initial conversations will focus on what you really need from your jet.
Without expert advice, it can often be difficult to articulate your requirements, particularly if you're a first-time buyer. However, a completion manager will be able to ask the correct questions to help you identify what your perfect passenger experience is, and how to design the aircraft around those requirements – in essence, translating your needs and desires into a tangible plan which can be made real.
Some of these will cover practical aspects – how far would you realistically need to fly in one journey? Are long distance flights going to be a regular and necessary occurrence, or are they only expected to take place infrequently? How many passengers are you likely to fly on a regular basis? Depending on your culture, some people would say that if one has a 10-seat cabin, it should be filled with 10 people, but that's not necessarily the case.
Another issue to discuss is communications – identifying a buyer's expectations in terms of voice, data and text. It's wonderful to be able to have a communications and streaming entertainment center on board but it does come at a cost. For example, we recently had an aircraft delivering into Europe from the manufacturer. The flight attendant on board spent the entire trip video conferencing with her sister via Skype, thinking it was fine – because Skype is free. Unfortunately, when the aircraft landed, the data bill came in at $73,000. This cost also applies to expectations for in-flight entertainment – will you need to stream the entire flight or is it possible to download the movie you want to watch before you get on the airplane? This question predominantly depends on how deep your pockets are.
An important consideration to take into account is the meal service you want to have. Are you happy with reheated food or is a freshly cooked culinary experience the goal? Most large aircraft will have a galley in the front of the cabin but, depending on your catering requirements, an upgrade might be necessary.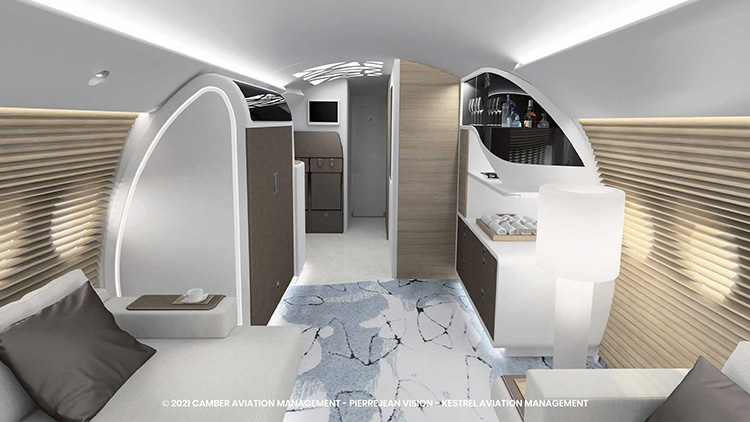 Cabin fitted with a professional galley in the front and a cocktail bar in the passenger lounge
So, at this stage, you've retained a professional advisor to identify the right type of aircraft – one that meets your needs range, performance, number of passengers and the expected on-board service.
Your selected aircraft has an excellent pedigree which means maintenance has been performed at respected facilities, is up-to-date and the documentation is complete, the original outfitting was well executed and it's been well cared for. The cabin, however, is worn and dated. Now, with all the pieces in place, we begin to see where a pre-owned aircraft can offer far more flexibility than buying new when we look at the design possibilities available for the interior.
Obviously, the level of customisation is entirely up to you. You may find that the existing interior meets your needs and, aside from some restoration and updates, there's very little to change. You may, on the other hand, decide you just want to change the material and finishes. Perhaps you want to have different leathers or veneers or a new carpet – maybe a carbon fiber finish. All this is easily achievable but there's also the opportunity to do something completely different when redesigning the interior to meet the client's requirements. The redesign may include a reconfiguration of the cabin floorplan, with new systems and finishes.
So, let's return to some of the questions raised in the initial conversations with your completion manager.
Firstly, the seating:
By default, OEM's want to maximize the number of passenger seats in several standard configurations that meet the expectations of the majority of owners, but, again, it's worth asking how many passengers you will be flying and what features are important to you.
Picture this scenario: You're seated in a large cabin aircraft on a 12-hour flight. Imagine sitting across from someone, facing them for the entire trip. Whether it's a new acquaintance, a colleague or even a friend, it's going to get uncomfortable after the first hour – where are you going to look? If you're sitting across from a member of the opposite sex, that can make it even more awkward. Where will you put your feet? Will you be able to stretch out and invade another person's private space just to make yourself comfortable? Can you sleep? Will you snore or, even worse, will you start drooling in your sleep while someone's sat facing you for hours.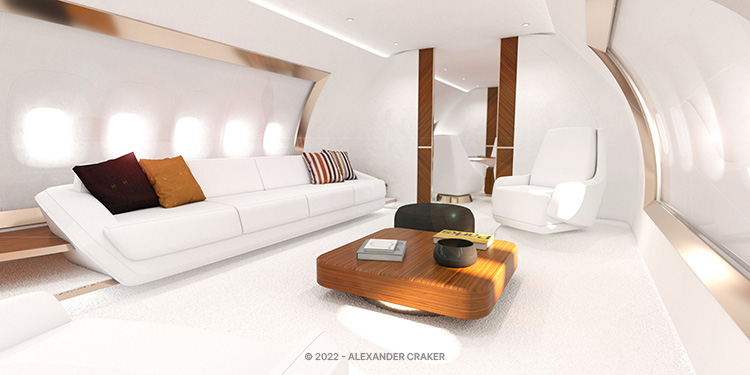 Spacious, uncluttered interiors encourage passengers to move about the cabin
There are so many questions and, on a long-haul flight, so much time to overthink them. And as a result, you arrive sleepless and agitated – the opposite of rested and ready to go. But then the owner asks you "how did you like the flight?" and you have to reassure them it was wonderful, even though you'd have preferred to fly business class.
Or, even worse, your long-haul flight is a red-eye and you'll need to rest if you want to function the following day. Your flight is scheduled to last 10 or 11 hours, you've just had something good to eat and now the cabin's been prepared for sleep. Unfortunately, as the owner gracefully slides to the aft suite, fitted with a comfortable bed, you realise that your night is not going to be as pleasant. You and the other passengers are sleeping on beds configured with air mattresses – in essence, it's camping at 500 knots.
In 2019, the average number of passengers flying privately was just 4.3 per flight (Source). However, if the average number of passengers is about 5, why not design a cabin for the number of passengers that you're actually going to be carrying? And luckily, because your aircraft is pre-owned and you have an expert completion manager overseeing the process, this gives you a huge opportunity to customise the jet interior to a far greater extent than would be feasible for a new aircraft.
Now that we're working with a lower number of passengers, you won't need TTOL (taxi, take-off and landing) seats installed in all the available seating positions. With the level of customisation available with pre-owned aircraft, we can offer not only better seats but the ability to move about the cabin.
Which means that, instead of putting 10-14 of these types of seats on the jet, we can reduce this to the number of passengers that you'll actually be carrying, then place much more comfortable 9G seats in other locations so people can get up and move about. The ability to move freely about the plane is often overlooked but is an integral part of being comfortable on a long flight.
To draw a comparison, when guests visit your home, you may seat them in your living room, but they won't be expected to stay seated and not move during their entire visit. People like to get up, to move around, to stretch, to work and to collaborate. And over long periods, they also like to relax, dine and sleep. Ideally, this shouldn't all occur in the same seat. TTOL seats are designed for safety at 16G – unfortunately this means compromising comfort when it comes to sleeping, relaxing or trying to get work done.
Together we can design a cabin to provide comfortable passenger spaces: for privacy, to be together in and, critically, to sleep comfortably. As such, we have to start thinking about designing around a passenger experience by looking at what people are actually doing on board. Different clients will have different needs – not everyone buys a business jet to do business. That same aircraft can be called a private jet by a different person because they're flying with their family or they're flying for leisure. In that case, the interior would be designed for people to maybe collaborate, definitely to dine, relax and sleep.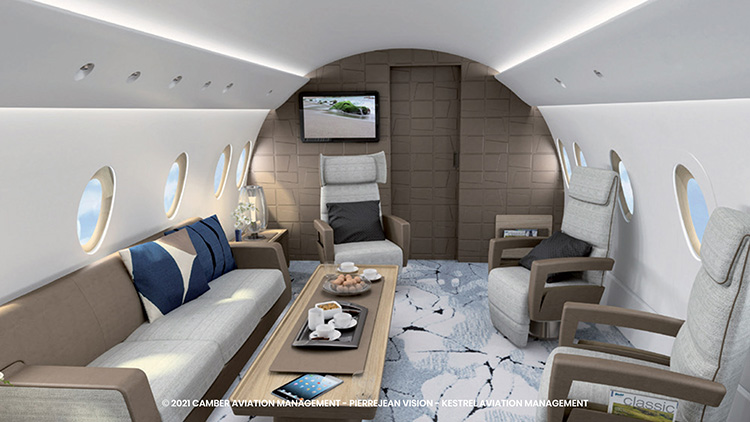 Entertaining guests in style and comfort
This privacy enables you to inhabit an area of calm and quiet, allowing you to relax, rest and recharge. Without it, you're left in the awkward scenario we described – one where you don't sleep well or rest during the flight and you're uncomfortable, tired and irritable when you land.
In-flight entertainment and communications:
It's easy to go all-out with the technology providing these services. Unlimited data and the latest technology provide an immersive work or entertainment environment. You'll be able to stream hi-def movies or hold multi-channel video conferences while in flight for maximum convenience. However, as we've already explored, this can come at a considerable cost.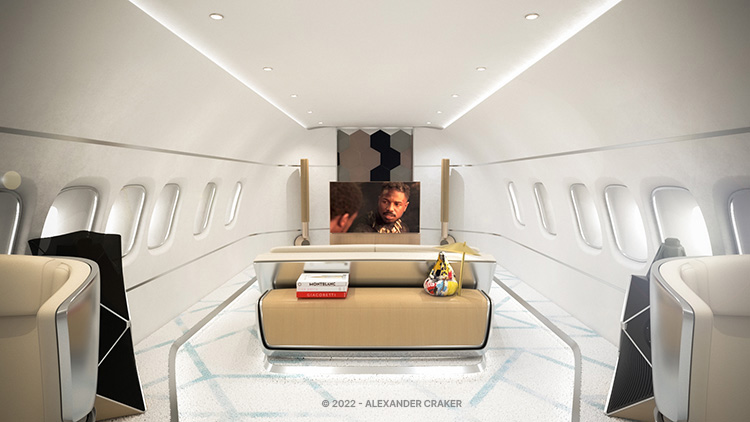 Concept entertainment center
An alternative is to review your technology needs realistically and decide whether it's essential to carry out video conferencing if a voice call will do just as well. Or consider having both options but only use video conferencing when absolutely necessary.
When considering entertainment, OEM's will offer exceptionally capable and eye-wateringly expensive systems that quickly become outdated and can only be upgraded at incredible costs. However, new technology developments are available on the market at a fraction of the price offering the same functionality; although it's essential to ensure that any technology installed complies with all relevant aircraft regulations, if not, your jet could be grounded until any issues are resolved. Your completion manager will be able to advise you on the best compliant systems to provide the functionality you need, and potential upgrade paths to future-proof your technology.
Choosing the right system means that passengers will be able to relax and enjoy in-flight entertainment of their choosing or work efficiently whilst remaining in contact with your HQ offices, without you encountering any unexpected bills or compatibility issues.
Catering: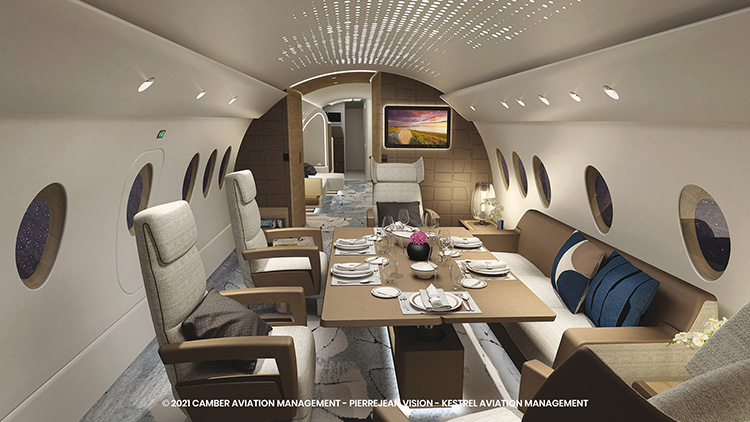 Fine Dining
For an unequalled passenger experience, one should never underestimate the power of an exceptional meal. Inviting friends over to your house, then serving up microwave meals is not perhaps the best way to host a gathering, so why settle for this when flying on your private jet? All galleys will have the basic functionality required to mix cocktails or feed you and your guests but there are better options available for those who are looking for a more elevated dining experience.
An aircraft galley can be outfitted to enable a chef to create food that meets your personal taste. Fine dining at 40,000 feet, eating beautifully prepared and freshly cooked gourmet meals may sound ambitious but, with professional advice, it's readily achievable, catering to any type of cuisine. A well-equipped galley, if wired correctly, can incorporate rice cookers, blenders or commercial waffle-makers, alongside induction ovens, steam ovens or induction hobs, allowing a professional chef to create truly memorable meals.
As before, this requires discussion with your completion manager to identify the best possible solution for your needs. For example, if you're anticipating a higher number of passengers on a regular basis, or expecting shorter flights for the most part, then you might wish to consider fitting your galley with the latest technological appliances, allowing your flight attendant to quickly provide freshly prepared tasty snacks, or enticing cocktails at a moment's notice. Alternatively, with longer flights, you might prefer to upgrade the galley to a fully-equipped kitchen for a professional chef, which would allow you to enjoy a truly enviable fine-dining experience.
So, when considering these 3 aspects of an aircraft interior design on their own, there's already a huge range of options available in terms of functionality, comfort and cost for pre-owned aircraft. This gives you an unrivalled ability to create a truly bespoke passenger experience.
Some of the projects that Camber are working on include private suites with features that go far beyond a business seat, utilizing constant innovations in the industry providing new and exciting options for future clients.
Futurist designs like this high concept render from Lufthansa Technik AG, show how high resolution screens inside an aircraft could provide the feel of a "sunroof" in the lounge: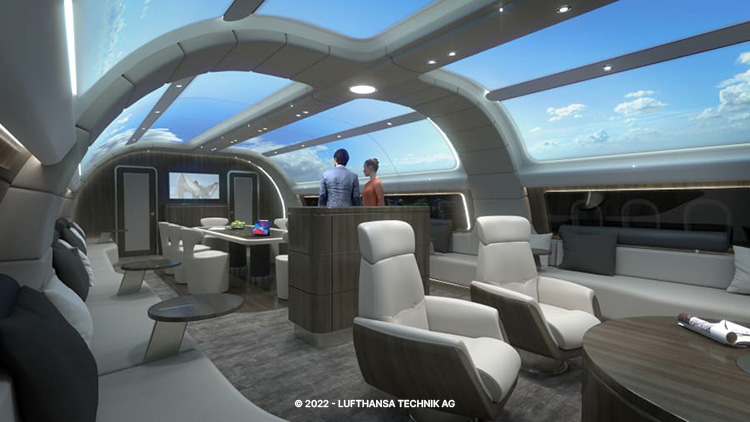 Lufthansa's futuristic large cabin design brings the atmosphere inside
A pre-owned customised Airbus or Boeing jet offers plenty of room for luxuries like a generous lounge or a family bedroom: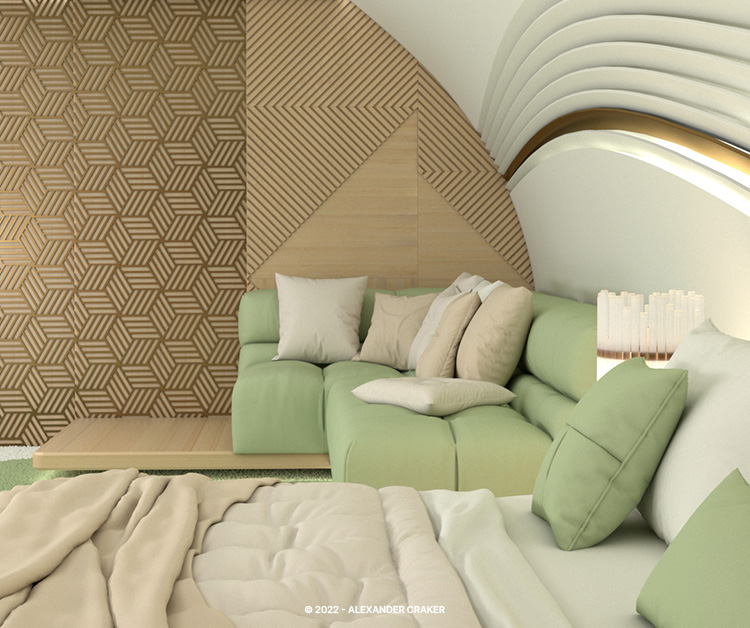 Family bedroom concept
Or even a full-sized bathroom with a steam shower and space for two people to relax and unwind.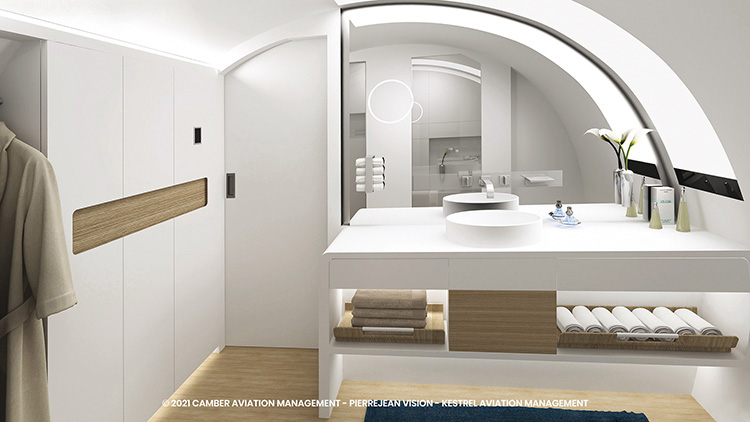 Full size bathroom with steam shower
So, given all the possibilities – why compromise? Working with a completion manager to select and refit the best pre-owned jet for your needs gives you almost unlimited options to create your bespoke interior.