In a world increasingly globalized – yet perennially rushed, the essence of travel has transformed. Once seen as a luxury, today it's often reduced to a necessity or even an ordeal. But what if you could recapture the splendour and elegance of the Golden Age of Air Travel – all while infusing it with modern conveniences and cutting-edge technology? Thomas Chatfield of Camber Aviation Management Ltd. and Tim Callies of Callies Gräfe Design PartG mbB, discuss their recent collaboration: a project to redefine the concept of luxury commercial travel. This project began when they were tasked with improving upon a luxury Boeing 757: The Four Season's "Black Pearl" – outfitted to take VIP travellers on one-of-a-kind global trips in lavish comfort. 
The challenge was simple yet ambitious: Could they deliver a superior product that combines luxury, efficiency, and a one-of-a-kind travel experience? Together we take an in-depth look at the creative and logistical design that resulted from this collaboration—the Boeing 777-200 World Cruiser, meticulously crafted to offer a travel environment like no other. From the concept of an "Explorer Lounge" that serves as a social hub for travellers, to an interior that marries traditional elements with contemporary design, the World Cruiser Design Concept sets a new standard in luxury air travel.
Tom Chatfield and Tim Callies explore how their collaboration evolved to meet the complex functionality requirements and passenger needs with all the uniqueness and exclusivity expected from a VIP experience of this nature. And, in the process, how they created a flexible and innovative design that can adapt to various needs without compromising on luxury.
Can you give us the background for the project?
Tom: To set the stage, we were approached by a world-renowned travel experience company who asked us to reimagine and improve upon the Black Pearl aircraft. This was a Boeing 757 operated by Four Seasons who planned to replace the aircraft with a larger Airbus A321 long-range.  Looking at the Airbus A321LR, we concluded that it didn't necessarily offer enough customer – centric advantages over the 757 to justify the price of the aircraft.
As such, we started by identifying potential aircraft available in the market that would be a cost-effective fit. We zeroed in on the Boeing 777-200LR, an aircraft that's powerful, has an enormous cabin and capable of flying from virtually any point A to point B globally, so long as the runway can accommodate it. After establishing this airframe concept and its economic feasibility, we approached Tim and his team to explore possibilities for creating a one-of-a-kind travel environment.
Since this new aircraft had a larger capacity, we consulted with the client to gauge the ideal number of passengers to maintain a unique experience. We landed on a maximum of 80 passengers plus entourage. With that basic requirement in place, Tim and I began to flesh out the internal layout. We wanted to come up with a functional, innovative solution that allowed beautiful yet comfortable onboard spaces, combined with luxury services that surpassed the current offerings available to this niche market.   During this process, Tim came up with the brilliant idea of the passenger entering through the lounge areas, rather than boarding the jet and having to walk past rows and rows of passenger seating.  Which is where our design journey began.

Tim: Our first objective was to create a functional floor plan that would also offer passengers a warm and welcoming environment. We started by conducting research and interviews to understand the needs and expectations of both passengers and crew. Balancing passenger comfort with the need to accommodate this many guests while still maintaining the intimacy and exclusive feel was a challenging but rewarding process. Our design prioritizes luxury and comfort, despite being able to cater for up to 80 guests.
As such, we designed what we call the "Explorer Lounge," which serves as both a briefing area and a social space. During flights, passengers can convene there to discuss past and upcoming destinations or to simply relax and mingle. This area can comfortably accommodate four large groups, and it features modular seating elements with footstools that can be rearranged to create a more intimate setting.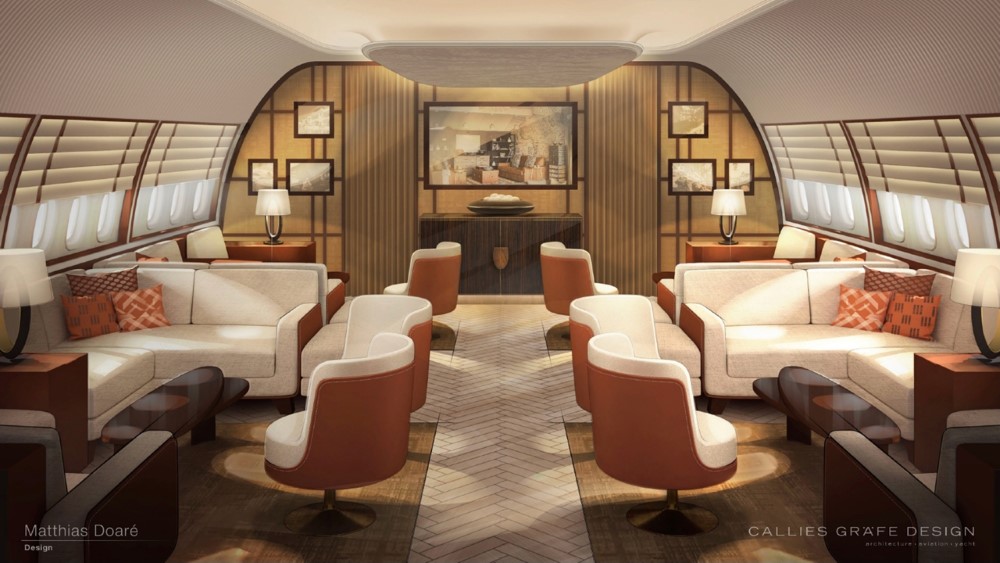 Our clientele mainly consists of individuals in their 50s who are affluent and interested in enjoying their time on the jet. The interior reflects this, featuring warm, timeless materials that evoke the coziness of a café or cigar lounge, yet with a contemporary twist. We've also incorporated design elements like picture frames that can be switched out to match the theme of the destination, further enhancing the passenger experience.
We paid close attention to even the smallest details, such as pillows, which can also be switched out to fit the atmosphere of different destinations. In terms of the actual build, the aircraft comes with specific features like a crew rest area integrated into the ceiling, which we've managed to seamlessly integrate into the design. Finally, we've used durable materials like parquet flooring in high-traffic areas, complemented by softer carpeting in spaces designed for relaxation. This offers not just an aesthetic appeal but also practical durability.
The design incorporates a diverse range of styles and themes, such as African influences and European styling for furniture and lighting. Is this intended to give passengers a global feel?
Tim: Our aim was to reflect the history of the company and its owner, who has travelled extensively in Africa. This inspiration shows up in the wall decor and imagery. For the furniture, we looked to Italian design, steering clear of the typical 45-degree angles common in aircraft interiors. We wanted to create a living room atmosphere while working within the constraints of an aircraft's geometry. For example, we designed the window lining with a classic valance panel and lounge areas have shelves and ornamentation.  Aspects like this helped utilise the Boeing 777's width to give the lounge a more expansive feel.
Tom: The design's versatility allows the ambiance of the lounge to be easily changed to reflect different destinations like Burma or India. The large picture frame at the lounge's focal point can also convert into a digital screen. This enables more interactive briefings during flights, which enhances the overall experience. The lounge is spacious enough to accommodate more than a third of the passengers, allowing for a flow between meal services and briefings, conversations and drinks. The forward galley area is specifically designed to serve the lounge, reducing unnecessary movement throughout the aircraft.
Tim: The explorer lounge is open plan for briefings but includes automated transparent screens that can rise to create separate areas for general relaxation. These screens help with acoustics and enable more intimate gatherings when not in briefing mode.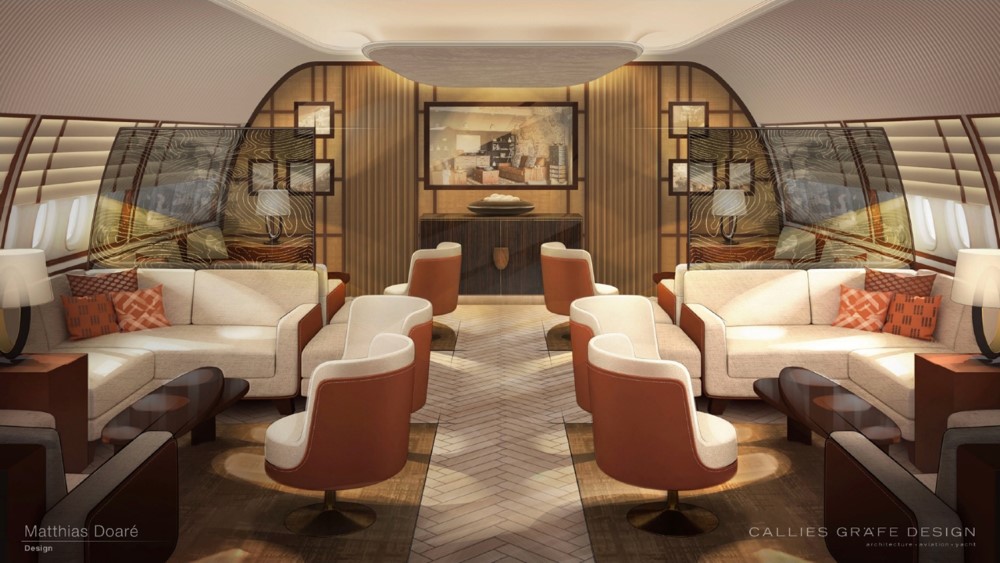 So the automated screens create four private areas within the open room, allowing for different kinds of interactions depending on the need?
Tim: Precisely. Additionally, the aft wall of the lounge is adorned with artwork and items relevant to the trip. Features like a small bookshelf displaying travel guides related to the upcoming destination add to the overall experience.
Can you tell us more about the main entrance area?
Tim: The entrance serves multiple functions. To the left is the main explorer lounge, and to the right is a library lounge and the first-class area, each with its own service bar and galley. Tucked away, but conveniently located, you find storage space and two discreet VIP lavatories.  The entrance itself is designed to be both beautiful and functional. It features digital displays that can show pictures related to the next destination and a display stand for souvenirs that passengers can purchase.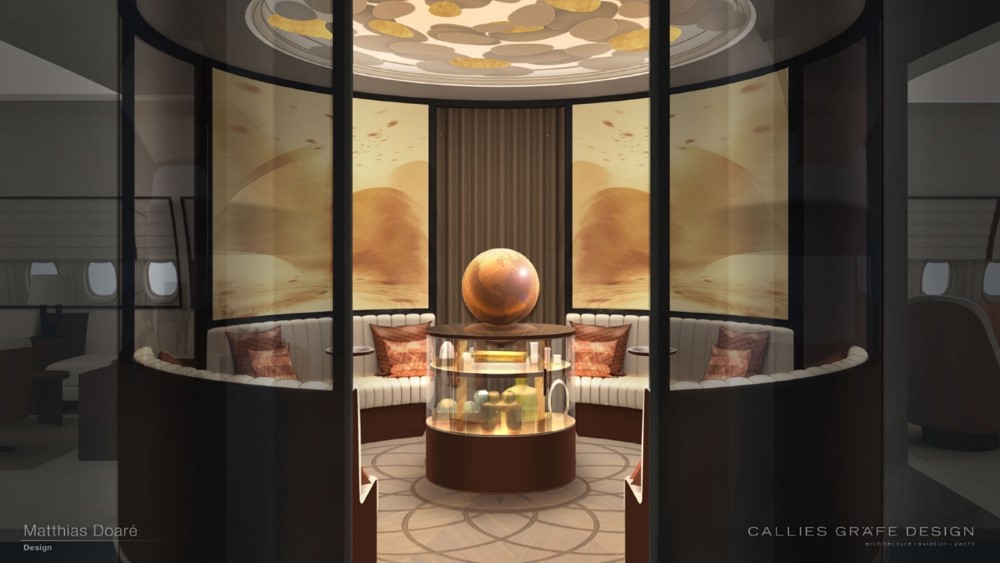 Tim: then you have the library lounge – a more intimate space that can accommodate up to six people. It has a small bar for refreshments and a cozy atmosphere with bookshelves containing relevant literature, from informational guides to novels from the destination country.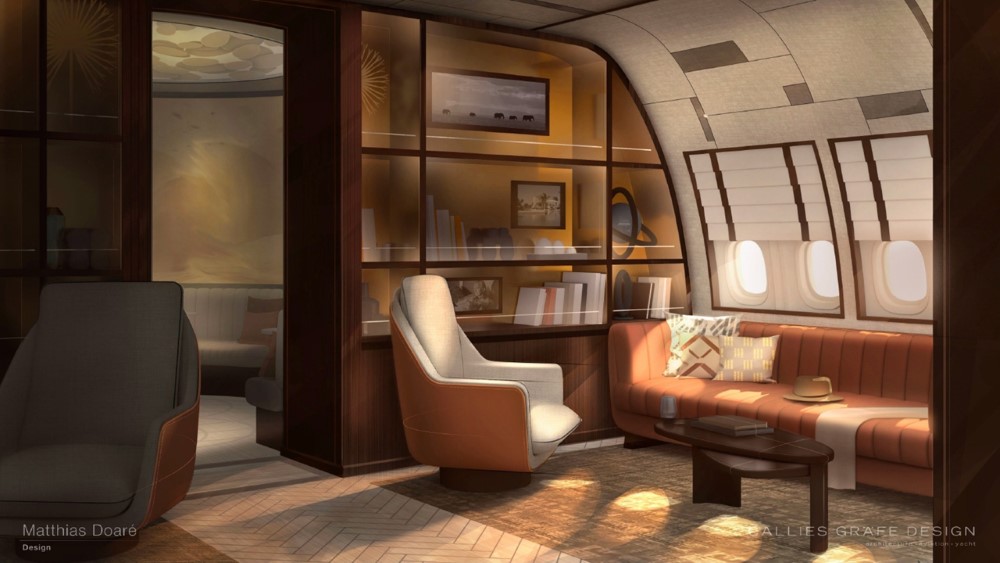 What was the process for transforming the client specifications into this innovative design? What inspired you?
Tim: Initially, we conducted several interviews with the client and brainstormed with Tom to draft some preliminary ideas for our first presentation. This included rough sketches accompanied by mood boards featuring images from different countries and objects related to the client. These mood boards helped give us a directional sense of what atmosphere the client envisioned.
We sought guidance from our client about whether the design would make future passengers feel comfortable and welcomed. We collected various images from cigar bars, boutique hotels, and private residences that aligned with the customer's preferences. We aimed to create a warm, timeless, and sophisticated space that avoided being too modern or too classic. We experimented with colours, steering clear of overly warm or fresh tones that could feel aggressive and make passengers feel drained or unwelcome during long flights. Our furniture designs also followed this blended approach, combining clean, modern lines with classic touches for a luxurious feel.
Tom: Indeed, we tried to strike a balance between traditional and modern elements. The design takes inspiration from luxurious passenger trains like the Orient Express and the Royal Scotsman. While these sources of inspiration are over a century old, they still resonate in our contemporary mix, lending a timeless quality to the space.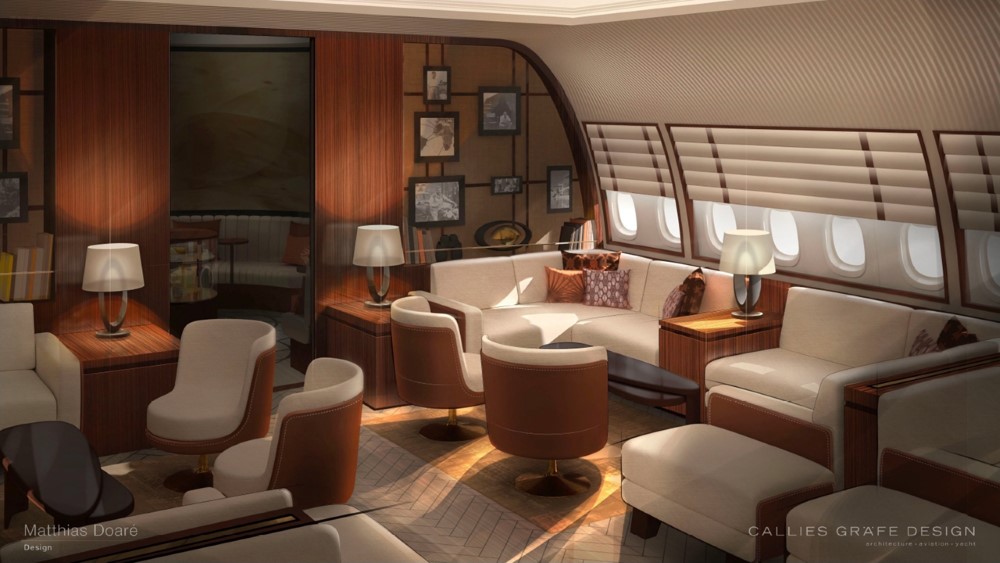 Could you expand on how the collaboration worked? Was one of you focused on functionality, and the other on aesthetics?
Tom: Actually, we collaborated closely on every aspect. Tim initially challenged our original idea of placing the lounge at the back of the cabin, which led us to completely rethink the layout with the passenger experience at the front of mind. Positioning the lounge and entryway at the front of the aircraft provided a lively and welcoming space that was separate from the main seating area and served by its own galley. This meant that attendants would not have to constantly move through the main VIP seating area to serve food or snacks to other guests – thus avoiding the sort of disturbances one might experience if seated near a kitchen during a meal service.
In essence, we designed the aircraft to have three distinct zones: the lively lounges at the front, the VIP passenger and bar area in the middle, and the main galley and staff seats at the back. Each zone offers a unique atmosphere, seamlessly transitioning from a vibrant stand-up bar to a peaceful library lounge and then to the quiet VIP seating area, allowing guests to rest or relax as desired.
Tim: What's great about this design is its flexibility. The spacious Boeing 777 allows us to adapt the interior for a variety of purposes, whether it's for a touring musical group or a premier league sports team. The jet's layout can be easily customized to fit different needs, without compromising on luxury or passenger experience.
Tom: Absolutely. The VIP section, for example, could be converted into four private suites, and the jet would still comfortably accommodate 40 passengers. Add to that the substantial under-floor storage space and the jet's ability to fly 16 hours non-stop, and you have a highly versatile and efficient solution for luxury travel across different markets. Perhaps even for a band on its world-tour…