As aviation technology continually evolves, it fundamentally changes how we experience air travel. But what transformations lie ahead? To explore this question, we brought together two leading perspectives at the intersection of aviation, design, and innovation.
Tom Chatfield contributes decades of engineering expertise and industry knowledge, alongside his role as CEO of Camber Aviation Management. He sees the future of aviation progressing towards sustainable hydrogen-electric propulsion systems that enable climate-neutral flight. Adopting lighter composite materials also holds promise for boosting fuel efficiency by reducing aircraft weight. flying will be with hydrogen-electric propulsion in order to fly in a climate-neutral manner in the future. He also sees potential in using lighter and stronger materials to reduce aircraft weight and further optimize fuel consumption.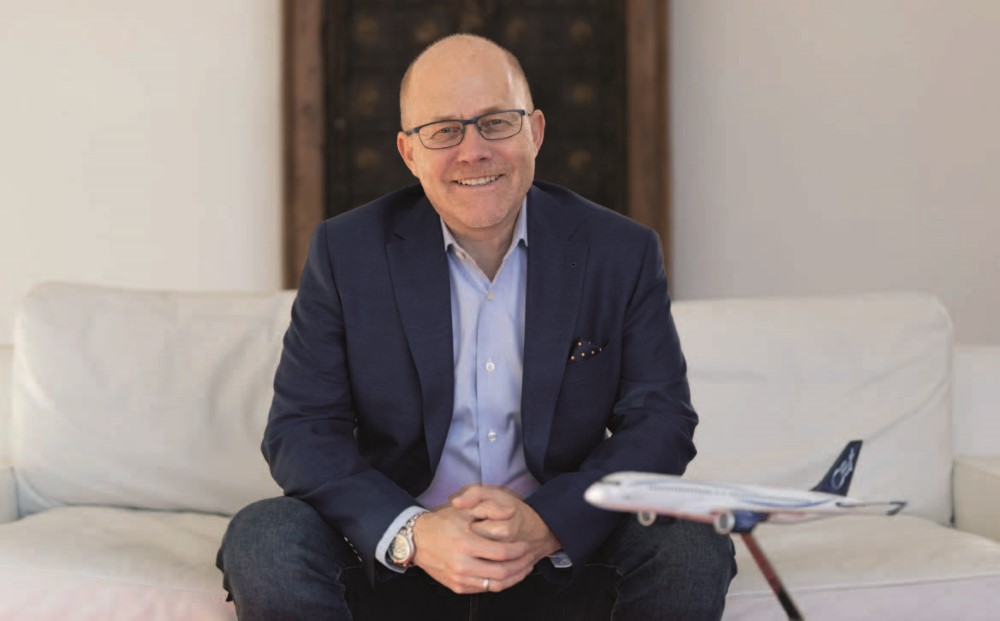 Yet as Chatfield explains, developing private jets poses unique complexities. Each customized interior requires tailored solutions to satisfy the owner's specific needs and desires. Despite such customization, private jets must still meet the same stringent safety regulations and certification standards as commercial airliners. However, these regulations shouldn't have to stifle creativity. As Chatfield notes, "There is ample room for innovation if we think boldly and move past conventional cabin layouts and amenities." By focusing on the passenger experience, he believes tomorrow's private jets can provide extraordinary travel environments that relax, inspire, and delight.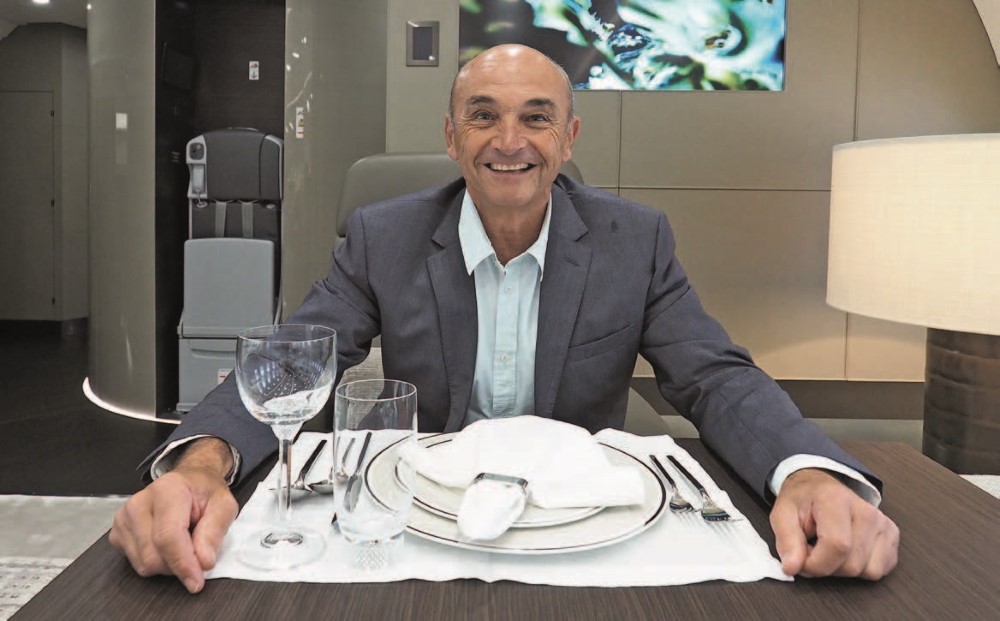 Jacques PierreJean provides the perfect counterpart for a conversation exploring future possibilities. Over a distinguished career spanning four decades, his elegant designs have graced private jets, yachts, and architectural spaces alike. Since founding PIERREJEAN DESIGN in 1975, the renowned studio has completed bespoke interiors worldwide for elite private clients, airlines, and even royalty.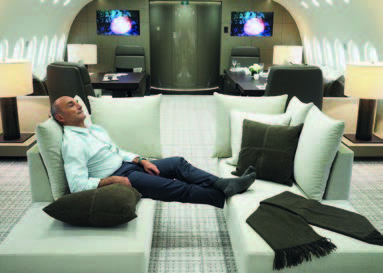 For PierreJean, nature itself holds the key to unlocking creative inspiration. He admires the organic flow and symmetry found in flora and fauna, translating these natural forms into his aesthetic vision. The human body also captivates PierreJean as the pinnacle of form meeting function and he is often inspired by the art of dance, particularly the American dance illusionist company MOMIX. The foundation for much of his creative work is the beauty of the moving figures and the ergonomic refinement that their bodies create.
In 2018, PierreJean consolidated his diverse design expertise into PIERREJEAN VISION, a multidisciplinary brand extending across aviation, nautical, architectural, and industrial spheres.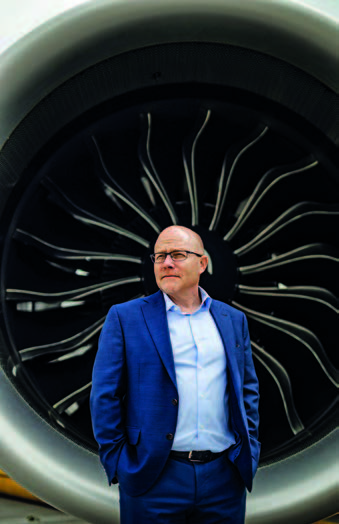 Chatfield: It's important to look at why we're doing and ask ourselves "why is this the best solution" instead of always using conventional methods and layouts. People are looking for new experiences and a comfort that makes them forget that they are above the clouds. We could create spaces that are flexible and adapt to the needs of passengers. We would like to have an idea of ​​"what your dream private jet interior could look like."
PierreJean: Absolutely, we should look forward and be inspired by new materials, technologies and design concepts. The time for change has come and we should seize the opportunity to revolutionize aircraft cabins. It's time to make your dream of an extraordinary flying experience come true.
Chatfield: It's about making the most of your time in the air and creating a feeling of well-being. We can use innovative technologies like wall screens without feeling that they are screens that can simulate the outside world and create different moods.
PierreJean: Yes, we need to take the comfort and experience on the plane to a new level. For example: imagine if we covered the side walls and ceiling of the cabin with invisible screens that could transport you to another world at the touch of a button. What if you could feel as if you were underwater with scattered sunlight beaming through the blue water and you could watch fascinating fish all around you? Or flying low over a snow-capped mountain landscape with a sunset behind you – how much could this change the journey for a passenger?  The private jet industry is the perfect place to pioneer innovative designs because, unlike commercial restraints, the necessary budget is available to implement new ideas. We should move away from previous implementations in aviation that follow tradition – we could, for example, take inspiration from luxury automobile manufacturers.  It is time to break new ground and revolutionize aviation.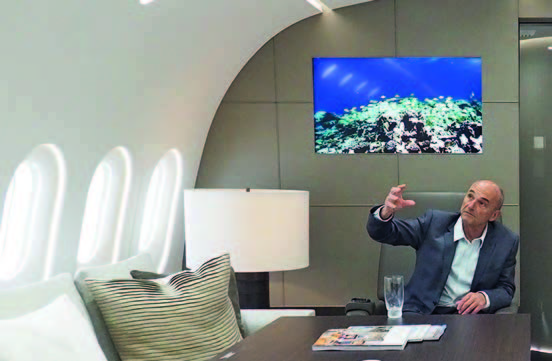 Chatfield: Exactly. And to get there, we just have to have the courage to go beyond traditional boundaries and develop new concepts. Technology today offers us endless possibilities that have not yet been thought of. It's time to use them. Obviously, huge developments won't happen overnight but the more we push the boundaries, the more we're able to move forward.  With creativity and a spirit of innovation we can redesign the flying experience for passengers.
PierreJean: A great example of this was when one of our loyal regular customers recently asked us to create a design study for a spacious cabin interior. We knew him to be very open to innovation and especially original design. So, as part of the preliminary discussions, we brought up the idea of ​​developing an open space concept, which was an attractive idea for the client.  We had to develop the concept in such a way that it would work functionally, whilst taking into account the customer's wishes.
The Vision:
"We were excited by the challenge of creating an open space, without fixed separation. Conceptually, very different from what we've seen before in private jet designs."
PierreJean: We came up with a completely new spatial concept. The basic idea was to use an open space without fixed separations, to create a series of wide-open areas. We created renderings which defined zones visualized for each function, creating different atmospheres without creating smaller, closed areas.  For example, to start with the entrance area – this should be a calm, welcoming space to greet passengers. Past the lobby, a cloakroom that also leads to an office where video conferences can be held.
However, in the eventuality that the design might be too avant-garde, a second – more conventional design – was also prepared. This opened up two different avenues to us, although the open-plan concept offered a real challenge. It allowed us to create an exciting vision of the future: a project that emphasized a new way of life, with a clean floor plan uncluttered from beginning to end.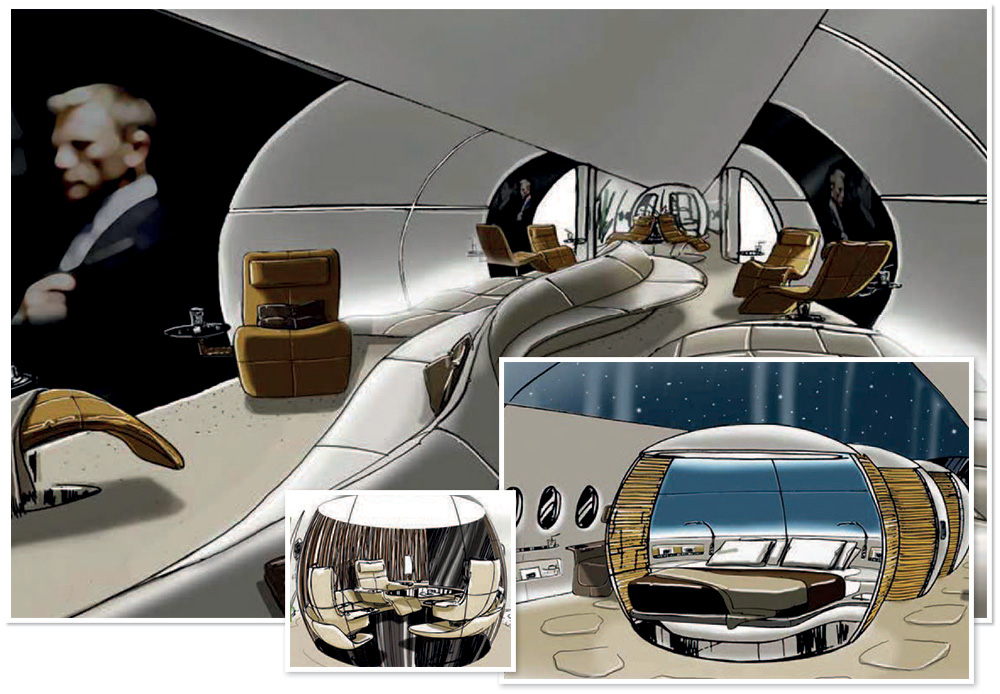 The cabin consists of zones where passengers can work, collaborate or simply sit together and enjoy each other's company. And, of course, we took into account that an owner will bring their own chef on board, who will be able to freshly prepare their favorite dishes in our professionally equipped kitchen on-board.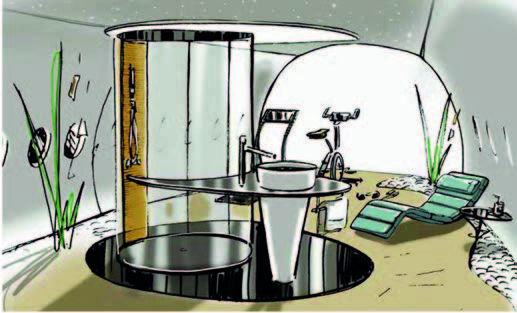 The wellness area is located in a quiet area where a passenger can relax under the influence of calm lighting, ambient scents and warmth. In addition, there are also places for fitness, yoga or even take a soothing steam bath. We designed sleep pods with different sleeping options to enable comfortable and private rest on board, but also have the sleeping area able to transform into a comfortable lounge during the day. With this concept, passengers will not have feel that they're travelling in an enclosed space – as is often the case with a traditional layout.
Chatfield: And with today's technology, we have the ability to simulate the outside world with absolute clarity, enabling us to create different moods. And with new developments taking place, it won't be long before we're able to use more ambient effects, like intelligent fabrics that change color depending on the lighting conditions. As a result, a completely different mood can be created within minutes, depending on the passenger's needs.  As Jacques mentioned earlier, with full height cabin wall screens, we can give the passenger the feeling of looking at the starry sky or flying over interesting metropolises around the world.
Chatfield and PierreJean's discussion paints a vivid tapestry of the future of aviation – one where artistry melds with engineering, and where innovation paves the skyways of tomorrow. Beyond the boundaries of conventional thinking, they see an elevated, immersive experience that places passengers not merely in the sky, but amidst the stars or over enchanting landscapes. Their vision is not just about journeying from one destination to another, but about transforming the voyage itself into a sublime adventure.
The notion of sustainable propulsion, breathtaking interiors and new developments – like screens that blur the line between the inside and the vast expanse outside – beckon a new era. An era where air travel becomes not just a mode of transportation, but a holistic experience that caters to every sensory indulgence.
In an age teetering on the edge of transformative change, Chatfield and PierreJean challenge us to dream, to envision a world where the sky isn't the limit but just the beginning. Their conversation reminds us that the golden age of aviation is not behind us but on the horizon, waiting to be ushered in by bold ideas, fearless innovation, and an undying passion for excellence. The future of flying, it seems, is not just about reaching new heights but also about rediscovering the magic that lies between the clouds.