Camber Aviation is very proud to be an official sponsor for Coen Skrypnek, a mountain bike racer from Squamish, BC who's representing Canada in the UCI Mountain Bike World Cup. It's been a busy couple of years for Coen, so we caught up with him as he was preparing for the qualification round of the UCI Mountain Bike World Cup, held in Leogang Austria on 10th June, to find out how he's been navigating the extreme ups and downs of world-class mountain bike racing.
You recently did a fundraiser "Dawn till Dusk" for the charity Sea to Sky Community Services, where you rode some of the most popular trails between Mount Seymour and Pemberton BC – over 170km apart – in one day. That looked like great fun but a little scary!
Yes, that was really cool! Over the past few years I've seen a lot of family and friends go through some tough times and my family puts a lot of value on mental health, so I feel like it's a really important thing to support. And here, in Squamish, there's a youth organisation: Sea to Sky, that's planning to build a big center with support and tools for young people struggling with their mental health who don't know who to turn to. I really wanted to fundraise and help them get started as much as possible, so I was really happy to be able to raise some money for them.
I also wanted to help raise awareness for them because the projects they're taking on aren't easy and it's super important that people realise the impact of mental health on a kid's life and how important it is to have support.
Growing up in Calgary must have made it difficult to practice mountain biking!
It wasn't so bad because my family used to send me to summer camps where I'd spend days doing activities like biking or rock-climbing, and that's when I found out that I just loved biking. After that, my family sent me to a summer camp dedicated to mountain biking, where I realised that I had an aptitude for it and really learned to enjoy competing. From then on, I'd practise more and more every summer.
Calgary wasn't the best place for mountain biking but the Rocky Mountains are about an hour's drive away, so my parents used to take me out there to practice. That made it a lot easier but, if you're making that commute every weekend, it's a bit far. When we moved to the West Coast, about four years ago, it made things much simpler.
Did your family move to Squamish because of the mountain biking?
Yes, partly, but it was a little bit of everything. My family always wanted to move closer to the mountains and we have family close by here, so it made a lot of sense. Also, my sister had started at Vancouver Film School so it meant she was able to commute for the first couple of years and being here really helped me because the mountain biking here is unbelievable.
What's the mountain biking community like in BC?
Mountain biking is huge here – a lot of it has to do with the training and with the kids who've grown up here and are familiar with the terrain. So their ability level is generally way higher than someone coming from Alberta who's at a disadvantage. But I'm really enjoying the challenge and I've been blending in more and more – I think I still have a little bit of catching up to do but that's no problem at all.
What made you decide you wanted to get into mountain biking?
Well, I've always been an adrenaline junkie. I used to snowboard a lot when I was growing up and my family are all active, so we'd spend most weekends on the slopes in Banff or Canmore – close to Calgary. As I got more into mountain biking, my love for snowboarding faded a little but they're still similar things. There's something about being out in nature with close friends and pushing yourself to your limit that's really special. Ultimately, I've always been in love with the feeling of going fast – it's a passion.
You've worked really hard at this – what are the moments that make the effort and sacrifice worthwhile?
There's been a few, actually. Getting to travel overseas was exciting as I'd never been to Europe until last year and being able to go race in a World Cup was phenomenal and a huge learning experience.
But mostly, I just love the feeling you get after a really clean, fast run. When you've laid it all out there and everything's going really smoothly, it's amazing. It doesn't happen very often – you know, you get slip ups and mechanical issues and you work through them and that's ok. But those moments, when everything goes smoothly, is probably one of the best things in the world. And that's the goal, of course – particularly when I'm standing on the top step of the podium afterwards knowing that I did my absolute best, there's just nothing like it.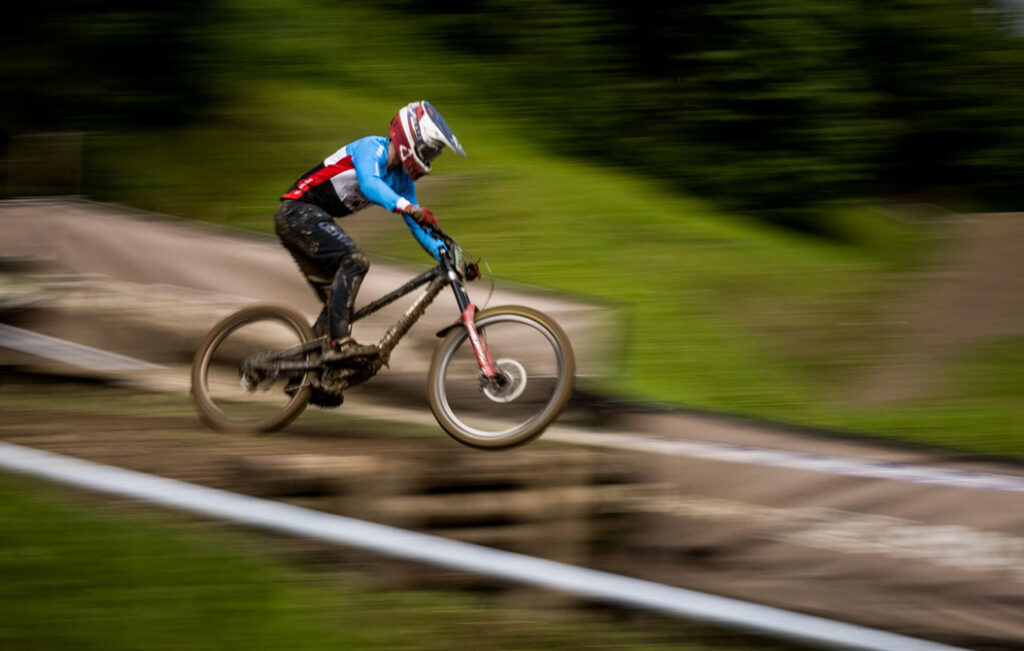 How different is it competing in Europe, compared to Canada?
There's a much deeper field of athletes out there and the skill level is just incredible. When you go overseas for a big race, you get competition from everywhere, even as far as Australia and New Zealand – everyone gravitates towards Europe because that's where all the big events, like the UCI World Cups happen. And it can be a little intimidating going over there and seeing all these new faces, knowing that everyone's at the top of their game – it's definitely out of my comfort zone. But I love the challenge so it'll get better the more I go over there and compete. I've made a mark in the Canadian scene so, when I do well in Europe, it's a win for Canada too.
Were there any trails in Europe that you particularly enjoyed riding?
Yes, I really enjoyed a place called Schladming in Austria – it was a really cool area and the scenery was beautiful. Also Morzine and Saint-Lager in France were amazing with so much variety in trails and terrain, they were phenomenal to ride. I'd heard so much about it beforehand that I was super excited and it totally lived up to all my expectations, which was great.
So what makes a good trail?
Well, it depends on what you're going for –but I think the best way to describe it is: if it has good flow. For example, if everything links up well, it's smooth and you can move from one feature to another without losing all your speed then it's got a good flow.
You had a bad fall in Val di Sole in Italy, how did you deal with that?
Yeah, it was just after one of my best results overseas – I'd qualified 15th and I think I was a little head-over-heels because I was so excited – unfortunately though, that frame of mind can make or break you. I think I'd pushed it a little too hard in the finals and crashing really shook me up a little. I tried to ride the next week in Switzerland but I don't think I was ready to get on a bike again and I didn't perform as well as I'd have liked to. Still, having qualified in 15th place in Val Di Sole was definitely a good take away from that trip, so the crash didn't overshadow everything.
You ended up taking 1st place in the BCP Cup less than a month later – that must have taken a tremendous amount of mental focus.
It was probably one of the hardest times of this year for me. I wasn't badly injured but I had a minor concussion and had to take some time off but I think the worst was feeling so angry with myself and upset with the situation. When I got home, I was exhausted and not in a good mental space at all. Having a big crash like that on the world stage was kind of belittling, it doesn't make you feel great and you start to think that you're not worthy or not good enough. But, in reality, that's not the case – it's just how you feel and dealing with that is a learning experience.
So, earlier that summer, I was able to see a sports psychologist and he gave me some tools to work on the mental side of mountain biking, because it's just as big a thing as the physical side of it. So I used those tools and, with the support of my family and friends, I was able to bounce back and win the BC Cup which felt amazing after a month of feeling low.
It's great that you can bring this type of personal experience to your fundraising and as an inspiration to others who've seen you overcome your own internal battles.
Totally. I think there's a certain stigma in sport that comes with this weird pressure that you can't let anyone know that you're not OK. But people do struggle with their mental health and it's important to ask for help when you need it. That's what I want to help do – raise awareness and help destigmatize mental health issues.
Do you have any tips for kids that are inspired to get into competitive mountain biking?
Yes, the ambition and drive has to come from the kid and from loving the sport, not from trying to live up to other people's expectations. If parents are super-intense and are pushing their children to achieve then that's not great because it's a high risk sport and that kind of pressure can lead to crashes. So I would say that, as long as a kid's having fun then there's no pressure, especially at a young age. As long as they're enjoying themselves, they'll want to keep doing it and it's good for them. Obviously, pressure always comes with any sport at a competitive level but if it's based in a love of the sport then they're going to perform better and be stronger when things sometimes go wrong.
You come across as very grounded, is it fair to say you've been quite lucky with the support you've had from your family?
Yes, definitely. My parents have always been very open to letting me do what I want. I've always had guidance from my dad who's very wise and has given me a lot of good advice and support over the years. But I haven't been pressured, it genuinely all comes down to where my heart is – this is what I want to do.
But, you know, if I'm making bad decisions or I'm acting out of character, then he'll call me out. And much as I might not show it in the moment, I'm honestly thankful for it as it's helped keep my feet on the ground.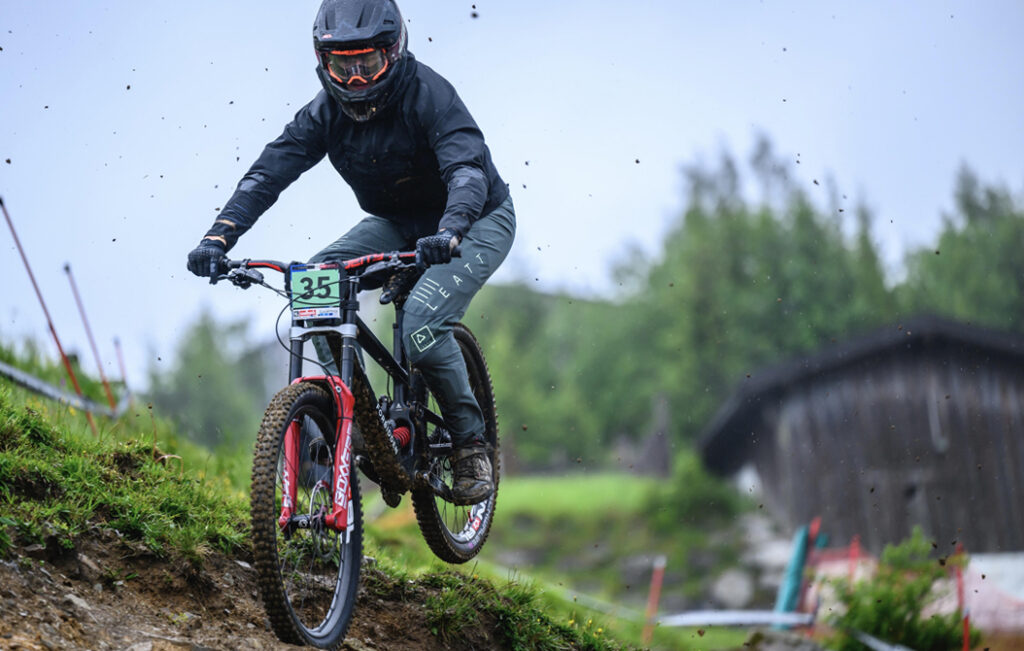 So what's next for you?
Well, I've just done my first two races this season and then I'll be travelling. I'm heading to Austria to the Leogang Mountains for my first World Cup of the season, so that's going to be exciting. Also, the race season's just kicking off so I'll be racing every other weekend.
And you're graduating as well – that sounds like a tough schedule! How have you managed to fit all of this in?
Well, actually – when the pandemic hit, I was able to get ahead of my schoolwork a little. I took classes online throughout the summer, then took more courses online during the period where the schools were closed. As a result, I was able to graduate a semester early in January which gave me more time to train and riding as much as possible.
What are your plans after school?
I've just been accepted into the University of Victoria on Vancouver Island but I haven't decided yet if I'll go next year or if I should have a gap year. Victoria's a difficult place to beat for mountain biking as there's some phenomenal riding around the area so I could do that alongside going to school on the island.
What will you be reading?
Psychology. Obviously things can change but eventually I'd like to go into sports psychology. I think there's a market for that and I love the idea of helping other athletes reach their potential.
That's wonderful – Camber Aviation is incredibly proud to support you on your journey.
I'm really grateful for Tom's support – last year, Camber helped me out with my flights which was hugely appreciated and took away a lot of the financial pressure that comes from competing. I've managed to travel across the world and visit places that I never thought I might see which has been an incredible experience. Tom's been amazing not just in support but also in offering advice and guidance. Sometimes we'll go have a coffee and he'll tell me these phenomenal stories that are hilarious. It's been a really important relation to my Dad and I over the years and we're incredibly appreciative of all Tom's help.
Update:
After a gruelling qualification round on 11th June in Leogang, Austria, we were thrilled to hear that Coen has qualified for the 2022 UCI World Cup – an elite-level event where world-class athletes compete while riding the toughest trails across the globe. Following his qualification, Coe placed in 14th place in his first event, an excellent first World Cup of the season. Everyone at Camber sends our congratulations to Coen on a great first result – we're looking forward to the next exciting instalment!